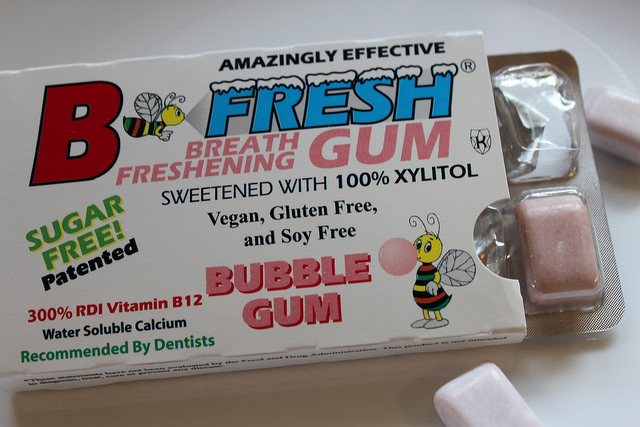 The boys and I have been laughing hysterically all afternoon as I try to teach them how to blow a bubble… which is harder than I thought! As I'm typing this, my lips are still sticky from the last bubble I popped (although I've figured out that if I put lip balm on first, the bubbles won't stick to my lips).
Until we discovered B-Fresh Bubble Gum a couple months ago, there weren't any good 'natural' options for REAL bubble gum out there. Regular bubble gum (like Bubblicious) is loaded with sugar, corn syrup, preservatives, artificial flavoring & dyes…. YUCK! On the other hand, all of the other 'natural' bubble gums I've tried were terrible, didn't last long, AND didn't make great bubbles… the whole point!
B-Fresh Bubble Gum actually tastes like real bubble gum, blows HUGE elastic bubbles (see shameless bubble blowing selfies below) AND is made with much more natural ingredients:  Xylitol, Gum Base, Natural Fruit Flavors, Vitamin B12, Gum Arabic, Calcium Citrate, Calcium Gluconate (calciums are not derived from dairy). It's safe for diabetics, vegans and dairy/gluten/soy free diets.
The only negative about it is the price. It runs about $3 per 10 pack or $12 for a bottle of 50 pieces (the pieces are big!). But, if you save it for a special treat, then the cost isn't too bad.
I've found B-Fresh Bubble Gum in Whole Foods, Vitamin Shoppe & Online at Amazon.com… There's also a whole line of B-Fresh Gum flavors including: Cinnamon, Mint, Fruit, Lemon & Melon – and a whole selection of mints too.
Seriously, I was laughing so hard, I could barely take the pictures…
I'm sure blowing bubbles today took a couple of years off my life! =)
This one's a little creepy & science-fictiony, but it really shows
how big the bubbles get with just 1 piece of gum!
I wasn't paid, asked, or given free product to promote this item…
I just couldn't help share the bubble fun with you! =)
Feel free to post your bubble blowing selfies on my Facebook Page!
Laughter really is the best medicine!