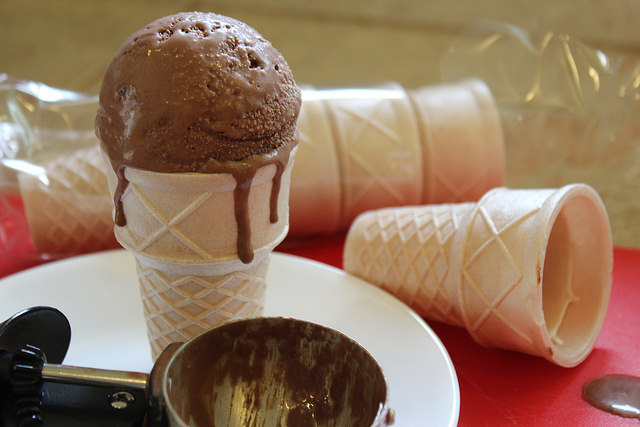 Ice cream is a fun & traditional summertime treat that many people indulge on year-round. But when you are dealing with Allergies & Special Diets, ice-cream is usually off the menu… Until now!
This Coconut Milk Ice Cream Recipe is Gluten Free, Dairy Free, Egg Free, Nut Free & Refined Sugar Free! You can make several variations of it including: Chocolate, Strawberry, Mint Chocolate Chip, Cherry, Cookie Dough & more! It serves up just like regular ice cream and is soooo creamy & delicious! We also use it to make homemade Ice Cream Sandwiches.
If you're on vacation, or not feeling like Martha Stewart, you can also buy a pre-made pint of 'So Delicous' Coconut Milk Ice Cream' & a box of 'Let's Do… Gluten Free Cones' – It's a great option for those with allergies. But with this recipe, you'll save a ton of money and simplify the ingredient list.
The Tools & Ingredients Used in this Recipe: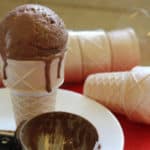 Coconut Milk Ice Cream Recipe – Dairy Free
Author:

Prep Time:

5 mins

Cook Time:

24 hours

Total Time:

24 hours 5 minutes

Yield:

1 quart

(

4 Cups

)

1

x

Category:

Dairy Free

Cuisine:

Dessert
---
Description
This Easy & Delicious Coconut Milk Ice Cream Recipe can be made into many flavors. It contains NO Dairy, Gluten, Eggs, or Nuts & serves perfectly in cones!
---
Base Ingredients:
For Mint Chocolate Ice Cream (this is our family favorite!):
1/2 Cup

Unsweetened Cocoa Powder

4

Drops of Peppermint Essential Oil (This is the PURE Food Grade essential oil that is not the kind typically found at the store.) I buy my Essential Oils from Rocky Mountain Oils.
For Strawberry or Fruit Ice Cream:
1 Cup

of Fresh or Frozen Fruit (we've used Strawberries, Cherries, Mangoes, Bananas & more!)
Other Flavors / Add-In Ideas (Stir in Add-Ins after 12 hours in Freezer unless you're using an Ice Cream Maker):
Chocolate Peanut Butter
Chocolate Hazelnut Butter (aka Nutella)
Chocolate Almond or Almond Butter
Coconut & Banana & Pineapple
Pomegranate & Chocolate
Pecans
Green Tea
Coffee
Cookie Dough (use my Gluten, Dairy, Egg & Nut Free Cookie Recipe for this – or leave the eggs out of your favorite recipe so you don't risk getting sick)
---
Instructions
In your Vitamix or Blender, add Coconut Milk, Agave Nectar, & Vanilla – blend on low until well mixed.
Keep your Vitamix running on low while you add the Guar Gum. This prevents the Guar Gum from clumping.
Add in your flavors & ingredients (see flavor suggestions above & instructions below) and blend until smooth.
Place mixture (which will be runny) in an airtight container or Ziplock Freezer bag and store in your Freezer for approximately 24-48 hours before serving. Be sure to Stir-in your favorite Add-In Ingredients after about 12 hours of freezing.
For Mint Chocolate Recipe:
While your Vitamix is running on low, add in your Cocoa Powder & Peppermint Essential Oil. Replace cap and blend on low-medium speed until Chocolate is well blended with mixture.
For Smooth Fruit & Flavor Recipes:
Add your Fruit or Add-In Ingredients to the Vitamix and blend until smooth.
For Chunky Fruit & Add-In Ingredients:
If you want Chunky Fruit or Add-In Ingredients (such as chocolate chips or nuts) in your ice cream, then stir it in after 12 hours in the freezer or after the mixture is stiff enough, but not frozen. This will keep your ingredients from sinking to the bottom.
---
Notes
You can also make this recipe in your favorite ice cream maker – just be sure to scale the ingredients so it fits in your mixer.
---
Nutrition
Serving Size:

1/2 Cup

Calories:

140