Not everyone will agree, but I'm a firm believer that what goes in your kids eyes & ears, should build good character, not destroy it!  Just like food, if you put junk in, you'll going to get junk out (both in heath & attitude).  So, as a general rule, we carefully filter what type of media goes into our little sponges.
With so much garbage on TV these days, we made the choice several years ago to not have a TV. Well… we actually have a TV, just no signal or cable coming into the house.  We do have a DVD player & subscribe to Netflix Amazon Prime – But, our new favorite is PureFlix * – where its 100% family friendly and you don't have to worry about your kids seeing all those inappropriate movie posters while you're navigating around!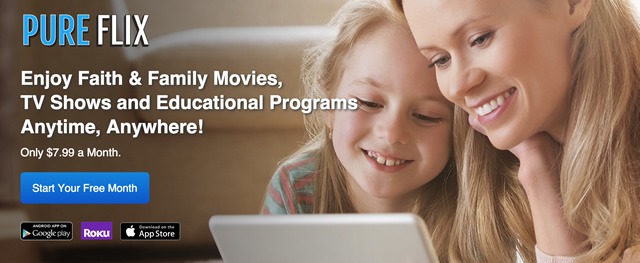 I also believe that children's imaginations need to be fed and there's no better way to encourage this then to read to you children & let them play outside. And while reading, they also learn to listen to your voice!  Another of our favorite times together are listening to Radio Dramas – even our 2 year old loves them!
I've put together a list with links to our family favorites…  This list is as much for me as it is for you!
I'll be adding to this list regularly as I find new links to Family Friendly, Wholesome & other shows that build character qualities that we encourage.
AUDIO / RADIO DRAMAS:
VIDEO:
MUSIC
MOVIE, MUSIC & VIDEO GAME REVIEWS:
INTERNET PROTECTION:
* = Our Family Favorites!