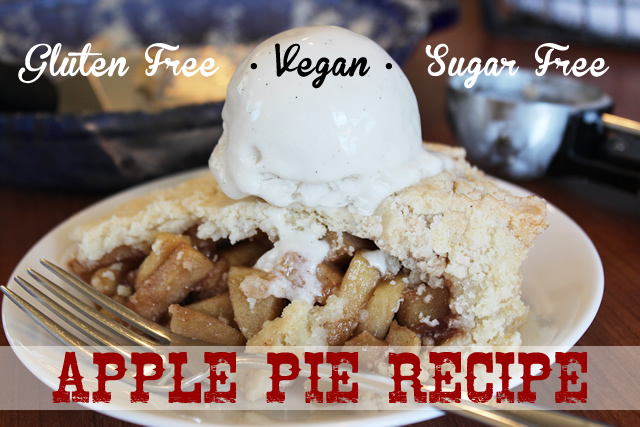 Growing up near Apple Hill in Northern California was such a treat! Not only did it give me a love for a wide variety of apples, but the homemade apple pies, fritters & cider were a special treat we looked forward to every fall. Each year, our family would pick apples right from the trees & make a huge homemade apple pie. I can still taste it in my minds eye.
Since Hawaii doesn't grow apples, we only get a few varieties to choose from, so when I spy Granny Smith's on sale, I pick up a few pounds and make Apple Pie!! Who cares what time of year it is… Apple Pie is welcome in our home all year round!
This Gluten Free Apple Pie Recipe is also Refined Sugar Free & Vegan. It works perfectly with my regular Gluten Free Pie Crust Recipe or my Gluten Free Vegan Pie Crust Recipe as well. You can use this Apple Pie Filling Recipe to make Pies or Apple Fritters, Crumbles, Crisps & Turn-Overs. For a la Mode, we top ours with Dairy Free Vanilla Coconut Milk Ice Cream…Yes Ma'am!
The Tools & Ingredients used in this Recipe: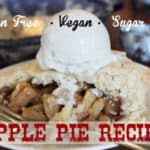 Gluten Free Apple Pie Recipe – Sugar Free!
Author:

Prep Time:

15 mins

Cook Time:

1 hour

Total Time:

1 hour 15 minutes

Yield:

1

9" Pie

1

x

Category:

Gluten Free

Cuisine:

Dessert
---
Description
Use this Gluten Free & Sugar Free Apple Pie Filling to make your own Homemade Apple Pie, Turnovers, Fritters, & Apple Crisps. Simple & Delicious!
---
PIE CRUST:
APPLE MIXTURE:
APPLE GLAZE MIXTURE:
---
Instructions
Prepare your Gluten Free Pie Crust & Set-Aside.
Preheat oven to 425 degrees.
APPLE MIXTURE:
Peel, Core & Chop your Apples.
In large bowl, coat Apples with Lemon Juice & Spices. Set-Aside.
APPLE GLAZE MIXTURE:
In a small sauce pan, continually whisk Glaze ingredients over medium heat until mixture begins to thicken. Wait for bubbles to break the surface then turn off heat and whisk well
for 1 minute.
Pour Apple Glaze over Apple Mixture in bowl & mix gently until all apples are well coated.
Pour Apples into prepared pie crust & top – Crimp edges & decorate as desired.
Place pie onto a foil lined cookie sheet to catch spills or boil-over during cooking.
Place pie in oven and bake at 425 for 15 minutes, then reduce heat to 350 and continue baking for approximately 35-45 minutes until crust is golden brown and apple mixture is hot & bubbly.
Remove pie from oven and let cool on rack until ready to serve. Serve warm or cold. Store leftovers in fridge.
---
Notes
This Apple Pie Filling Recipe also works well for Apple Turnovers, Crisps, Fritters & other Apple Pastries.
Load your favorite pie crust with this Apple Pie Filling
Works perfect with my Gluten Free Vegan Pie Crust Recipe
Bake until crust is golden brown & apple filling is bubbling.
Let rest & serve warm or cold a la mode!
I was so impatient, that I didn't let it cool enough before cutting into the first piece!

Within 5 minutes this big guy was half way done… I swear I had help!