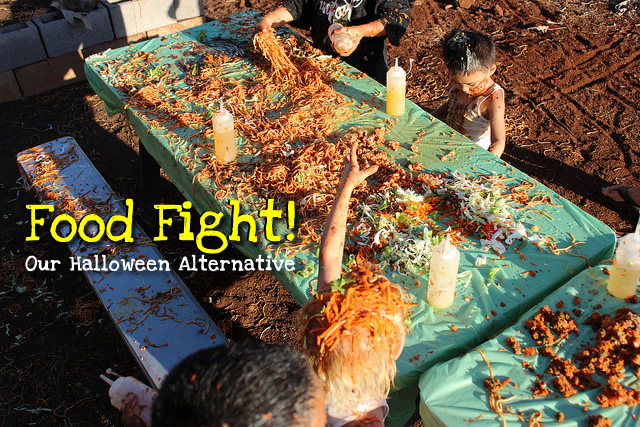 It's not too late! You can still host a neighborhood food fight! This is our 4th year doing it and each time we have one, more people come! It's such a fun Halloween alternative – and without the candy hangover!
We typically only spend about an hour on the food fight & water balloon fight – so that all of the kids who come can get home before dark. Then we wash up for a family movie & slumber party in the house. So many fun memories are made & this has become one of our favorite family traditions!
Below is this year's invitation to give you some inspiration!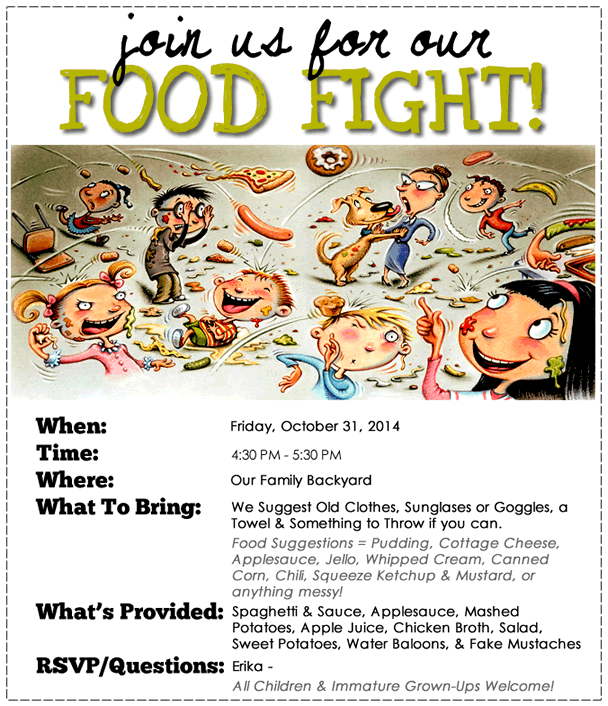 Here we are last year (before, during & after):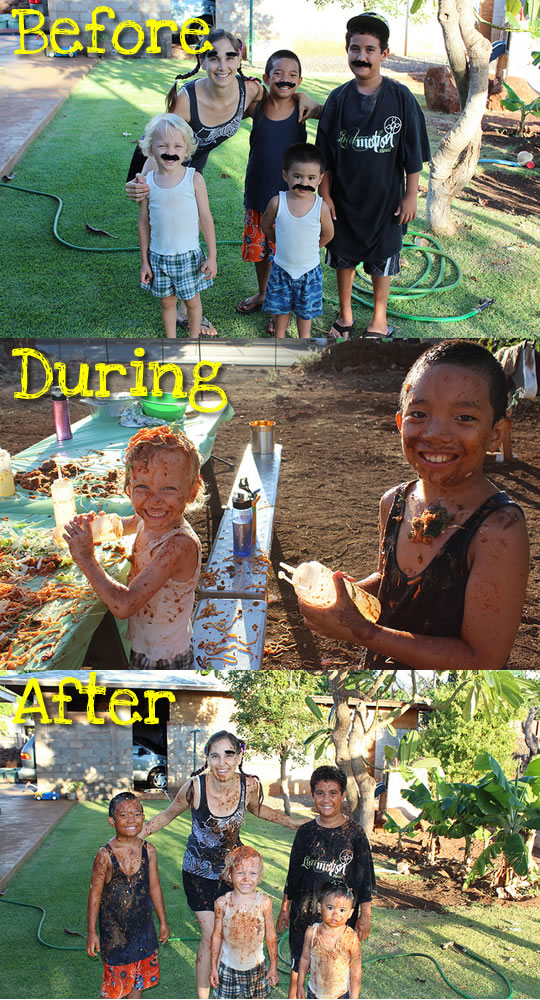 Tips that we've learned over the years:
Wrap the table with a plastic tablecloth for easy clean-up – I even plastic wrap the benches so they don't get stained.
Move the table as FAR away from the house and windows as possible… One year we spend a couple hours scrubbing the stucco siding & windows vowing we'd never do that again!
If possible, wear safety glasses, goggles or sunglasses – this will help you (moms & dads) from having to wipe off eyes every few minutes.
Don't use your best food – I pick-up cheap stuff in bulk cans from Costco, save our Juicing pulp, leftovers, and buy the cheapest food we can find since we will not eat it.
Don't serve the food scalding hot.
If really little kids are joining you, explain to them that this is normally 'not' an ok thing to do, except on 'Food Fight Night!'  It also helps to give them a safe little pile of food that they can eat while they figure it all out. But trust me, once they 'get' it, look out! =)
Keep it short. We typically keep the whole event at about an hour. We spend about 30 minutes on the actual food fight & then about 20 minutes throwing water balloons at each other. And finally about 10 minutes to hose off. Once the neighborhood kids leave, we all pitch in for a quick clean-up & head inside for the rest of our fun.
Keep a hose nearby for washing off outside. Be sure to rinse off the clothes from all food particles before throwing them in the washer.
Set-up a camera on a tripod (Go-Pros work great), and watch it back slow motion – giggles for days!
Have a 'real' meal ready to serve afterwards & special no or low-sugar treats to snack on all evening!
Oh, and by the way… Fake mustaches (like these) are a requirement at our party vs. dressing up! They almost always end up relocating to another part of the body and it's become a hysterical tradition all its own!