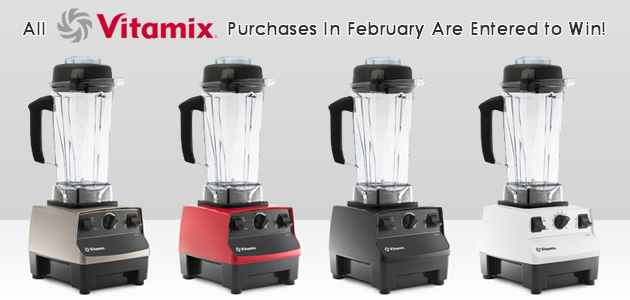 Once a year, Vitamix runs a Customer Appreciation Sale on their reconditioned machines. This year, they are lowering the price to $299 on my favorite 5200 Model (aka the Standard Model) with a full 5-year Warranty! Plus, they are letting you stack this with Free Shipping when you use my coupon code 06-004166 
And here's the best part… Anyone who places an order for a reconditioned machine before the sale ends will automatically be entered to win one of several prizes:
10 Vitamix Machines (If you buy a Vitamix and win, I believe they reimburse you for the cost of yours!)
50 Extended Warranties (This bumps it from 5 to 7 years!)
140 Smoothie Cups
This is an outstanding deal! Even my younger sister couldn't pass it up and bought her first Vitamix on Sale… She picked out the White Standard Model. I can't wait for her to get it!
The promotion starts now, and runs until February 28, 2014.
Other reconditioned models are on sale too – including the Standard Vitamix Programable… and of course the Free Shipping is applicable to any of the new products they sell as well.