I'd be a rich woman if I had a $1 for every time I answered this question! So instead of repeating myself over and over, I decided it was long overdue to dedicate a post to this topic. =)
I have had the privilege of seeing both the Blendtec & VitaMix in action and also had to choose between the two when I purchased my VitaMix. There's no doubt about it that the Blendtec is a slick looking machine, with a smaller profile. The recent ads market it as more high tech, with more versatility than the VitaMix. However, as someone who has used my VitaMix (on average) 3 times a day for the past 7+ years, I can give my honest top 5 reasons for choosing a VitaMix over the Blendtec (although the Blendtec takes a close 2nd!):
I should note that I do not have anything against the Blendtec  – I know many people who own one and ultimately, it takes 2nd place in my book. This is just my honest comparison that will hopefully help you make a decision if you are having a hard time deciding between the two. Both are a big investment in your attempt at a healthier lifestyle. If there is something else I can answer for you, please don't hesitate to ask! =)
If you want to find out more about the VitaMix, you can visit their website at https://VitaMix.com   For free shipping, please enter Coupon Code:  06-004166  
For more info on the Blendtec, you can visit their website at https://Blendtec.com.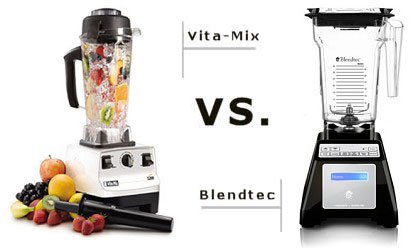 ** Just to clarify… VitaMix does not pay me to endorse their products, I just really love it that much! But, if someone happens to buy one from the link on my website or use the coupon code, I get a small referral fee, which usually is just enough to help keep my website up. Thanks! =)   **
~ Erika