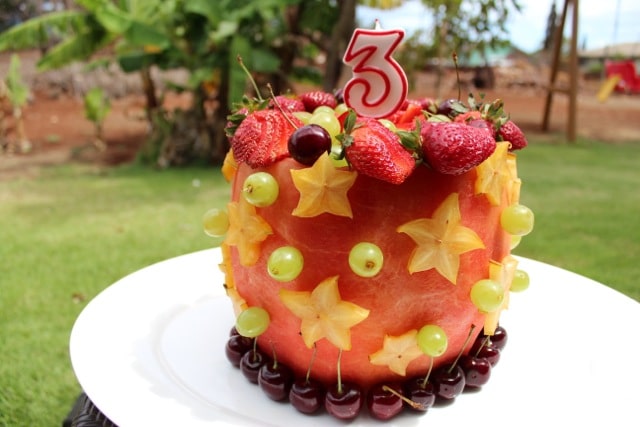 I always feel a little sorry for my kids when they get invited to a birthday party. Because of their allergies, they almost never can eat anything that is served… including the best part – dessert! So like always, I pack our own food, and a bring a special treat that I save for such occasions.
To be honest, I'm glad my kids can't eat most of the garbage that is served – but that doesn't mean their food has to be drab and taste like cardboard! I have several Gluten Free Dessert tricks up my sleeve, and oftentimes our desserts steal the show because it's so different then the same ol' cake & ice cream.
So when it's my kids turn to have a party, I love to get creative! This year, my 3 year old made a special request for his favorite – Watermelon Cake… REAL Watermelon Cake… as in 100% Fresh Fruit only. Of course I also made a traditional natural cake to share with our guests, but almost everyone wanted a slice of the Watermelon Cake instead.
Here's my How-To Make A REAL Watermelon Cake Video:
The Tools & Ingredients Used in this Recipe:

Print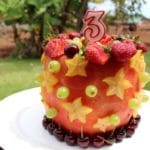 Real Watermelon Cake Recipe- 100% Fruit!
Author:

Prep Time:

35 min

Cook Time:

0 min

Total Time:

35 minutes

Yield:

1

Cake (8-12 Servings)

1

x

Category:

Dessert

Cuisine:

Gluten Free
---
Description
This REAL Watermelon Cake Recipe will be the star of the Party or Potluck.  Made with 100% Real Fruit.
---
A Variety of Fresh Fruit Ingredients:
1

Whole Watermelon (find

one

as smooth, and round as possible)

1

Bunch Green and/or Red Grapes

1 Pint

of Strawberries (washed, but leave stems on for decoration)

1/2

lb. Cherries

2

–

3

Star Fruit -OR-

1/2

 Cantaloupe or Honeydew
Special Tools Needed:
Toothpicks (the kind with one sharp & one dull end)
Long, Sharp, Serrated Knife
Serving Platter – Big & Strong Enough To Hold the Weight
Tiny Cookie Cutters to Shape Melon/Fruit if desired.
---
Instructions
Wash and prepare all fruit.
Using a Large Serrated Knife, carefully cut each end of the Watermelon off (approx. 2-4 inches each side depending on the size and shape of the cake you want).
Place one of the flat ends of the Watermelon on a Cutting Board and Trim the Rind off – Being careful to follow the natural curve of the Watermelon.
Continue trimming the Rind off until the surface of the exposed Watermelon is as smooth as possible – it doesn't have to be perfect, the fruit decorations will hide imperfections well.
Once you are happy with the trimmed shape & size, transfer the Watermelon to a Serving Platter that is large enough to accomodate the Size & Weight of the finished Cake.
Starting at the very bottom, begin decorating the Cake using Toothpicks to secure the fruit in place.  Using Toothpicks will ensure that the fruit remains secure to the Watermelon during transport.
Once the base is finished, begin decorating the middle 'sides' of the Cake… I used Star Fruit in my video demonstration, but you can also use small cookie or playdough cutters to stamp out shapes from strips of Cantaloupe or Honeydew.  Get creative!
Before decorating the top of the Cake, use a small scoop/melon baller or spoon to scoop out a 'well' on the inside edge of top.  If you plan to use candles, be sure to leave a small 'island' in the middle so you the candle will be raised above the decoration.
Use a paper towel or rag to soak up any excess Watermelon juice from the scooping, so that it doesn't spill out during transport.
Begin decorating the top using Fruit & Toothpicks to 'Build-Up' the outer edges… then fill the 'well' with loose fruit.
Lastly, secure your Candle (if you are using one) to the cake using a toothpick pressed into the base of the candle and then pressed into the 'island' in the center of the cake.
Refrigerate until ready to serve.
Cut & serve as you would a regular cake… Enjoy!
---
Notes
Refrigerate or freeze any leftovers in ziplock bags… Enjoy the next day or dump the fruit into your Vitamix for a delicious drink!
---
Nutrition
Serving Size:

1 Slice

Calories:

85