So there's a vegetarian, a meat lover, and several people with allergies at a Thanksgiving dinner…
Ok, so there's no punchline, and my poor attempt at a joke really isn't that funny. But, it does accurately represent our unique family's dietary dilemma anytime we all get together for a meal. But this Thanksgiving, we decided to do something completely different and perhaps start a new tradition that would hopefully keep everyone happy & healthy.
Instead of the traditional Turkey Smorgasbord (which usually costs a fortune and leaves us all bloated, full and in a food induced coma), we decided to have a 'Make Your Own Fresh Juice' bar with a variety of anti-pasta (veggies & dip), along with my Gluten Free Chicken Pot Pie & Pumpkin Pie.
We invited a few friends, warned them about the non-traditional menu, and they showed up anyway! It was a very casual gathering – as most meals are in Hawaii – but we really aren't fancy people anyway (as you can tell from the picture).
Everyone brought something to share and were encouraged to bring an item to juice if they wanted. I made the Gluten Free Pies and prepped some of the veggies, while my folks brought their Breville Juicer (which I love!) along with some fruits.
We juiced, ate pies, laughed hard, and enjoyed ourselves immensely. Everyone, including the kids LOVED the juice bar, and we all agreed that this new tradition is here to stay! The entire meal cost a fraction of a traditional meal and all of us left the table full, but feeling alive & well… Which is something I am very thankful for!!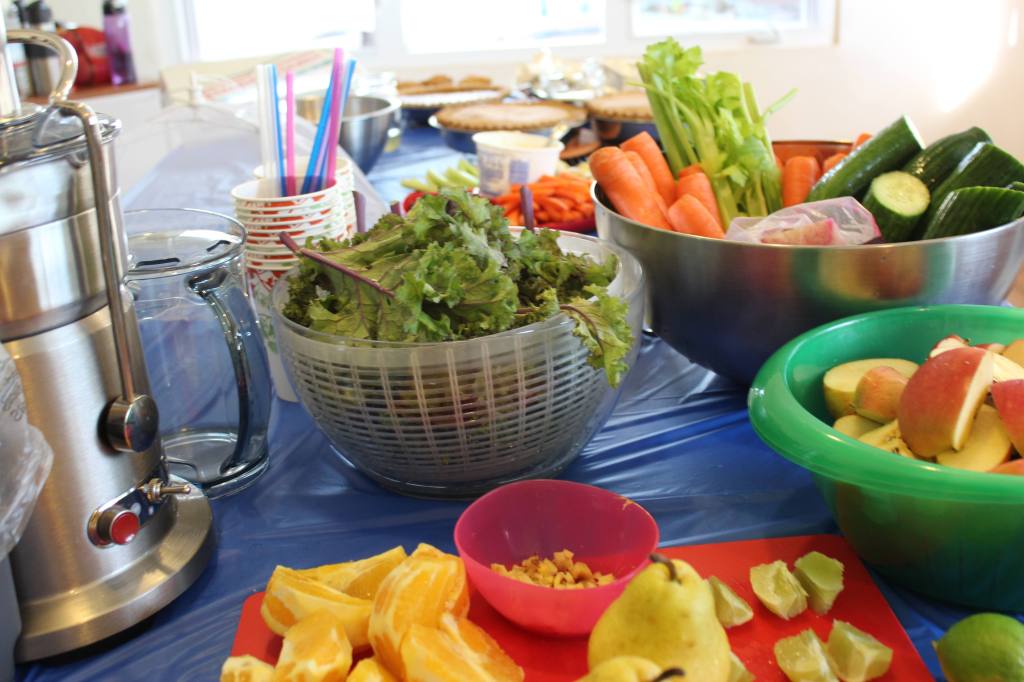 How about you? Did you do anything unusual this year or have an unusual Thanksgiving tradition?
P.S. It's 11:00 pm & I just ate a leftover piece of Gluten Free Pumpkin Pie while typing this! ;)