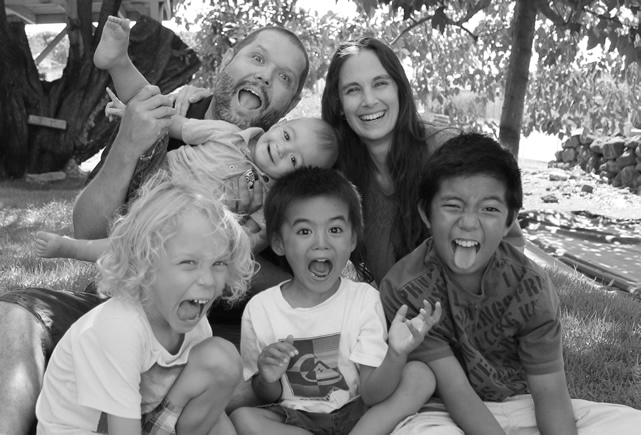 Hey There… I'm Erika and that ↑ is my crazy little family!
My insanity began the day I said 'I do' … that was when my Natural / Whole Food world collided with my Meat & Potato Husband's. Fast forward to today… We've added 4 precious boys through the amazing gift of adoption. Each one of my little men came wired with very different allergies and health issues. Their allergies range from dairy, wheat/gluten, nuts, eggs & fruits to requiring liquid diets and all kinds of other things I pray they'll outgrow.
Between all of our different dietary preferences and restrictions, I found myself re-writing our family menu over and over again until I had just about lost my mind over what to prepare everyone to eat. I also did not have the time or money to prepare 6 different meals. Determined to keep our meals whole, and as healthy as possible, I prayed for wisdom and set my mind to create recipes that can be easily adapted for almost any allergy or diet restriction – but that are still tasty and affordable! The end result of my madness is what you'll find here.
I'm not perfect, but I always try to make sure my heart's in the right place… I hope you'll keep that in mind when you poke around the site or watch my videos.
Thanks & God Bless!
~ Erika
Wife, Mother & Chief Nutjob
By the way, if you haven't figured it out already… I love Jesus more than anything else in this world! Everything I do is influenced by Him, so naturally you'll find my faith intertwined in many of my posts/videos. I understand and respect that not everyone shares my viewpoint, so I only ask that you be respectful towards my beliefs as well when commenting. If there's something I've said or done that you don't understand, please feel free to email me directly! Thanks!
————————————–
WHAT YOU'LL FIND HERE:
My favorite topics are usually about preparing healthy meals that are adaptable for most diet types, restrictions & budgets. I'll try to post several suggestions for substituting ingredients whenever possible. And I almost always try to make my recipes with all organic, whole food & as much raw (uncooked/fresh) ingredients as possible. I also try to post a corresponding YouTube video for as many recipes as I can.
I occasionally like to talk about my family since they inspire me in all I do at home and here online… they are also the driving force behind my insanity.
————————————–
MORE ABOUT MY FAMILY & OUR DIETARY WEIRDNESS
Me? Well, extreme health issues (including a total Hysterectomy at 24) led me to my place in the natural & whole food world. I typically prefer a Vegetarian diet, but will eat meat every now and then. I whole heartedly believe that a 'real' food diet, pared with natural medicine should be our primary approach to better health.
My husband on the other hand (who was raised on a cattle ranch), will eat anything… and by that I mean, anything. I affectionately call him the 'human garbage disposal.' Apparently our love for each other ran deeper than diet, because we married in 1995. With a little compromise, he'll eat anything I put in front of him. He's an amazing husband and father, and I love him dearly.
Unable to have our own biological children, we have been blessed with 4 magnificent boys through adoption… We love them more than anything. Their unique abilities and challenges bring a range of color and character to our home – which includes their special dietary & health needs.
Our first son is highly sensitive to many things including dust, wheat, dairy, eggs, soy, some nuts & fruits, artificial food coloring, and more! After years of health issues that baffled his doctors, he was finally diagnosed with a genetic auto inflammatory disease called 'Familial Mediterranean Fever' (FMF). This discovery has greatly opened the doors for me to understand why he is cyclically ill and treat him as naturally as possible. By removing ALL gluten & dairy from his diet, we have nearly eliminated the worst of his symptoms and have seen his health steadily improve. His diet also greatly affects his behavior, and even the slightest deviation from it can mean days of horrible allergies and aggravation of his sensory processing & rage issues.
Our second son has neurological, speech (Apraxia of Speech) & bowel issues and cannot have any gluten/wheat, dairy and many grains. Even the slightest amount of gluten (or several other types of grains), sends him into fits of horrible abdominal & bowel pain. He is clinically diagnosed with Celiac Disease, but an official diagnoses means we'd have to re-introduce gluten for a month… which isn't worth it to us right now. On top of all of that, he had severe dysphagia (difficulty swallowing) for the first couple years of his life and needed a liquid diet to prevent choking. Early intervention therapy and his modified diet has contributed to a miracle turn around in his mental clarity and overall health. It is so wonderful to watch him thrive.
Our third son had unexplained seizure-like activity accompanied by stomach-migraine symptoms that improved greatly when we eliminated all corn & dairy from his diet. We also avoid giving him gluten since we have seen the benefits in him too. I describe him as my little 'firecracker' with ants in his pants. He is so full of life and can often be found in the headstand position or rolling summersaults on his bed instead of taking his nap.
With our fourth son, we didn't take any chances and have kept him off all gluten & dairy since birth… So far, he's been very healthy & Lord willing, he will stay that way! He is strong-willed and the sweetest little guy – Look out for his smile… it means he's up to no good! =)
I am convinced that diet directly affects every aspect of our lives, including physical, mental and spiritual. Although I've made some food compromises over the years, I still believe that food we eat must be good for you. If you were to stop by for a meal today, you'd find that we generally eat a 50/50 ratio of raw & whole food… It's a balance that works well for our family and I hope you'll find something here that will help you too!
Whew! If you've read down this far, you deserve something chocolate… or if you're a glutton for punishment you can read more about us in the FAQ's.