A couple of years ago, I posted a Soft Gluten Free Sandwich Bread Recipe that still gets a lot of attention. I hear from hundreds of people every month who love it & at least as many begging me to create a Vegan (egg free) version of it. It wasn't until we discovered my son was also allergic to eggs that I started taking the Egg Free options very seriously.
So, I experimented with Chia Seeds, Flax Seeds, Psyllium Husks, Applesauce, Bananas, Egg Replacers, and several combinations of Baking Powders & Acids… But nothing I tried could truly duplicate a good loaf of bread. Discouraged, I set the idea aside for a while and stuck to making gluten free flatbreads & hot dog buns – Until Recently…
Remember my post a couple months ago about Aquafaba (aka Garbanzo Bean Brine) being used in place of eggs to make Meringue?? Well, I couldn't shake the idea that I could use this somehow for bread, so I tried, and tweaked, and tried again… and it worked beautifully! I've made at least 20 batches with this recipe and it turns out soft & delicious every single time. So, now its time to share it with you! =)
The Tools & Ingredients in this Recipe: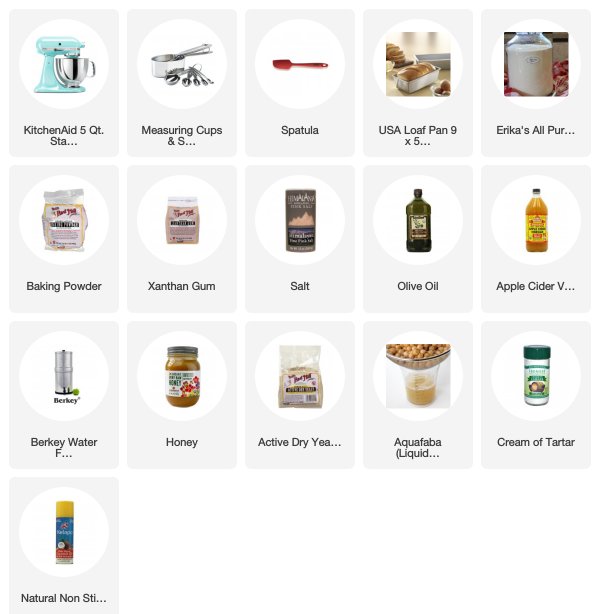 Aside from the added step of whipping the chickpea liquid to stiff peaks, this recipe is very similar to my other Gluten Free Bread Recipe with a couple of important tweaks… it's important to follow the instructions carefully. I can't say at this point how your substitutions will work.
Print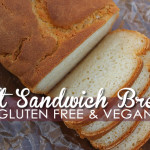 Soft Gluten Free Vegan Bread Recipe
Author:

Prep Time:

10 mins

Cook Time:

60 mins

Total Time:

1 hour 10 minutes

Yield:

1

9x5 Loaf

1

x

Category:

Baked Goods

Cuisine:

Gluten Free
---
Description
The BEST Soft Gluten Free Vegan Sandwich Bread Recipe – Featuring Aquafaba (Garbanzo Bean Liquid) Whip as an Egg Substitution.
---
YEAST MIX:
1½ Cups

Warm Water

3 Tablespoons

Honey (or any natural sugar for those following a Vegan diet)

2½ Teaspoons

Dry Active Yeast (be sure your yeast is fresh and alive)
CHICKPEA/GARBANZO BRINE WHIP:
¼ Cup

Aquafaba – Brine/Liquid drained from canned Garbanzo Beans (aka Chickpeas) – Use up those Garbanzo Beans in Homemade Hummus, Roasted Chickpeas or 3 Bean Salad!

½ Teaspoon

Cream of Tartar
DRY MIX:
Scant

½ Teaspoons

Xanthan Gum (in addition to what's already in the GF Flour Mix)

4 teaspoons

Baking Powder

1 teaspoon

Salt
WET MIX:
¼ Cup

Olive Oil

2 teaspoons

Apple Cider Vinegar
---
Instructions
PREPARING YEAST MIX:
In a measuring cup, measure out warm water (should be warm to the touch, not hot or cold). Stir in Honey and add Yeast last. Set-aside & let proof for approx. 10 minutes.
PREPARING CHICKPEA/GARBANZO BRINE WHIP:
While Yeast is proofing, pour the Aquafaba (Garbanzo Bean Liquid) along with the Cream of Tartar into the clean & dry bowl of your stand mixer fitted with the whisk attachment. Whisk on high until stiff peaks form. On my mixer, soft peaks happen around 2-3 minutes & stiff peaks around 4-5 minutes. Once you have stiff peaks, use a spatula to scoop out the fluff and set-aside.
PREPARING DRY MIX:
While the Aquafaba is Whisking, Combine all of the Dry Mix ingredients together in small bowl.
PUTTING IT ALL TOGETHER:
Add in the proofed Yeast Mix to the stand mixer bowl.
Add Dry Mix ingredients in mixer bowl with yeast. Using the paddle attachment, begin to slowly mix while adding in the Oil, then Apple Cider Vinegar.
Mix well on Medium-High for 2-3 minutes until dough is smooth, but wet & sticky.
Stop mixer and add in Garbanzo Bean Fluff
Mix gently on low speed until dough is well combined (approx 30 seconds or less)… Do not over beat. Mixture will be thick yet somewhat runny (think cake batter).
Spray or Grease your 9×5 Loaf Pan.
RISE & BAKE INSTRUCTIONS:
Using a spatula, scrape the bread mixture into your prepared loaf pan and Cover with plastic wrap. Set pan on top of your warm stove to proof while the oven is preheating.
Preheat your oven to 375 degrees Fahrenheit.
It is important not to over-proof the bread – just let it rise approx. 20-30 minutes (depending on your room temperature). Don't let it rise above your loaf pan… Gluten free breads do not maintain their structure and will flow over the pan or collapse if left to over-rise or over-filled.
Bake for approx. 50-60 minutes. If the crust is darkening too quickly, you can cover it with foil (tent open ended) and return to baking until done. (If it helps, I usually cook mine until I get an internal temperature of 210 – 220 degrees on my digital thermometer).
Loaf may initially rise much larger than the pan, and shrink back a bit… that's ok, just be sure it is completely cooked before removing from the oven.
Remove loaf pan from oven and let cool for 1-2 minutes before turning out onto your cooling rack. (I always cool my loaves on their sides to keep the steam/moisture from making the bottom dense). Allow to cool completely before attempting to cut into slices.
STORAGE:
Loaf keeps best for 1-2 days out on counter in airtight container or bag, but I've found that the loaf stays moist even when placed in the fridge.
---
Notes
Without eggs, there will be a little bit of shrinkage – this is typical with gluten free baked goods. You will notice with this recipe that the loaf will rise in the oven during the first 20 minutes, then gradually come back down to the same size as when you put it in after proofing – this is normal, and won't affect your loaf.
The key to remember with Gluten Free baking is

NOT

to overproof OR NOT to leave the loaf in the pan more than a minute or two after pulling it out of the oven – both of these can result in the loaf sinking and becoming dense at the bottom.
---
Nutrition
Serving Size:

1 Slice

Calories:

130

Sugar:

3g

Sodium:

240mg

Fat:

3g

Saturated Fat:

0

Unsaturated Fat:

0

Trans Fat:

0

Carbohydrates:

23g

Fiber:

1g

Protein:

2g

Cholesterol:

0
I've tried my best to document the most important steps with some photos:
Proof your yeast – If you don't have two separate Stand Mixer bowls, then do this in a large measuring cup.
While your yeast is proofing, combine your Chickpea/Garbanzo Brine with Cream of Tartar & whisk in stand mixer bowl on high.
Mix on high until stiff peaks form (approximately 4-5 minutes when using a stand mixer). Set this aside for use later.
Whisk all of your dry ingredients together and add to your stand mixer bowl with the fully proofed yeast. (Don't add the Garbanzo Brine Whip yet.)
With paddle attachment, mix dry ingredients with yeast until wet, and with machine running on low, drizzle in Olive Oil.
After adding the oil, drizzle in your Apple Cider Vinegar – then Beat mixture on High Setting for 2 minutes.
After mixing for 2 minutes, stop mixer and scrape in your garbanzo bean liquid whip (stiff peaks).
Turn mixer back on and mix at low speed until mixture is well incorporated (maybe 20 seconds or so) – But, do not over mix!
Pour bread mixture into your prepared loaf pan. See how the mixture is thick, but loose. It's more like cake batter – it will be nothing like regular bread dough.
Smooth top of loaf and cover with plastic wrap. I place mine on my stovetop while the oven is pre-heating to 375 Degrees Fahrenheit.
In my warm tropical climate, the loaf fully proofs in approx. 20-25 minutes. But whatever you do, please do not overproof your loaf – it will fall after baking. I just proof it until it almost touches the plastic wrap… Take note, that this will be the finished size of the loaf after it bakes – even if it rises in the oven.
Here's what it looks like after 10 minutes in the oven… see the little bit of rise?
After 20 minutes in the oven – see how it shrinks back a bit?
After 30 minutes in the oven.
After 40 minutes in the oven… See how it's back down to the size it was when you placed it in the oven after proofing?
After 50 minutes in the oven.
After approx. 60 minutes in the oven… The crust is nice and brown, and the temp just right at 212 degrees.
Once I pull it out of the oven, I like to cool the loaf on it's side to avoid steam moisture making the bottom dense. It may be just me, but I think it cools faster this way too! =)
Let the loaf cool completely before slicing – Seriously, you will ruin the loaf if you don't wait – I know this because I've been impatient many times – oopsie! ;) Check out those beautiful slices!