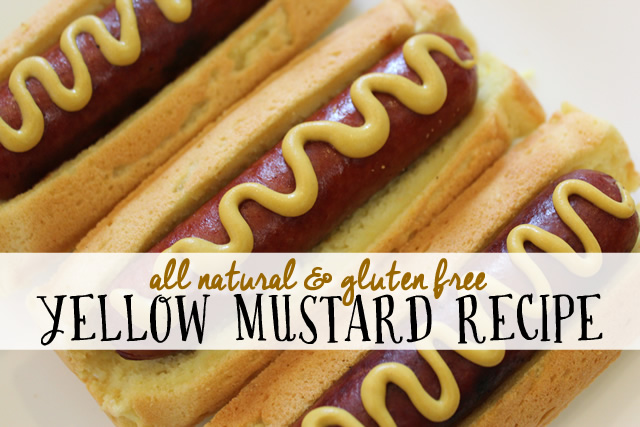 The condiment isle at your local grocery store is a perfect place to find all kinds of hidden ingredients you might not be expecting, and possibly even ingredients you're allergic to.  If you're like me, you'll read the labels and try to find a healthier alternative – But the price difference is shocking or the taste isn't the same!
This happened to our family with mustard – Did you know some mustards have Gluten in them?!  Plus, two of our sons have major sensitivities to Grain Vinegars, so I needed to find a Mustard that used Apple Cider Vinegar instead. After searching everywhere, I finally found a Natural Yellow Mustard that tasted great, but it meant spending nearly twice as much!
Well, if you know me, then you already know what happened next… I went home and made up my own Mustard!  It took a couple of tries, but now I've got an Easy, Delicious Homemade Mustard Recipe that everyone can eat.  It tastes just like regular yellow mustard… but fresher, less expensive, and even better for you!
The tools & ingredients I used in this recipe are:

Homemade Mustard Recipe - Gluten Free
The BEST Homemade Mustard Recipe that's All Natural, Gluten Free & Vegan. Uses Apple Cider Vinegar & Whole Food Ingredients... Perfect for your favorite Sandwich, Dressing & BBQ!
Author:
A Little Insanity - Erika
Ingredients
DRY INGREDIENTS:
WET INGREDIENTS:
Instructions
In a medium saucepan whisk together the Dry Ingredients and then add in the Wet Ingredients.
Whisk everything until smooth.
Bring mixture to a boil over Medium heat, stirring regularly.
Once mixture comes to a boil, simmer for 5-10 minutes, stirring constantly until mixture begins to thicken. Reduce the heat as necessary to avoid bubbling over.
Remove from heat source and let the mustard sit for 1 minute uncovered.
Cover with lid and let sit until Mustard is cooled enough to store in airtight container.
Store in Fridge in airtight container.
Notes
Mustard can be used right away, but is tastes best went it's left to mellow for a few days.