The words 'Soft' and 'Gluten Free' are rarely used in the same sentence – and for good reason… Most gluten free baked goods are dry, crumbly and taste like recycled rice cakes. Why for the love of Pete (whoever he is), can we put a man on the moon, but can't make a gluten free bread that doesn't require toasting it first so we can eat it without falling apart?!
Good news my friends… Soft, Gluten Free Sandwich Bread, Pizza Crusts & Hamburger Buns do exist! It starts with having the right combination of my  'Erika's All Purpose Gluten Free Flour Mix' paired with the perfect ratio of other ingredients and a careful cooking method. But that doesn't mean you need to be a rocket scientist to make it… in fact this recipe is so easy, my kids help me with it all of the time and it still turns out great!
** If you're looking for a VEGAN version of this recipe (no eggs), CLICK HERE for my Gluten Free and Vegan Bread Recipe!**
The Tools & Ingredients In This Recipe: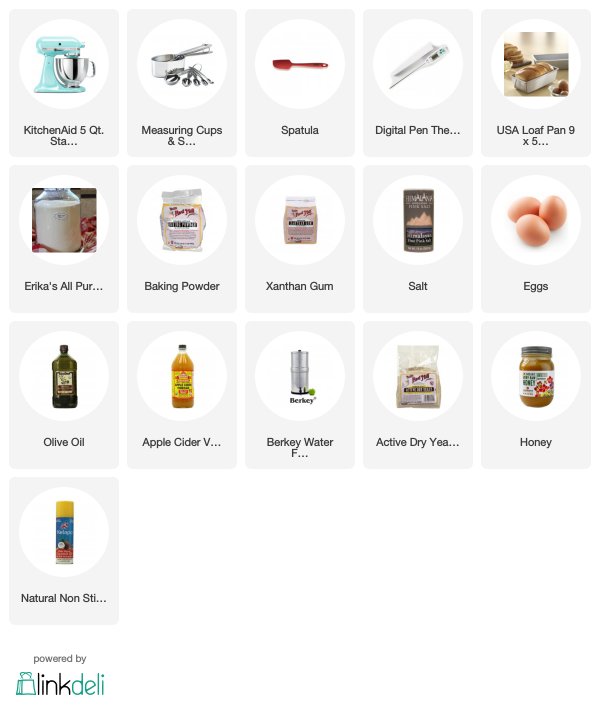 Print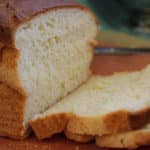 Soft Gluten Free Sandwich Bread Recipe
Author:

Prep Time:

15 minutes

Cook Time:

45 minutes

Total Time:

1 hours 30 minutes

Yield:

1

9 x 5 Loaf

1

x

Category:

Baked Goods

Cuisine:

Gluten Free
---
Description
This is the BEST Soft Gluten Free Sandwich Bread Recipe Ever! It's Easy to Make & Delicious… Enjoy Bread Again!
---
YEAST MIX:
1½ Cup

Water or Milk (or Milk Alternative)

3

–

4

 Tablespoons Honey, Sugar or other Natural Sweetener

2½ Teaspoons

Dry Active Yeast (Be sure your yeast is fresh and alive)
DRY MIX:
1½ Teaspoons

Xanthan Gum (in addition to whats already in the GF Flour Mix)

4 Teaspoons

Baking Powder

1 Teaspoon

Salt
Optional:  Mix in your desired sweet or savory flavors (like cinnamon or onion powder).
WET MIX:
2 Teaspoons

Apple Cider Vinegar or Lemon Juice

¼ Cup

Olive Oil

2

Large Eggs (see options for egg free below)
---
Instructions
In measuring cup, measure & warm milk to just above body temperature – it should be warm to the touch (not hot or cold). Stir in Honey and add Yeast last. Set-aside & let proof for approx. 10 minutes.
Combine Dry Mix ingredients in small bowl.
Combine Wet Mix ingredients in bowl of stand mixer fitted with the paddle attachment. Mix just for a few seconds.
Add in the proofed Yeast Mix and mix again for just a few seconds.
Add the Dry Mix and beat on medium-high for approx. 3 minutes. Dough will be wet, but thick and sticky!
If necessary, oil and flour your 9×5 Loaf Pan or spray with non-stick coating. I use USA pans and do not need to coat them.
Using a spatula, scrape the bread mixture into your prepared loaf pan and set on top of your stove to proof while the oven is preheating. Be sure to smooth out the loaf with spatula or wet fingers before proofing as the loaf will not smooth out itself.
Preheat your oven to 375° Degrees Fahrenheit.
Important: Do NOT over-proof the bread – Just let it rise approx. 20-30 minutes depending on your room temperature. Don't let it rise above your loaf pan like regular bread or let it crest the top. Gluten free breads do not maintain their structure and will flow over the pan or collapse if left to over-rise or over-filled.  The remaining rise will occur in the oven.
Bake for approx. 35-45 minutes. If the crust is darkening too quickly, you can cover it with foil (tent open ended) and return to baking until done. (If it helps, I usually cook mine until I get an internal temperature of 210 – 220 degrees on my digital thermometer).
Unlike regular bread, Do NOT let the loaf sit in the pan to rest.  Carefully remove loaf from the oven – Within 1-2 minutes, gently turn it out onto its side onto your cooling rack. Allow to cool completely before attempting to cut into slices. I use my meat slicer or a sharp serrated bread knife to achieve even slices.
---
Notes
FOR PIZZA:
I use a 9×13 Cake Pan, let rise as directed, & bake a thick flat loaf – once it cools cut it in half sideways and split it open to prepare with my toppings. Or, you can shape into rounds, let rise for approx. 15 min. and then bake on a Pizza Stone as directed. Once cooked, top with your favorite ingredients & return to oven and bake at 450 until done. 
You can also try my Gluten Free & Vegan Pizza Crust Recipe 
FOR HAMBURGER BUNS:
Prepare as you would for Pizza in a 9×13 Cake Pan and then cut into 12 square 'buns', which can be split in half. Or, you can use a Hamburger Bun Pan (like the
USA 6″ Mini Round Pan I have by USA Pans) and fill each well ½ full and let rise until double in size. Bake as directed until done.
You can also try my Gluten Free & Vegan Crunch Roll Recipe
EGG SUBSTITUTION:
Although some of you have had success with this – Due to the responses in the comments, I DO NOT suggest using Flax or Chia Seeds as a substitute for eggs. However, I have had some success using Chia & Ener-G egg replacers when making pizza dough and buns.
You can also try my Soft Gluten Free & Vegan Bread Recipe. 
ADDITIONAL ADD-INS:
Feel free to add in seeds, nuts, raisins, cinnamon, etc…. Just be sure to stir them in by hand at the end before scraping the mixture into your pan.
LEFTOVERS:
Store any leftovers in a airtight bag on your counter for up to 2 days. Refrigerate or Freeze as needed, but be aware that Gluten Free bread will dry out quickly once chilled.  You can cover it & warm it in a microwave to help soften it again.
Use extra bread to make Gluten Free Bread Crumbs, by drying them in the Oven or Dehydrator and then blending them in your VitaMix Blender or Food Processor.
---
Nutrition
Serving Size:

1 Slice

Calories:

75

Sugar:

0 g

Sodium:

0 mg

Fat:

0 g

Saturated Fat:

0 g

Unsaturated Fat:

0 g

Trans Fat:

0 g

Carbohydrates:

0 g

Fiber:

0 g

Protein:

0 g

Cholesterol:

0 mg
Here's a better look at the proofing & baking process.
Shape Dough in Pan using wet hands if needed.
Dough will retain most of the imperfections.
Leave Dough on Stove Top to Proof while Oven is pre-heating.
See how it's starting to rise?
Dough has been proofing for about 20-25 minutes and is ready for the oven!

After 5 minutes in the oven.

After 10 Minutes in the Oven.

After 15 Minutes in the Oven.

After 20 Minutes in the Oven.
Notice how the original markings have stayed?

After 25 Minutes in the Oven.

If you think the crust is browning too quickly, you can tent it with foil.
I never have to do this, but your oven or pan may cook differently then mine.

Bread is done when internal temp reaches 200 – 220 degrees.
I always keep mine in for 1-2 minutes extra after it reaches 210 to ensure the inside isn't too sticky…
I believe this also helps it retain it's shape so it doesn't deflate.

All Done… Enjoy!