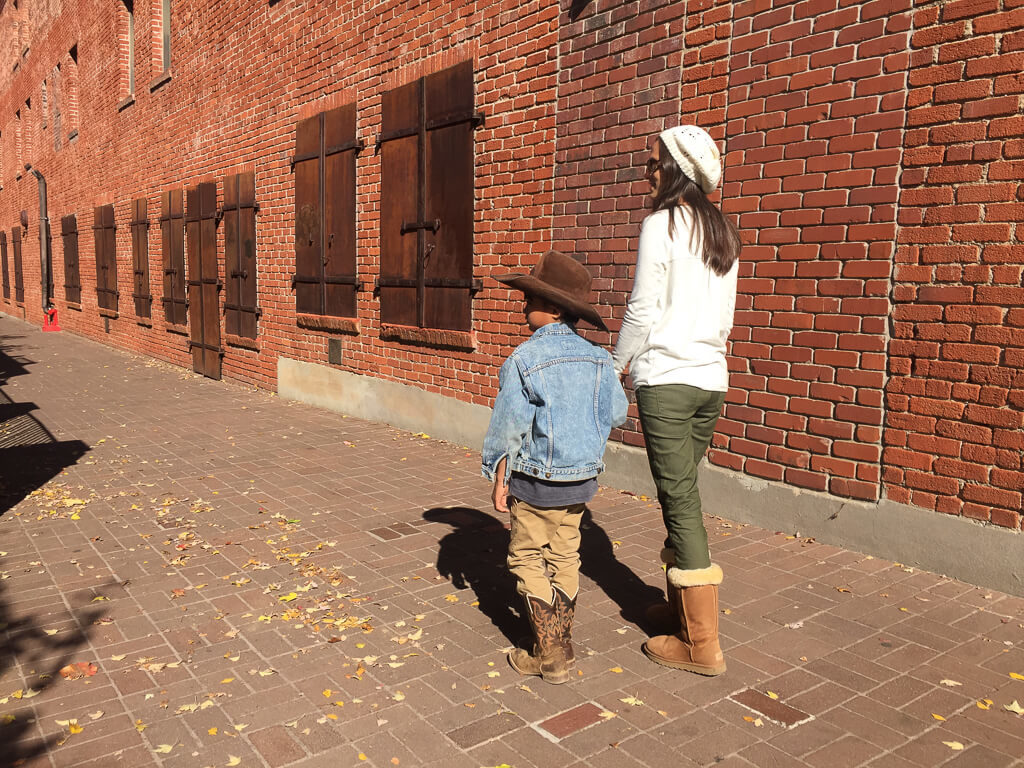 This post was inspired & sponsored by the clothing company prAna. I love their mission to create versatile, stylish, and sustainable clothing and accessories that you can wear during every activity, on every adventure, every day. They're even sharing coupon code WPEMF18 with you guys for an extra 15% off your next prAna purchase!
~~~
Friends, if you've been around here for a while, then you already know that I lived in Hawaii for the past 17 years and just moved back to a very small town in Northern California. I grew up here, so the transition in many ways hasn't been too difficult… except for the weather. Maui's 85 degrees of year-round weather spoiled me, and my tropical wardrobe consisted of tank tops, yoga pants & flip flops – all year. But, not anymore.
For those familiar with Northern California, I'm now only about 45 minutes from Lake Tahoe, so the weather gets cold… really cold! My tiny body has never done well with cold weather. The cold makes me ache all over & the bulky weight of all those clothes makes me want to curl up & hibernate. I lived in denial this summer that the cold weather would be back, but when I went out to the barn the other day and saw my breath, I knew Old Man Winter was warning me to get ready!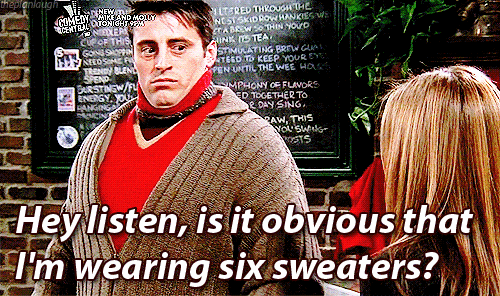 In the past, I've tried layering my sweaters and jackets until I 'felt' warm. But, I just ended up being so stiff that I couldn't function well throughout the day. I started taking the advice of local friends on what they do to layer smarter & what types of fabrics they prefer – like wool blends and natural fibers. They also suggested I focus on keeping my core (torso area), head & feet warm, which works together to keep my whole body warmer.
This winter I'm focused on building a truly functional Winter wardrobe capsule (see my list below) that helps me layer smarter & more effectively while keeping my outfits simple & stylish. So, when prAna offered to let me pick out a Winter outfit that promised to keep me both warm & stylish – I said 'Yes Please!'  I went straight for their wool sweaters & found this cozy Crestland Pullover made with recycled wool (I love the pockets!) and this Organic Cotton Crestland Pullover. They also sent me the most comfortable pair of these Organic Cotton Kara Jeans that have just the right amount of stretch & fit me like a glove – LOVE THEM!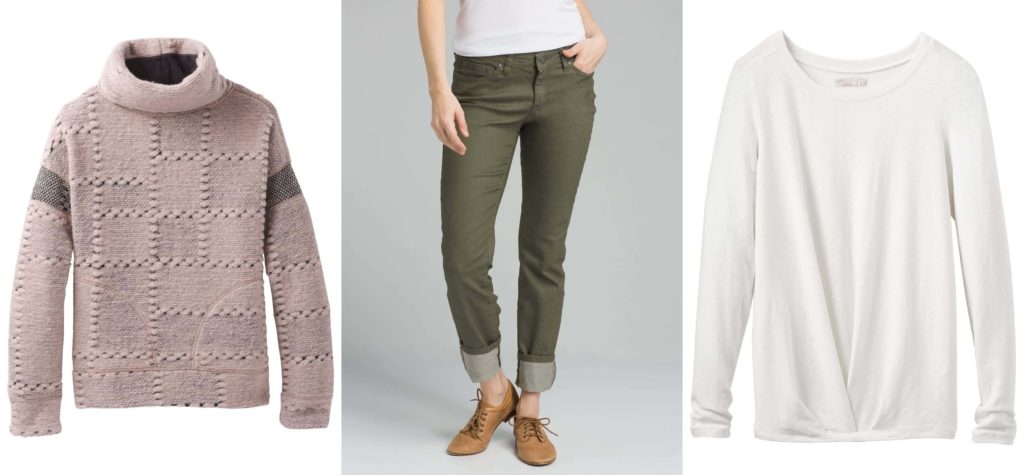 What I like most about the winter outfit from prAna, is that: I'm warm enough to bring my kids to their early morning classes; Stylish enough to run my errands and meet up with friends; and Comfortable enough to be an active mom around the house without being stiff. Plus, I love prAna's commitment to being sustainable & using organic & recycled resources whenever possible.
Want to try prAna to warm up your Winter Wardrobe? Use coupon code WPEMF18 for 15% off your next prAna purchase!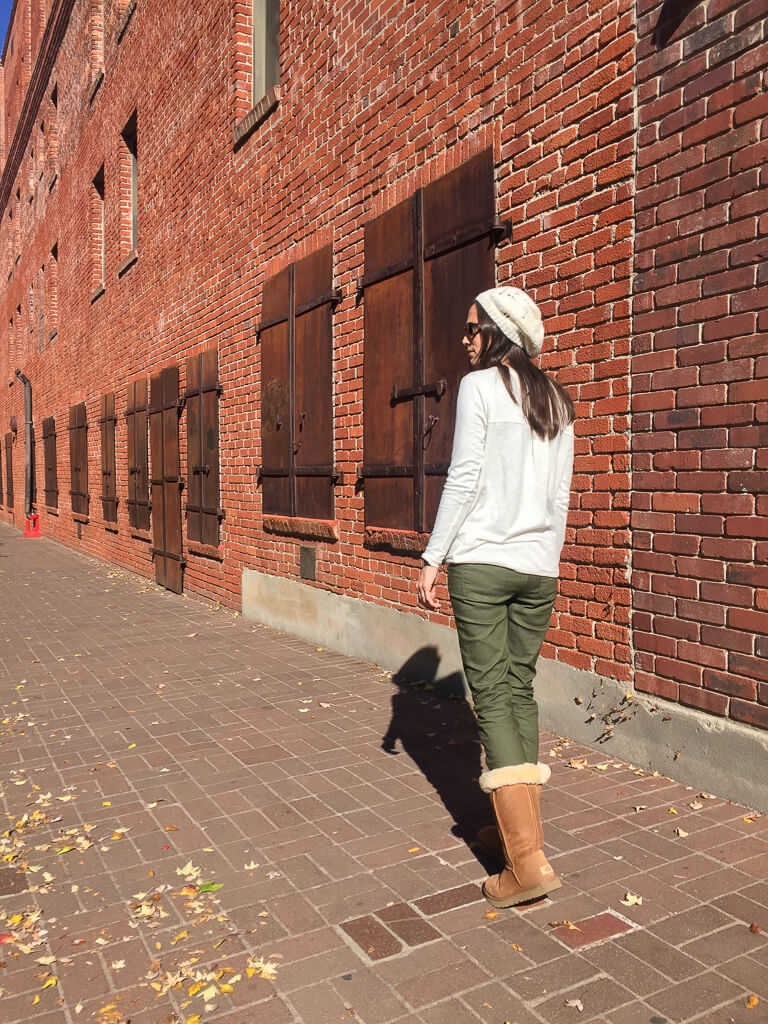 Here's What my Winter Wardrobe Capsule looks like now: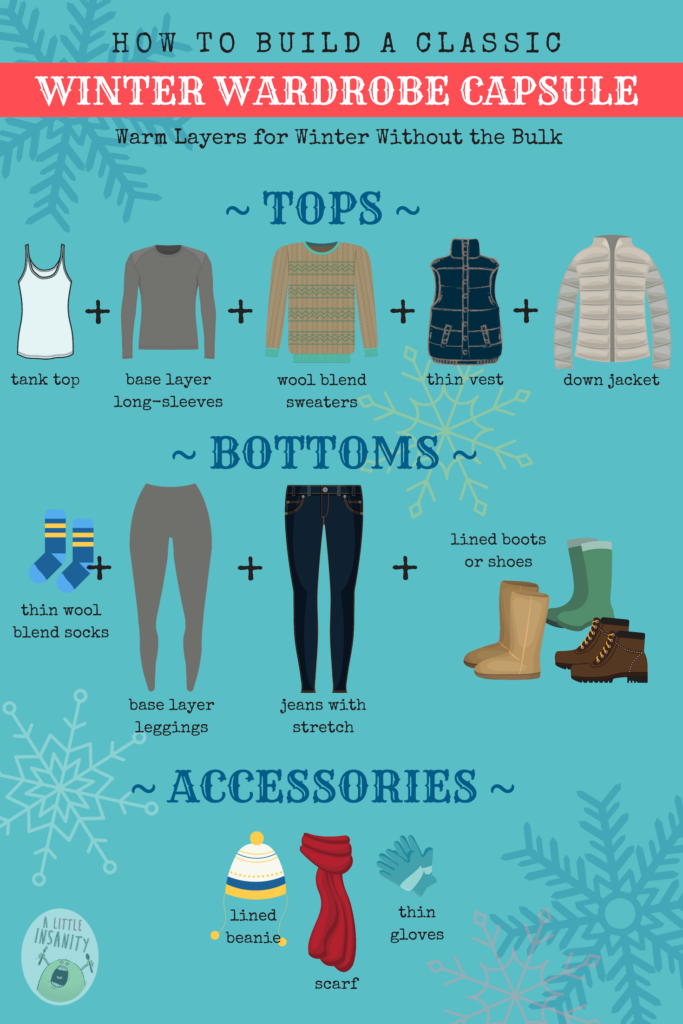 TOPS:
Skin-Tight Camisole Tanks (I tuck these into my pants to keep out the draft)
Thin Base Layer Tops (designed to trap heat, but wick away moisture)
Wool Blended Sweaters & Cardigans
Flannel Shirts (I use these for when I'll be taking off warmer sweater layers while inside).
Thin, Packable Down Vest (or down alternative if you're allergic)
BOTTOMS:
Thin Wool Blend Socks
Thin Base Layer Leggings (to go under my pants when it's really cold),
Jeans with Stretch
Lined Boots and/or Waterproof Hiking Shoes (I wear lined Moccasins while indoors)
JACKETS:
Long, Down Puffer Jacket with removable Hood (mine goes just past my booty)
Long, Anorak Jacket with a Cinch Waist
Short, Packable Down Jacket
EXTRA ACCESSORIES:
Lined Beanie
Thin Gloves
Scarf
I should note that my criteria for picking out winter layers MUST include them being machine washable & dryable – with a few exceptions to air-dry some things. I also have a couple of other accessory items for playing in the snow (like waterproof gloves, boots & pants).
How about you? Do you have any other tips I can use for staying warm & cozy this winter? I'm always open to suggestions. And don't forget to checkout prAna's entire line of winter wear… You can use coupon code WPEMF18 for 15% off and also request a catalog!
Stay Warm & God Bless! =)
~Erika