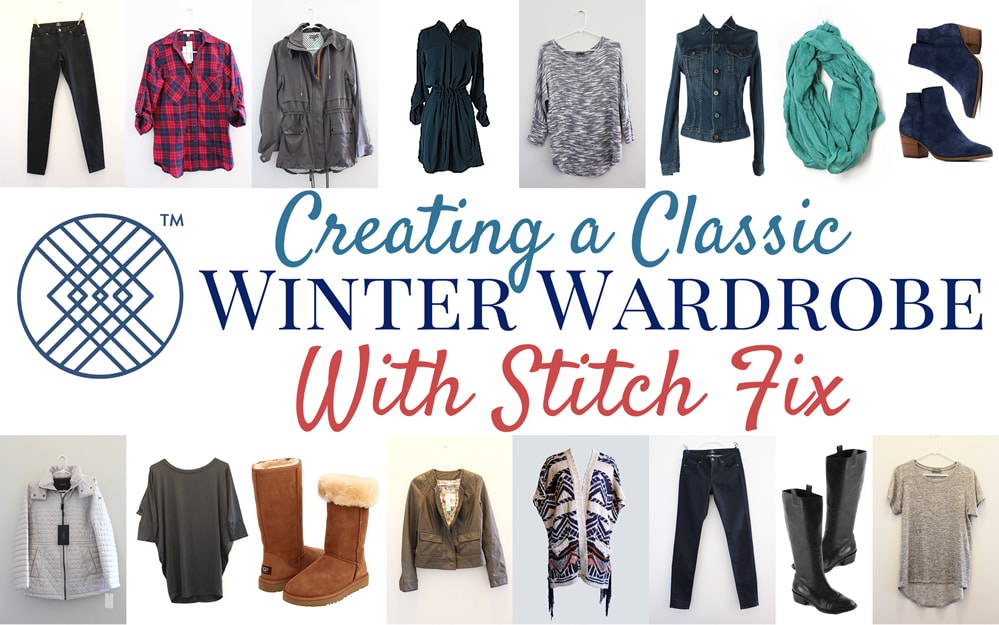 I am not interested in becoming a fashionista… that's just not me. My lifestyle is casual, practical & comfortable. But, with an upcoming trip to the mainland and no winter clothes (I live in Hawaii), I needed several basic wardrobe pieces that could be put together in a Wardrobe Capsule. This will allow me to pack a few interchangeable items without buying a ton of clothes.
Side Note: This is not a sponsored post, but it does contain affiliate links… which means that if you click on any of the links in this post, I may receive a small percentage of the sale (which doesn't cost you anything extra). Every little bit helps me keep this blog up and running, so thank you very much for your support! =)
Last month, I turned to Stitch Fix for help, and posted my tips on How to Get a Better Stitch Fix after keeping all 5 items they sent. This month my goal was to have Stitch Fix  build on the outfits they sent me & they hit another Home Run!
With this Fix, I requested my same stylist 'Jeni' to pick out items that would coordinate with my last Fix. I gave suggestions for items I wanted and made it very clear that I wanted to build a Winter Wardrobe Capsule.
Just a reminder… Here's what I got last time:


And, here's what they sent me this time:

Black Cordelia Stretch Skinny Jeans – $78 (kept): LOVE these Skinny Jeans!
Grey Sam Hi-Lo Short Sleeve Top – $44 (kept): Loved the way this shirt fits.
Black Queensland Dolman Jersey Top – $48 (kept): Dolman style tops are my favorite & this one is so comfy.
Light Grey Harstad Quilted Puffer Coat with Hood – $118 (kept):  I'm counting on this jacket keep me warm while traveling. I also like that the hood is removable & the waist can be cinched to flatter your shape & keep the cold out.
Dark Brown Michael Faux Leather Jacket – $78 (kept):  When I first pulled this jacket out of the box, I didn't like it. But after trying it on, I realize it worked nicely with the jeans & tops I had. Plus, with the 25% discount Stitch Fix offers when you keep all 5 items, it actually was cheaper to keep it then to send it back.
There's not much color going on, but I did specifically requested basic interchangeable pieces so I can use scarves, sweaters, boots & accessories to bring in a pop of color & change up my look easily.
What did it cost?
Since I kept everything, the total came to $275 (This included a 25% discount for keeping all 5 Items, as well as my $20 Style Fee credited to the final amount)
Note: I am a VERY fugal person. I LOVE shopping at thrift stores or online at ThredUp (my fave!) for used clothing. But when I stopped to consider my time and sanity in shopping (with 5 boys) for winter clothes in Hawaii (ha!) AND the fact that I don't have lick of style sense – Stitch Fix offered a helpful service that seemed reasonable for what I got in return.
Who was my stylist?
My personal style has been 'Jeni'. She has done a great job working with my requests & I will definitely be asking for her again.

What I'm asking for in my next Fix:
I'm looking forward to trying the service one more time to help complete my Winter Wardrobe Capsule. I'm asking for my same stylist 'Jeni' and requesting the some of the following items that will coordinate with my past fixes:
Long Sleeve Layering Top
Cardigan & Basic Knit Sweaters with Color
Medium Blue Denim Skinny Jeans (no more dark)
Thin, Warm Vest in Navy
In addition to using Stitch Fix , I LOVE thrifting for other basics & accessories at ThredUp.com  I've found scarves, shoes, boots (even a pair of UGGS!) for a fraction of what you'd pay new online. If you never tried ThredUp, here's a $10 coupon off your first order.
Have you tried building a Wardrobe Capsule? If so, I'm curious to know what pieces you think are the most valuable & the ones you wore the most/least? Not sure what a Wardrobe Capsule is? Here's a great explanation over here.
If you haven't tried Stitch Fix yet, I think Fall & Winter is the best time to try. I also think that Stitch Fix would make a wonderful gift idea for yourself or a loved one… Perfect for Birthdays, Holidays & Special Occasions.
They even offer Fixes for Men now too (see my husbands review over here)!