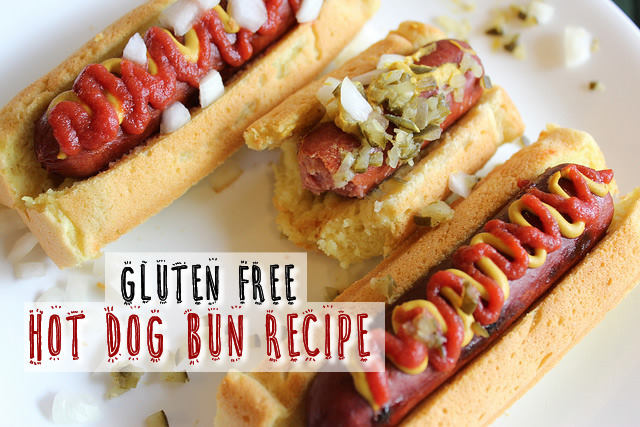 This summer, out of the blue, my oldest son said "Mommy, I can't wait to go to Heaven… Because when I get there I'll get to see Jesus; I won't have allergies; & I can eat a Hot Dog!" Really?! I mean I totally get the Jesus & no allergies part, but a Hot Dog?! As odd as it sounded to me, a Hot Dog sounded like Heaven to this sweet boy who'd never had one. Yes, a Hot Dog.
I pushed the idea to the back of my mind until we were on the Mainland visiting family. We were planning a special 4th of July BBQ, and I was picking up something from Whole Foods for us to eat. Out of the corner of my eye, I spotted a woman sampling 100% All Natural, Organic, Locally Grown Beef HOT DOGS! Surely they weren't Gluten Free… but as I got closer, there was a bright yellow sticker on them saying 'GLUTEN FREE!' My mind was telling me NO, but my heart said YES & I bought a package of them.
I'm sure I caught a little glimpse of Heaven on Earth when my son saw that Hot Dog on his plate… He was beaming… over a Hot Dog people…. but my heart skipped a beat when he jumped up, kissed me & said 'Thank you Mama!' Thankfully he didn't have some sort of religious experience while eating it, because now we can save them for an occasional treat – and have a Gluten Free Bun to go with it!
This Gluten Free Hot Dog Bun Recipe is so easy & uses my favorite USA Hot Dog Bun Pan (which makes the classic New England Style Bun vs the Chicago Style that you see in stores). It contains NO Gluten or Dairy & I've had great success making it without Eggs – both recipe variations are listed below. This recipe is very similar to my Soft Gluten Free Sandwich Bread Recipe, but with a few modifications.
The Tools & Ingredients Used in this Recipe: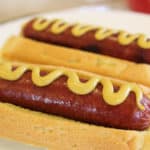 Gluten Free Hot Dog Bun Recipe
Author:

Prep Time:

30 mins

Cook Time:

30 mins

Total Time:

1 hour

Yield:

9

Buns

1

x

Category:

Baked Goods

Cuisine:

Gluten Free
---
Description
This Gluten Free Hot Dog Bun Recipe is also Dairy Free & Optionally Egg Free! It features the USA Hot Dog Bun Pan and is a perfect fit for your Hot Dog! Makes 1 Loaf = 9 Buns.
---
YEAST MIX:
1 1/2 Cup

Warm Water or Milk (or Milk Alternative)

3 Tablespoons

Honey

2 1/2 teaspoons

Dry Active Yeast (be sure your yeast is fresh and alive.)
DRY MIX:
WET MIX:
1 Tablespoons

Apple Cider Vinegar or Lemon Juice

1/4 Cup

Olive Oil

2

Large Eggs (see options for egg free below)
EGG FREE VERSION:
We almost always make the egg free version and it comes out beautifully with these modifications. See the special instruction below for preparing the mixture differently.

2 Tablespoons

Extra Water added to Yeast Mix

1 Tablespoons

of Dry Ener-G Egg Replacer Whisked into Dry Mix

2 Tablespoons

Apple Cider Vinegar (instead of

1 Tablespoon

)
---
Instructions
STANDARD PREPARATION WITH EGGS:
In a measuring cup, measure & warm water to just above body temperature – should be warm to the touch (but not hot or cold). Stir in Honey and add Yeast last. Set-aside & let proof for approx. 10 minutes.
Combine Dry Mix ingredients in small bowl.
Combine Wet Mix ingredients in bowl of stand mixer fitted with the paddle attachment. Mix just for a few seconds.
Add in the proofed Yeast Mix and mix again for just a few seconds.
Add the Dry Mix and beat on medium-high for approx. 3 minutes. Dough will be wet (think thick cake batter)!
If you want, you can spray your USA Hot Dog Bun Pan with non-stick coating, but this is not necessary.
Using a spatula, scrape the bun mixture into your prepared USA Hot Dog Bun Pan and set on top of your stove to proof while the oven is preheating. Be sure to smooth out the loaf with spatula or wet fingers before proofing as the loaf will not smooth out itself.
Preheat your oven to 375 degrees.
It is important not to over-proof the buns – just let them rise approximately 20-30 minutes depending on your room temperature.
Bake for approx. 25-45 minutes. If the crust is darkening too quickly, you can cover it with foil (tent open ended) and return to baking until done. (Every Oven is different, but I usually cook mine until I get an internal temperature of 220 degrees on my digital thermometer).
Remove Hot Dog Bun Pan from oven and let cool for 3 minutes before turning out onto your cooling rack. Allow to cool completely (at least 30-45 minutes) before attempting to cut into buns/slices.
WITHOUT EGGS:
Follow the standard preparation directions above with these modifications to the ingredients & order in which the ingredients are mixed together.
Proof Yeast right in the Stand Mixer Bowl with Extra 2 Tablespoons Water (no need for a separate bowl/cup)
Add Dry Mix to Mixing Bowl (with 1 Tablespoons Ener-G Egg Replacer Whisked In)
Add Olive Oil & run Mixer until all ingredients are wet.
Add extra Apple Cider Vinegar & Mix on Medium High for Approximately 3 Minutes.
Note that the Egg Free Bread will shrink around the edges as it bakes – that's ok, they still turn out great!
LEFTOVERS:
Store any leftovers in a airtight bag on your counter for up to 2-3 days. Refrigerate or Freeze as needed, but be aware that the bread will dry out quickly in the Fridge. If need be, wrap leftover bread in towel and microwave for 20-30 seconds to warm/soften.
---
---
Nutrition
Serving Size:

1 Bun

Calories:

120
Spread the Hot Dog Bun Mixture evenly into your USA Hot Dog Bun Pan.
This is the egg free version of the bread, so some shrinkage around the edges is normal. See how the top is a nice Golden Brown?
After letting the bun loaf rest for about 3 minutes, then flip it onto your cooling rack. Let them cool for at least 30-45 minutes – Resist the urge to cut into them right away. ;)
Using a sharp serrated knife, cut through the Bun Loaf on the grooved line.
Flip the bun to right-side up and slice carefully down the middle – Be sure not to go all the way to the bottom.
The standard size Hot Dogs fit perfectly in the Buns. They work great with Sausages & Veggie Dogs too!
The Gluten Free Hot Dog Buns come out soft & moist… just like the real thing!
Some people think it's sacrilegious to add anything but mustard to a Dog… but I say 'Load 'Em Up! My kids like Cultured Pickle Relish, Onions, Homemade Ketchup & Mustard on theirs!
Before having their first 'real' Hot Dog, we gave the kids a Banana in place of a Hot Dog & smothered it with Coconut Butter & Chocolate for birthday parties and special occasions. We still love these & almost everyone who sees it wants to try one!