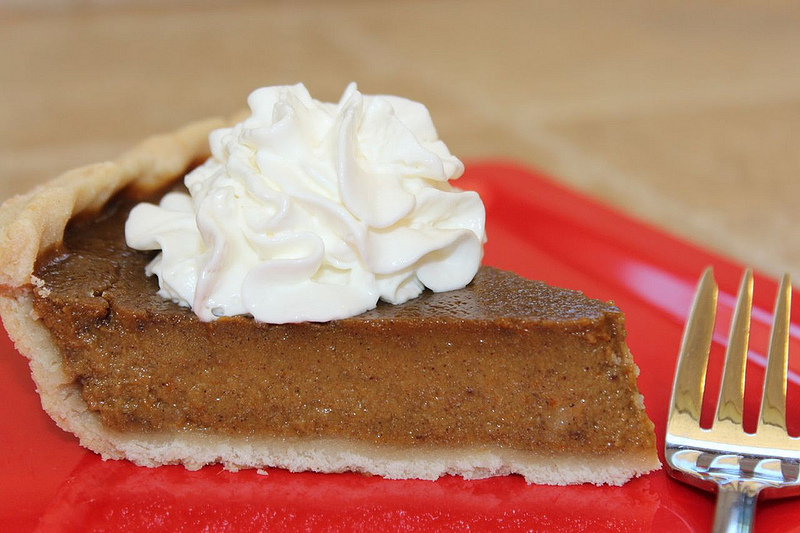 When I hear people use the word 'comfort food', I immediately think of Pumpkin Pie.  It isn't the pie so much as it was the people that made the pie so special.  Family, friends, cold nights, a roaring fire, playing card games until late, & watching The Sound of Music while my sister & I sang along – much to the horror of our poor brother who quickly abandoned us for his GI Joe's.
Growing up, pumpkin pie meant a 'factory baked, homemade' Mrs. Smith's Pumpkin Custard Pie that we bought when they went on sale 2 for $5 around Thanksgiving & Christmas.  We always had leftovers and I thought it tasted even better cold the next day.
Now, when the holidays roll around, I make our family a very special Soy, Gluten & Dairy Free Pumpkin Pie Recipe that allows us all to enjoy it without the allergies or gross ingredients… Sorry Mrs. Smith!  This recipe works fantastically with my Gluten Free Pie Crust.
The special tools featured in this recipe are:


Soy, Gluten & Dairy Free Pumpkin Pie Recipe
Soy, Gluten & Dairy Free Pumpkin Pie Recipe - See my
Gluten Free Pie Crust Recipe
for instructions on how to prepare the crust. - Makes Filling for (1) 9" Pie
Serves:
1 Pie Crust or 8 Slices
Ingredients
DRY INGREDIENTS:
⅓ Cup Brown Sugar, firmly packed - See Sugar Alternatives Below
¼ Cup White Sugar
1½ Teaspoons Pumpkin Pie Spice
½ Teaspoon Salt
If you're NOT Using Canned Coconut Milk, then whisk in: 2 Tablespoon Thickener (such as Corn Starch, Tapioca Starch)
WET INGREDIENTS:
1 Teaspoon Vanilla Extract
1 Cup Canned Coconut Milk (not fat free) OR Milk Alternative (see above for thickeners when using milk alternatives)
3 Large Eggs (Unfortunately, Egg Substitutes don't work for this recipe.)
1 15-ounce Fresh or Canned Pumpkin Puree
PIE CRUST:
SUGAR ALTERNATIVES:
Use ¾ Cup of Any Crystalized Natural Sugar in place of the sugars listed above (ie. coconut / palm sugar, sucanat, maple sugar, date sugar, etc… ) However, I don't suggest using Honey since it doesn't always set-up well in this type of recipe.
Instructions
Preheat your oven to 425ºF.
Whisk the sugars, spices, salt and thickener (if using) in a small bowl.
Measure out the milk & vanilla in a measuring cup.
In a large bowl or stand mixer, beat the eggs.
Beat in the sugar mixture, pumpkin, and vanilla until smooth.
Fold in the coconut milk, or milk alternative & vanilla.
Pour the filling into the unbaked pie crust and bake at 425º for 15 minutes. (I recommend putting your pie tin on a larger cookie sheet lined in foil for baking. This helps with any unforeseen spills. Plus it makes putting in and taking out the pie easier)
Reduce the temperature to 350º and continue to bake for 50 to 60 minutes, or until a knife inserted comes out clean. Center should be set nicely & firm, but will continue to firm up as it cools if seems a little underdone. You don't' want to risk burning the pie or crust.
Remove from oven and cool on a wire rack for 2 hours.
Serve or refrigerate until ready to serve.