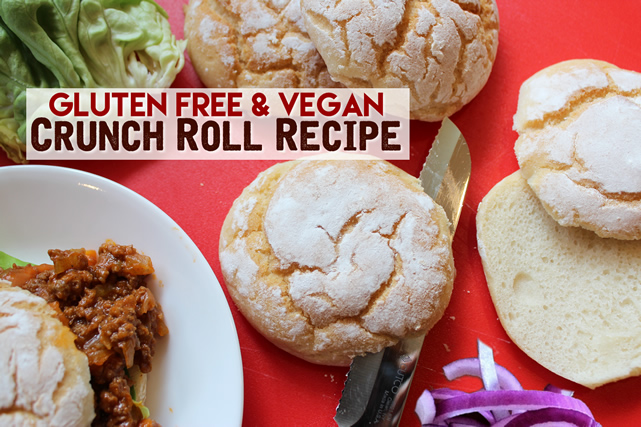 In the small town where I grew up, there was a little sandwich shop that served everything on homemade Dutch Crunch Rolls (aka Tiger Bread) and it was my favorite! I used to peel off the top of the bread and save it for last.
This Gluten Free Crunch Roll Recipe reminds me of those rolls… Soft on the inside, but Crunchy on the top… Perfect for Sandwiches, Burgers, Sloppy Joes, Melts & Gravies. Plus, it's Vegan & so easy to make!
The tools & ingredients used in this recipe are: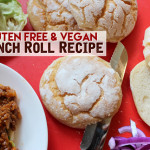 Gluten Free Crunch Roll Recipe – Vegan!
Author:

Prep Time:

15 mins

Cook Time:

30 mins

Total Time:

45 minutes

Yield:

12

Rolls

1

x

Category:

Breads

Cuisine:

Gluten Free
---
Description
This EASY Gluten Free Crunch Roll Recipe is also Vegan! Perfect for Sandwiches, Hamburgers, Melts, Sloppy Joes & Gravies. Soft on the Inside, but Crunchy on Top!
---
WET INGREDIENTS:
DRY INGREDIENTS:
ADD LAST INGREDIENTS:
DUSTING
---
Instructions
In bowl of stand mixer, gently whisk Warm Milk, Honey & Yeast. Set-aside to proof (approx. 5-10 minutes)
While Yeast Mix is Proofing, Whisk together your Dry Ingredients & measure out your Add Last Ingredients.
Line a Baking Sheet with Parchment or Silpat Mat.
Add Dry Ingredients to Proofed Yeast. Using the Paddle Attachment, mix on Low speed while adding the Oil & Apple Cider Vinegar. Continue mixing on Medium/High for approx. 2-3 minutes. The mixture will be thick & sticky (nothing like regular dough).
Scoop approx. 1/4 cup dough onto the prepared baking sheet. I use a 1/4 cup measuring cup & spatula for this. Repeat until you have 12 dough rounds spaced about 1″ apart.
Using well starched hands, generously dust the tops of the dough and hand shape into rounds – I think the shape resembles a hockey puck.
Cover the rounds with a dish towel and set-aside in a warm spot to proof for approx. 20-30 minutes while oven is preheating. Don't overproof these.
Prepare a water bath by filling a baking dish approximately 1/3 – 1/2 full of water & place on the 2nd lowest rack in the oven.
Preheat oven to 425 degrees Fahrenheit.
Once Rolls are done proofing, remove the towel and place in the oven on the upper rack. Bake until the rolls are done & browned – approximately 25-30 minutes.
Remove from oven and place rolls on cooling rack. You MUST cool these completely before splitting in half.
---
Notes
Using Psyllium Husk Powder:
Psyllium Husk Powder gives extra stability to gluten free breads. However, I realize not everyone has this on hand, or you may prefer not to use it… That's ok, this recipe works with or without it (in fact the photos were taken of a batch I made without it). But, please keep in mind that your rolls may be slightly flatter/thinner than if you used the Psyllium.
Storage:
Place leftover rolls in an airtight container & store on the counter or fridge for 2-3 days. To soften rolls from the fridge, wrap in a paper towel & microwave for 15 seconds – Be sure to split/slice them open before re-heating.
---
Nutrition
Serving Size:

1 Roll

Calories:

120
Dough will be very thick & sticky… nothing like regular bread dough.
Use a 1/4 Cup Cookie Scoop or Measuring Cup to measure out 12 rounds. I use a spatula to scrape the dough out.
Space dough evenly on a lined baking sheet. One batch makes 12 Rolls.
Dust your hands and dough well with tapioca or cornstarch and shape into rounds… think hockey pucks.
Cover with a dish towel & set-aside to proof in a warm location. I do this right on the stove top while the oven is preheating.
Prepare a water bath by placing water in a baking dish and placing it on one of the lower racks in the oven while it preheats. This helps keep the heat in the oven moist as the rolls bake and crack on top.
This is what the dough looks like after proofing for approx. 25-30 minutes… Don't over proof them.
Place baking sheet in the oven on the top rack (above the water bath).
Bake rolls for 25-30 minutes until golden brown. Make sure they're done before taking them out.
Carefully separate any rolls that are stuck together & place on a rack to cool.
Once completely cooled, slice open & serve with your favorite food.
Perfectly Soft on the Inside & Crunchy on the Top! Enjoy! =)