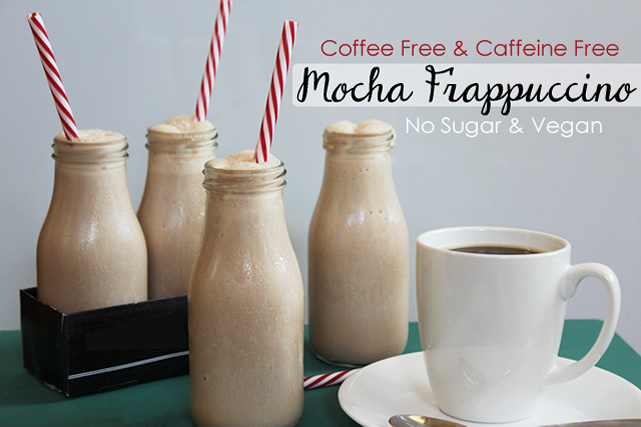 I've never been a coffee drinker. I don't like the way it makes me feel, and I don't like the negative health effects I've seen it cause… From caffeine addictions, to the ridiculous amount of sugar that's typically added – I can't even imagine what it costs to keep up with a daily Starbucks fix!
I'll admit that those blended Mocha Frappuccino drinks everyone walks around with look really good! But, I'd much rather drink something that tastes great and is actually GOOD for me! So I came up with my own Vegan Mocha Recipe that contains NO Coffee, NO Caffeine, NO Sugar & that's Gluten Free – but really tastes like a Frappuccino Coffee drink!  I can't wait for you to try it… Even my Dad, whose a veteran coffee drinker likes it & suggested I make ice cream with it! =)
The secret to making it taste like coffee (without the coffee) is an All Natural Coffee Substitute called Dandy Blend. I was skeptical at first because it contained extracts of Barely & Rye (which isn't typically gluten free) – BUT, after reading about their unique extraction process, and seeing their certified Gluten Free test results I decided to give it a try & it is DELICIOUS! Even my kids with gluten allergies have had it several times with no negative reaction!
Unlike coffee (which is acidic), Dandy Blend is alkalizing to the body… and it's instantly water soluble, so no brewing necessary! Plus, Dandelion Root has long been used as a coffee substitute and is respected among herbalist for its support of the liver, kidneys, spleen, gallbladder, and detoxifying properties *. It's comparably priced to good coffee, and the 7 ounce bag makes 100 cups!
The Tools & Ingredients Used in this Recipe: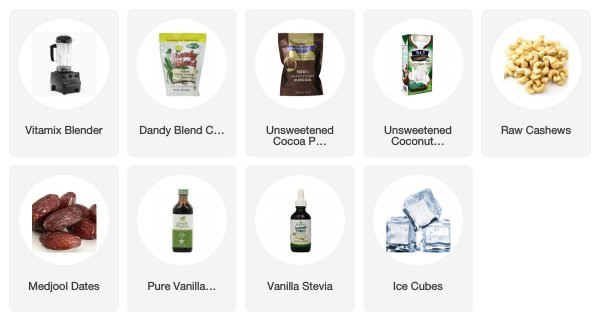 Print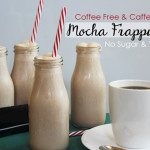 Blended Vegan Mocha Recipe – No Coffee & No Caffeine!
Author:

Prep Time:

3 mins

Cook Time:

1 min

Total Time:

4 minutes

Yield:

16 Ounces

1

x

Category:

Beverage

Cuisine:

Vegan
---
Description
This is the BEST Vegan Mocha Recipe that contains NO Coffee, NO Sugar & is Gluten Free – but actually TASTES LIKE COFFEE! Featuring the Vitamix! Recipe can easily be scaled for multiple servings.
---
---
Instructions
Place all ingredients (except ice) into your Vitamix Container and blend on High for approximately 60 seconds until all ingredients are smooth & liquified.
Turn Off Vitamix and add in Ice. Return to blending on High until all ice is smooth. Use your tamper if necessary to achieve a smooth blend.
Serve immediately & store leftovers in fridge.
---
Notes
Recipe can easily be scaled for larger servings or quantities. I typically triple the recipe and it serves me, my husband & 4 kids (they get smaller portions).
If this recipe isn't sweet enough for your taste, feel free to adjust the Stevia or Dates to your liking.
You can also use this mixture to make Mocha Ice Cream or Popsicles!
---
Nutrition
Serving Size:

1 Cup

Calories:

120
Load all ingredients (except the ice) into your Vitamix & Blend!
Blend on High for about 60 seconds until everything is liquified.
Add ice & blend again on high until smooth… the Vitamix does this like a boss!
I think you'll be surprised at how much 'coffee' flavor this has… but without side effects of caffeine or sugar.
We like it blended up cold & top it with homemade Coconut Cream Whipped Topping – this works for both blended/cold & frothy hot cappuccinos!

* References via Mountain Rose Herbs
TCM Wiki is a wiki site of Traditional Chinese Medicine. Copyright © 2009 – 2012 by https://www.tcmwiki.com/wiki/herba-taraxaci
Herbs for PMS, Hobbs 1998 Accessed at: https://www.christopherhobbs.com/website/library/articles/article_files/herbs_for_pms.html on July 10, 2014.
Gladstar, R. Herbal Healing for Woman. New York: Fireside Publishing; 1993.
Duke J. A. Phytochemical and Ethnobotanical Databases. Accessed at https://www.ars-grin.gov/duke/ on July 5, 2014.
Hoffmann, D. (1998). The Herbal Handbook: A User's Guide to Medical Herbalism. Inner Traditions/Bear & Co.