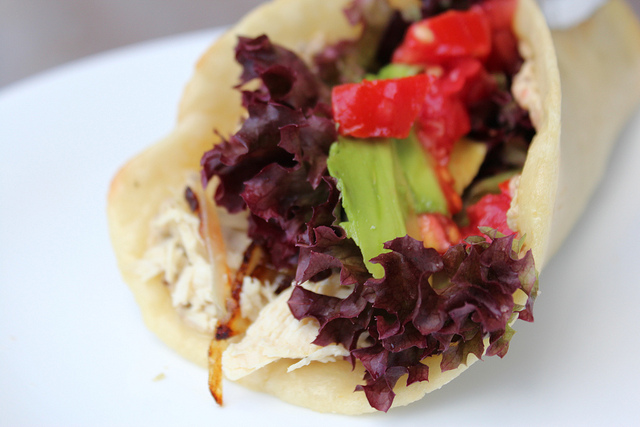 Going gluten free isn't usually a choice people make willingly… at first. But after being off it for a while you realize how much better you feel – it really is wonderful! But there are those days, when your cravings take over and all you want is piece of bread, or a cookie, or a pie, or a soft tortilla, or a soft & chewy sandwich wrap…
This Gluten Free Naan Bread Recipe is what I would also call 'Flat Bread' or 'Pita Bread'. It's thick but soft, and is so, so, so yummy with hummus or whatever your favorite ingredients are. It uses my 'Erika's All Purpose Gluten Free Flour Mix' and it's also Vegan!
The special tools & ingredients used in this recipe are: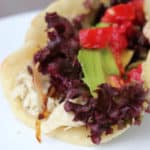 Gluten Free Naan Bread Recipe – Aka Flat or Pita Bread
Author:

Prep Time:

20 mins

Cook Time:

20 mins

Total Time:

40 minutes

Yield:

8

Rounds

1

x

Category:

Bread

Cuisine:

Gluten Free
---
Description
This Gluten Free & Vegan Pita Bread Recipe is so full of flavor & will make you forget it's Gluten Free.
---
Wet Ingredients
1 Cup

+

2 Tablespoons

Warm Water

2 Tablespoons

Natural Sugar or Honey

2 1/4 Teaspoons

Dry Active Yeast
Dry Ingredients
1 Tablespoon

Baking Powder

1 Teaspoon

Salt
Mix In Ingredients
1 Tablespoon

Olive Oil for Mix In +

1 Tablespoon

for Proofing Bowl

2 Teaspoons

Apple Cider Vinegar
Oil Basting Mix – Optional
2 Tablespoons

Olive

1

Clove of Garlic – Crushed

1/2 Teaspoon

Granulated Onion

1/2 Teaspoon

Salt
Pepper to taste
Starch for Rolling
Approx. 1/4 Cup Tapioca or Corn Starch For Dusting & Rolling Out Bread
---
Instructions
Stir together Warm Water & Honey in the bowl of your Stand Mixer. Add in the Dry Active Yeast and allow to proof for approx. 10 minutes while you prepare the other ingredients.
In Medium Bowl, whisk together Gluten Free Flour Mix, Baking Powder & Salt.
After yeast has proofed, add your Dry Ingredients along with the Olive Oil & Apple Cider Vinegar to the Stand Mixer bowl.
Using the paddle attachment, mix the dough on a medium-high speed for approximately 2 minutes.
Using a spatula, scrape down the sides and bottom of bowl and form dough into a ball. Then drizzle the extra Olive Oil over the dough ball so that it is well coated.
Set dough aside to proof (I cover mine with a kitchen towel) for approximately 1 hour or until the dough doubles in size.
BAKING STONE OVEN INSTRUCTIONS: Preheat your oven and stone to 450 degrees.
CAST IRON PAN STOVE TOP INSTRUCTION: Preheat your cast iron pan on a medium heat until it's evenly hot and reduce heat as necessary to maintain the temp. You may need a little bit of oil on the cast iron pan if it's not well seasoned or dry.
Line your cutting board with parchment paper and dust generously with Tapioca or Corn Starch to prevent sticking. Make sure your rolling pin is ready to go.
Divide the dough into 8 pieces (I just eyeball this as I go).
Roll each piece into a ball and flatten with your hands into a thick disk before rolling out. With the residual oil left in the bowl, the dough shouldn't stick to your hands, but use dust your hands if necessary.
Roll out the dough ball into a circle that is approx. 1/4″ thick. Don't roll it too thin.
Place the flattened dough onto your prepared hot baking stone or pan and allow to cook for 2-5 minutes until the bottom is lightly browned. When cooking on the stovetop in a pan, you may need to flip the bread over after a minute or two so that both sides cook thoroughly. The bread may bubble and puff up as it cooks – that's perfect!
Remove bread from oven/pan and place onto a plate and cover with a kitchen towel – this step is essential to keeping the bread moist before serving.
Repeat the process until all pieces are cooked. Once you get a rhythm down, you can be preparing the next piece as the others are cooking. I rotate 2 or 3 on my Baking Stone at a time and it's all done in less then 15 minutes.
Oil Basting Instructions
In a small fry pan, add Olive Oil, Crushed Garlic & Seasonings and sauté until garlic is soft. (You can use just Olive Oil if you want)
Using a basting brush, baste the finished bread (top & bottom) generously with the seasoned Oil and cover with towel until serving. This step not only adds amazing flavor, but helps the bread to stay soft – even after refrigerating or freezing and re-heating later.
Store any unused bread in the fridge for 2-3 day – or freeze for up to one month. To reheat, cover the bread with a towel and microwave for 15-30 seconds.
---
---
Nutrition
Serving Size:

1 Serving

Calories:

160
Dough is light & rolls easily. Oil should prevent it from sticking to your hands.

Roll out dough into 8″ Rounds on well floured surface.
Dough will bubble up as it cooks.
Baste finished bread with Olive Oil & cover with towel.