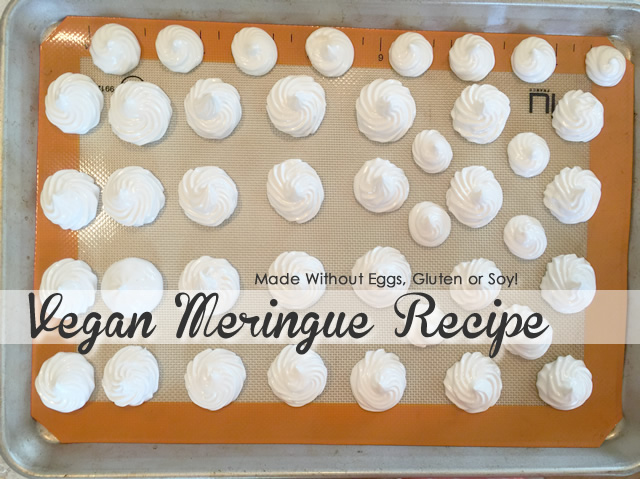 Making substitutions for Eggs is one of the hardest challenges a baker will face when converting a favorite recipe to be Vegan or Egg Free. So, when new ideas for 'Egg Free' recipes pop-up every now and then, I'm VERY skeptical. So, you can imagine my skepticism when it was recently suggested that I try using Chickpea Brine (aka Aquafaba or Garbanzo / Bean Liquid) to make Vegan Meringue – something this Italian girl really misses!
So I googled 'Vegan Meringue using Chickpea Brine' (now known as Aquafaba) and came up with this French site & their Facebook Group – Apparently these chefs have been experimenting with this concept for a few months and the results are fascinating! Curiosity got the best of me and I went straight to the standard Meringue Cookie Recipe I've used in the past, and simply substituted the 3 Egg Whites for the Chickpea Brine & prayed for good results… and then I kind of freaked out because it worked AMAZING!!! And the taste was great!
Since the Vegan Meringue Cookies came out perfect (recipe below), I'm now working on perfecting a Vegan Lemon Meringue Pie Recipe that I'll share with you soon! I also have a new Gluten Free & Vegan Bread Recipe that uses it too!!!  I can't wait to see what other applications this will have – like Vegan Macarons, Vegan Mousse & More!
Apparently it isn't just Chickpea Brine that works, but also the brine from White/Navy Beans (aka Cannellini Beans) too!
As an added bonus, we make Hummus & Oven Roasted Chickpeas almost every weekend, so now I have a use for all that Brine! Who knew Garbanzo Bean Juice could turn into an egg substitute?! =) You can be sure I will update you if I learn more or better ways about using Chickpeas & Bean Brine / Aquafaba!
The special tools & ingredients used in this recipe are: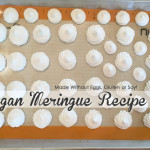 Vegan Meringue Recipe – Aquafaba (chickpea brine)
Author:

Prep Time:

15 mins

Cook Time:

1 hour

Total Time:

1 hour 15 minutes

Yield:

3

-

4

Dozen Cookies or

1

Pie Top

1

x

Category:

Dessert

Cuisine:

Vegan
---
Description
This Vegan Meringue Recipe is perfect for Pie Toppings or Cookies! Tastes amazing, but WITHOUT Eggs or Soy! The secret ingredient (Aquafaba or Chickpea Brine) will surprise you!
---
6 Tablespoons

Aquafaba – Liquid Brine Drained from Can of Chickpeas (Garbanzo Beans) Reserve the rest for a future or double batch. Liquid should be at room temp.

1/2 Teaspoon

Cream of Tartar (for stability)

3/4 Cups

of Superfine Sugar (You can make this from regular Sugar or Evaporated Cane Juice Crystals in your Vitamix, Blender or Coffee Grinder if you have one!)
Pinch of Salt

1/2

to

1

Teaspoon Pure Vanilla Extract
---
Instructions
Preheat oven to 250 degrees (Fahrenheit)
Line a Cookie Sheet with a Silpat Liner or Parchment Paper
In bowl of Stand Mixer fitted with the whisk attachment, add your Chickpea Brine (Aquafaba) with the Cream of Tartar.
Whisk on Medium-High speed until it begins to foam (approx 1-2 min).
While whisking on Medium-High Speed, add in your sugar 1 Tablespoon at a time until dissolved.
Add in the pinch of Salt.
As the mixture becomes thicker, drizzle in your Vanilla or other flavoring.
Continue mixing until glossy, stiff peaks form. This can take anywhere from 7-12 minutes depending on your mixer.
Prepare a Pastry Bag with a #32 Star Tip – or just snip the end off a plastic bag.
Fill Pastry Bag with Meringue & Pipe cookies onto lined cookie sheet. I just swirl them around in a 1 1/2″ tall circle and end in a peak.
Bake 40-45 minutes at 250 degrees, then shut off oven – But, DO NOT open the oven door! Leave cookies in oven for 1 hour to continue drying! Then, remove them from oven and let cool before storing in an airtight container.
---
Notes
FOR PIE TOPPING:
From what I've tested, you can pipe the Meringue onto your pie and follow the pie recipe directions for baking. But, I'll be experimenting with this more in the future and will post more specific directions or modifications as I fine tune the recipe.
FLAVOR OPTIONS:
Feel free to experiment with different flavors, but be aware that they may change the structural integrity of the Meringue. Additives Like Vanilla, Unsweetened Cocoa, Lemon, Mint should work well. Natural food coloring would be fun too!
SUBSTITUTIONS:
Ironically, you can substitute the Chickpea Liquid for 3 Egg Whites – But then again, that wouldn't make any sense if your allergic to Eggs or a Vegan! LOL! =)
---
Nutrition
Serving Size:

1 Cookie

Calories:

10
 Blend Ingredients in Stand Mixer with Whisk Attachment
This is Soft Peaks… Keep Mixing!
Stiff peaks keep their shape.
Pipe Meringue onto Lined Cookie Sheet – I love my silicone baking mats!