YeeHaw!! With all boys it was only natural for us to throw a Cowboy themed party for our youngest son's #1st Birthday.
First birthdays are a really big tradition in Hawaii – with over 100 people invited, I wanted to give everyone a small token of our thanks for showing up and sharing this special day. I had a limited budget, so I needed to keep the cost affordable, but within the theme of the party.
I designed these 'Happy Trails' thank you favor tags and used VistaPrint to print 250 of them for FREE! (if you're not familiar with VistaPrint, they offer all kinds of awesome free & low cost printing services).
Since the tags were free, I bought these 4″ x 9″ Clear Treat Bags from Amazon ($2.99 with free shipping), and a roll of Garden Twine from Ace Hardware ($1.99 for 100 yards) and filled each bag with 3/4 cup of Costco's Bulk Trail Mix (100 favors used up 4 bulk bags)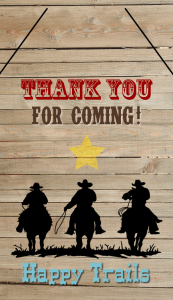 You can download the free high resolution image here or click on the image to the right and save it to your computer from my Flickr:
Of course you can always print the image from your own computer… I think Microsoft Word has a business card template you can use. I recommend using thick cardstock paper when printing them out.
Instructions for Ordering from VistaPrint:
Download the Image to Your Computer
Go to VistaPrint – Use this link for Free Business Cards (I used the Free Matte Finish)
Choose 'Get Started' & Select 'Upload Your Own Design' from the design options.
Upload the Happy Trails Image
Approve the Proof & Add to Cart (this can be the annoying part of VistaPrint, when they try to sell you all kinds of products and services – just say 'No Thank You' or 'Skip' all of it.
Log-In or Create an New Account
Check-Out (depending on the promotion they are running, you may have to pay a small fee to have the cards shipped to you.)
If shipping isn't free, be sure to check out the other free products they offer and add up to 10 free items in your cart before checking out.
Once you receive or print out the tags:
Cut along the black slash/lines on top so that the tag is tapered at the top.
Using a hole punch, punch a hole in the center/top so that you can thread your twine through and attach it to your favors.