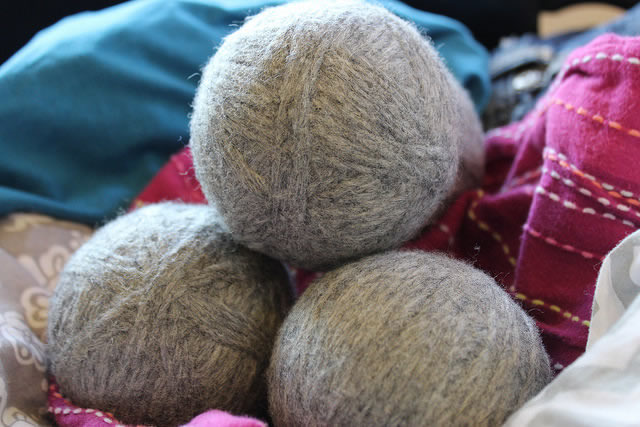 Christmas is only two months away! That may sound like a lot of time, but if you're a crafty gift-giver, you need time to create. This year, I'm on a Wool Dryer Ball kick. These are a perfect gift for just about any occasion, not just Christmas. I like to give them with a bottle of Essential Oil so they can add a couple of drops to the Dryer Balls for a naturally wonderful smell (Lavender & Grapefruit are my favorites). Another idea is to give them with a box/bottle of Natural Laundry Soap!
If you're not familiar with Wool Dryer Balls, they are a natural alternative to chemical filled fabric softeners & dryer sheets. Since they are made with 100% wool, they naturally wick moisture away from the clothes resulting in soft & fluffy laundry without the static cling. PLUS, because the balls bounce around in the dryer, they lessen the drying time & SAVE you money on your electricity bill!
Handmade wool dryer balls can be expensive, but if you aren't the crafty type, they are a great buy. There are a couple of less expensive options on Amazon, that also work, but I've found that they shed in the dryer & don't last as long. Of course you've probably also seen the plastic dryer balls they sell at every chain store – but when plastic gets hot, it gets brittle & emits toxic chemicals. This goes for those that might be thinking about using tennis balls too!
I personally use 4-6 balls in my dryer at one time to really see a difference in drying time. When I'm not using them, I keep them in the dryer, or let my little guy play with them! =)
For those that might be allergic to wool, I'd advise you to be careful with these. BUT, because they are felted (washed 2-3 times), many people claim to not have an allergic reaction to them.
You'll need the following items to make Homemade Wool Dryer Balls:
4-6 Skeins of Paton's Roving or Worsted 100% Wool Yarn – I prefer the 'Worsted' Wool since it doesn't pill as much as the roving. Each skein will make 1 Softball sized Dryer Ball. This comes in so many beautiful colors, and felts beautifully! You can use any 100% Wool Yarn suitable for felting, but

DO NOT

buy Wool Yarn that is labeled 'Superwash' or 'Machine Washable' & NO Acrylic! These yarn types will NOT felt and you will be left with a mess. This is the time to use those half off coupons at Michaels or Joann's – where you can score the skeins for $2-$3 instead of $5-$6 each.
1 Crochet Hook or Large Tapestry Needle – This helps tuck in the last few inches of yarn into your Dryer Ball. If you don't have something like this on hand, you can always improvise using a blunt kitchen tool (perhaps a thermometer), or something else that can get the job done without snagging your yarn.
1 Pair Nylons / Pantyhose / Stockings – This is used during the felting process. If you have an old pair laying around, bonus!
1 Yard Cheap Acrylic or Craft Yarn – You will only use this to tie-off the nylon, so don't use the expensive yarn for this. If you don't have any, you can always improvise with ribbon or whatever you have on hand… even dental floss! =)
Pair of Scissors – These are to cut the Stockings & the Craft Yarn.
Washer & Dryer – For the felting process.
Here's How to Make Wool Dryer Balls:
Begin by winding the end of the wool yarn around your two fingers.
Wrap the yarn around itself tightly a couple of times.
Fold yarn over and begin wrapping into a ball.
Alternating sides as you go, so you don't end up with an oblong shape.
Continue rolling & balling the yarn until you have finished the entire skein.
It should be about the size of a softball.
Tuck excess yarn into the ball carefully.
Cut the full leg off your pantyhose.
Carefully place the Dryer Ball into the stocking.
Push it all the way to the bottom so that  the stocking is tightly wrapped around the ball.
Pull the stocking around the ball tightly and tie off with craft yarn to secure in place.
Repeat the process until you have finished all your wool balls.
Tie off the end of the ball 'centipede' tightly so it doesn't come undone during the wash cycle.
Throw the balls into your wash machine with like colors if you are using dark yarn colors. Towels & Jeans make great agitators & help with the felting process, but be sure the items are ok to be washed in hot water.
Run your wash machine on the Hot water cycle. Then throw the balls into the dryer with the clothes & dry on the hottest setting.
You may need to repeat the process 2-3 more times until you achieve a 'felted' ball.
If the ball appears fuzzy, but felted after 2 or 3 washings, just use your scissors to trim off any extra wool 'hairs' that might be sticking out. But the yarn strands should not separate & be 'fused' together.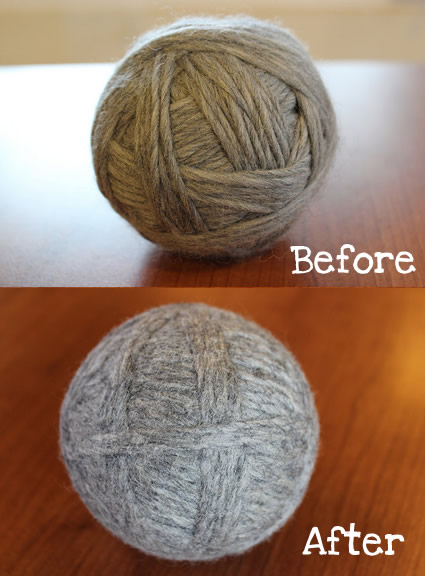 Hooray! That's it! You're Done!
At this point, you no longer will throw your balls into the wash machine – only the dryer. The more dryer balls you use, the quicker your clothes will dry. Since these are larger than the ones sold online, 4-6 Balls are all you need for an average dryer load.
If you like your clothes to come out smelling even better, use a couple drops of your favorite essential oil. My favorite brand is Rocky Mountain Oils – They offer the same Pure & High Quality Oils as other companies – But at a cost savings without the Mulit-Level Marketing.
Money Saving Tip:
If you have any 100% wool socks, sweaters or thrift store finds, you can ball them up tightly and wrap the yarn around it until it is completely covered… This will save you on yarn & repurpose those old wool fabrics.
If you make these yourself, be sure to let me know… You can also send me a picture or post it on my Facebook page!