For many years, I foolishly did absolutely NOTHING for my sun-damaged skin (shame on me!)… Until recently, when I discovered Annmarie's Skin Care Line line. IT. IS. AMAZING! My skin FEELS healthy & hydrated, and I can actually SEE my skin glowing again! Plus, it's so natural you could eat it!!
I've got a long way to go to get my skin back on track, but (at the risk of sounding like an infomercial), just look at the difference in my skin after only 1 week! My sun spots, especially the one on the right, seems to be fading, my skin is smoother & the tone is starting to even out. Hey, never-mind my eyebrows that need tweezing! =)

I was difficult for me difficult to find a product line that was truly natural and actually worked! Most of the face creams, coconut oil, or homemade products I tried made me feel greasy and clogged up. But, Annmarie's Skin Care Line is perfect. It's made with all Organic & Wildcrafted, Plant based ingredients – No artificial fragrances, chemicals or hidden junk. It's moisturizing but lightweight, and my skin feels so good!
Here are my favorite Annmarie Skin Care products – They Last a LONG Time!
What I like best about Annmarie's Skin Care Line is that I was able to try the sample sizes of everything before I committed to buying the full sized product. Each Sample Kit is only $10 with Free Shipping AND a $10 coupon off your future purchase. But don't take just my word for it, you can read all of the glowing reviews from her nearly 500,000 Facebook followers!

The sample kits may seem tiny, but there was a least a 10-day supply in them… a little goes a long way! They gave me a really good idea which of the products I liked, so I only bought the products that were right for me. Not sure what skin type you are? No worries, there's a brief questionnaire you can fill out that give you instant help for selecting the right one. I initially bought the Restore Kit for my skin.
Sample Kits are always Free to ship, but you can use the Annmarie Coupon Code: Shipping or FREETODAYFREE1 for Free Shipping on any other sized order!
I'm also super excited to try the new Sun Love Sunscreen product that just launched… It uses non-nano zinc (that's a good thing!) with other natural antioxidant ingredients for a truly lightweight protection. My husband is a Melanoma Cancer survivor, so he will be using this as part of his daily routine for protecting his skin without the harmful chemicals.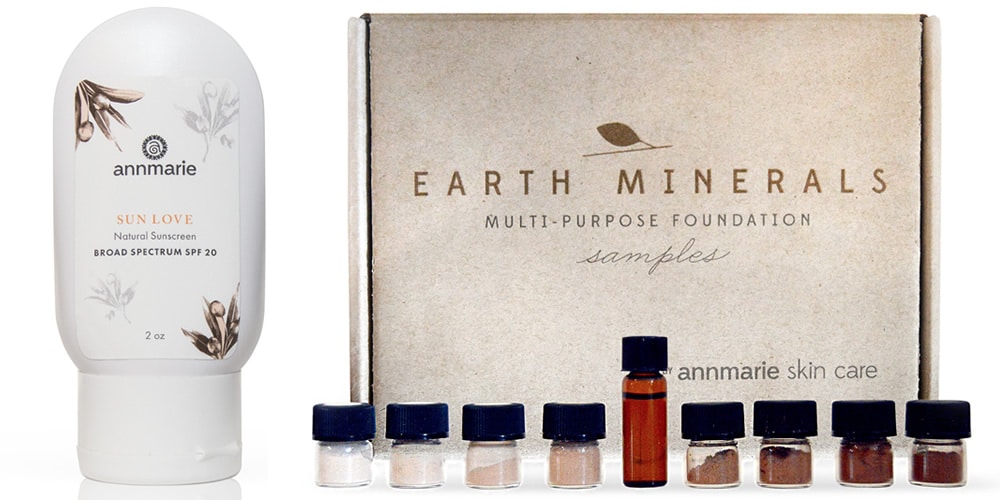 If you wear make-up, Annmarie has a line of mineral powders that only have 4 natural ingredients! You can blend these with her moisturizers for a totally natural foundation.
This is NOT a multi-level marketing or 'buy-in' membership company with minimum orders, or anything ridiculous like that… Just a regular online store where you can buy what you need, when you need it. Their customer service is fantastic & you won't find a nicer bunch of people online. In the off chance that you're not happy, Annmarie offers a full money-back guarantee on her products for 60 days – no questions asked.
NOTE: Annemarie did NOT contact me about writing this review… I contacted them. I actually use & truly LOVE her products! =) However, this post does contain affiliate links, which means I may receive a portion of the sale (at no additional cost to you) if you decide to try Annemarie Gianni's products for yourself. They are pure & safe enough for my whole family to use – allergies and all! I know how hard it is to find honest reviews about products – so I hope you'll appreciate my personal recommendation.