For some reason, if my kitchen isn't organized, then I just don't feel as creative or motivated to cook. My dry goods and baking supplies were always tucked away in my Tupperware and that kept me from seeing what I had – and I had to dig to find what I was looking for.
Hawaii may be known for it's beautiful beaches and balmy weather – but as a long-time resident I can tell you that it's also known for it's bugs! (ewwww!) So I've also learned the hard way that you NEVER keep any food in the cupboards that isn't completely sealed.
Nothing does this job better than a good ol' fashioned Mason Jar. They also do a great job of keeping the moisture out.
In order to keep all my items accessible, fresh and bug free – I choose the large 'quart' sized mason jars to put all my ingredients into. Since many of the flours look the same, I needed a simple, yet versatile system to identify the contents and their purchase/expiration dates.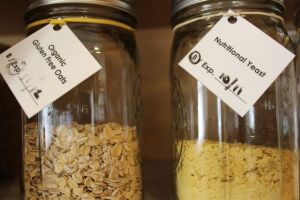 I came up with these labels as my solution. I've attached the label template in a Word & PDF format for you. Feel free to download it and change it to whatever ingredients you'll be storing. The word file may lose some of it's formatting – since all computers are set-up differently – so you may need to tweak it a little before printing. I used 0.25″ margins all the way around to make the squares fit.
I printed the labels out on thick cardstock paper and then ran it through my Purple Cows Laminator. I then cut up the squares and popped a hole in the corner with my hole punch. I used some extra thick rubberbands to attach the cards to the jars. Easy on – Easy Off! I keep a Wipe Off marker pen handy so I can easily write the "B" Buy Date or "Exp." Expiration Date on them. I put a little red 'F' square in the corner of any ingredients that need to be stored in the fridge/freezer.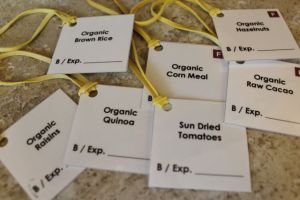 When I'm out of a particular ingredient, I just hang the label on a magnetic hook and check it later when I'm putting together my shopping list.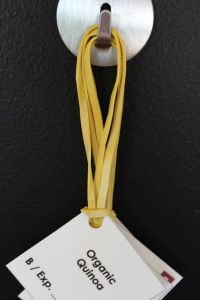 My system may seem a little rudimentary, but it works great for me. It inspires me to create recipes and gives me the flexibility to change the items around as needed.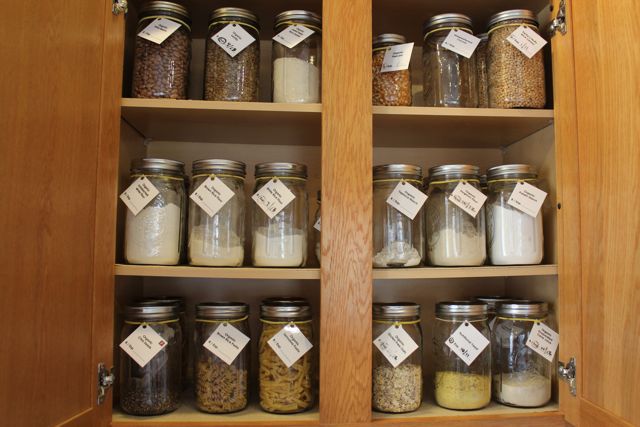 Hope this gives you a little inspiration to keep your kitchen organized and you cooking!
~ Erika