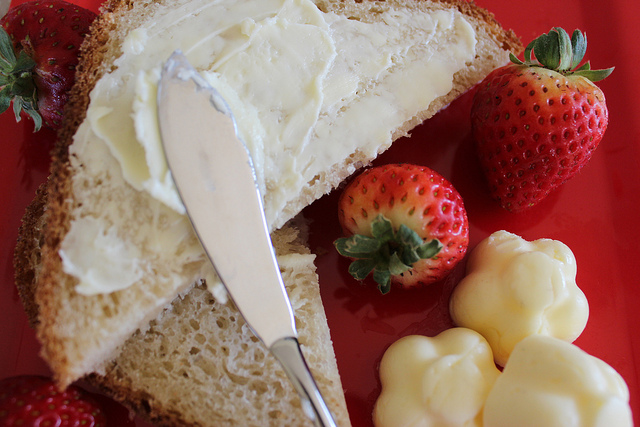 It doesn't take much to convince me that making something yourself is always better than store bought… This is also true for Butter. After making it once in my KitchenAid Stand Mixer, I couldn't believe my taste buds – It was so creamy and full of flavor! Plus, the byproduct when making butter is Buttermilk… perfect for those who use Buttermilk or Starter for cultured dairy.
Here's How to Make REAL Butter using a KitchenAid Stand Mixer at home in less than 10 minutes.
The Tool & Ingredients Used in this Recipe: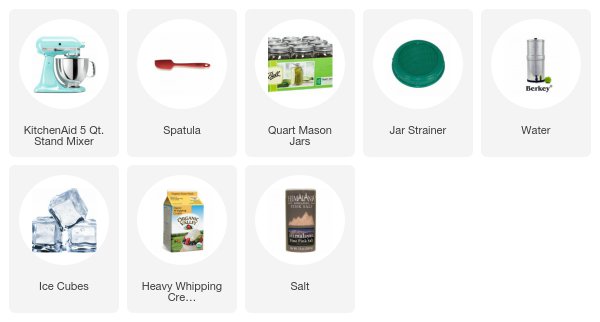 For more info about cultured dairy, yogurt & cheeses visit Cultures for Health.
Print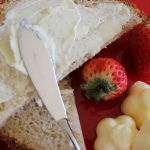 How to Make Butter in a KitchenAid Stand Mixer – Real Butter Recipe
Author:

Prep Time:

10 minutes

Total Time:

10 minutes

Yield:

1 cup

1

x
---
Description
You can make your own REAL Fresh Butter in less than 10 minutes in your KitchenAid Stand Mixer! This Step-By-Step Recipe & Video will show you how.
---
2 Cups

Raw or Pasteurized Whole Whipping Cream

2 Quarts

Ice Water
Salt, Seasonings, or Herbs to Taste (optional)
---
Instructions
Optional: 1/2 hour before beginning, remove Whole Whipping Cream from fridge and let sit on kitchen counter to speed up the separation process.
In your  KitchenAid Stand Mixer, pour whipping cream into mixing bowl.
Using the Wire Whisk/Whip Attachment, and Splash Guard (if you have one), begin mixing the Cream.  Start on Speed 1 and work your way up to 10.  You may need to hold a kitchen towel over the openings to prevent excess splashing.
In approximately 3 minutes you will notice the butter fat separating from the buttermilk.  Once the butter fat coagulates and sticks to the whisk, you can drain off the buttermilk into a mason jar for later use.
Pour approximately 2 cups of your ice water over the butter, into the mixer, and rinse the remaining buttermilk out of the butter by running mixer on medium speed.  Be sure to use your kitchen towel to cover up any open areas to avoid splashing.
Once again, drain the excess water at the bottom of the mixing bowl – this time draining it in the sink. (there is no more usable buttermilk from this point on).
Repeat the cold water rinse (3-5 times), until water is clear after mixing. Drain any remaining water into sink.
Using your spatula, loosen the butter from the whisk and press butter fat onto the side of the mixing bowl to remove any excess water.
---
Notes
This recipe makes approximately 1 Cup (8 ounces or equivalent to 2 Sticks) of Butter, but feel free to scale it in half if you don't need so much.  It also makes approximately 1 Cup (or 8 ounces) of Buttermilk.
Butter with water left inside of it, will spoil very quickly – so be sure to remove as much water as possible.  Some people even press their butter with a cheese cloth to ensure maximum water removal.
Once all water content has been pressed out of the butter, you may mix in salt, seasonings, or herbs to your taste.
If you don't plan to use the butter immediately, you can store it in the fridge for up to 2-4 weeks in an airtight container.  You can achieve longer storage times in the freezer – just be sure to protect your butter from freezer burn by storing it in an airtight container.
---
Nutrition
Serving Size:

1 Tablespoon

Calories:

102

Sugar:

0 g

Sodium:

0 mg

Fat:

0 g

Saturated Fat:

0 g

Unsaturated Fat:

0 g

Trans Fat:

0 g

Carbohydrates:

0 g

Fiber:

0 g

Protein:

0 g

Cholesterol:

0 mg