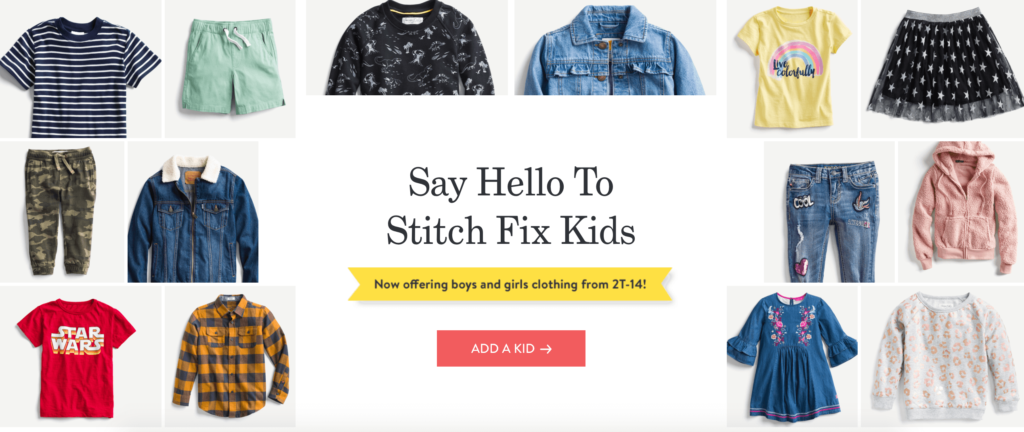 When I asked my oldest son Sam (13) if he would like to try the new Stitch Fix for Kids, he was so excited!  With 4 boys, almost all of our kids clothing is either thrifted or hand-me-downs, so this was a special treat for him.
Side Note: This is not a sponsored post, but it does contain affiliate links… which means that if you click on any of the links in this post, I may receive a small percentage of the sale (which doesn't cost you anything extra).  Every little bit helps me keep this blog up and running, so thank you very much for your support! =)
Since I already had a Stitch Fix account for myself (which you don't need to try the kids service out), signing up for the Kid's Stitch Fix couldn't have been easier… I just logged-in at stitchfix.com/kids & added a child profile.  Just like the adult options, Stitch Fix Kids gave us a bunch of fun visual options to build a personality & style profile.  They offer kids sizes from 2T to 14/16.
It was interesting to watch my son help pick from the choices that he thought best fit his personality.  I would have added Kind & Sassy to his selection, but otherwise I think he did a pretty good job of describing himself.

We continued to pick through several options of what styles he thought would and wouldn't wear.  I love that there was a range of choices from Classic to Casual.  Of course being originally from Hawaii (and being my son), he immediately related to the comfy casual options.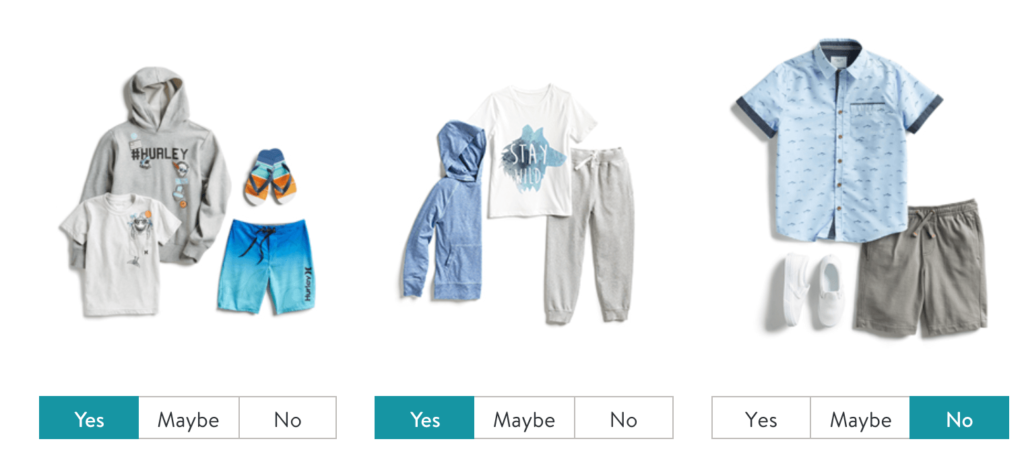 After working out my own Stitch Fix issues, I knew right from the start we needed to be specific when it came to describing EXACTLY what he wanted/needed. So, during the checkout process, we wrote a note to his stylist letting her know we didn't need pants or shoes.  My son is at the top of the size range for Stitch Fix Kids and a little bit husky in his build, so I was really concerned about them being able to fit him well.  They also didn't seem to offer shoes in his size – teenage boys grow in random spurts, in random places!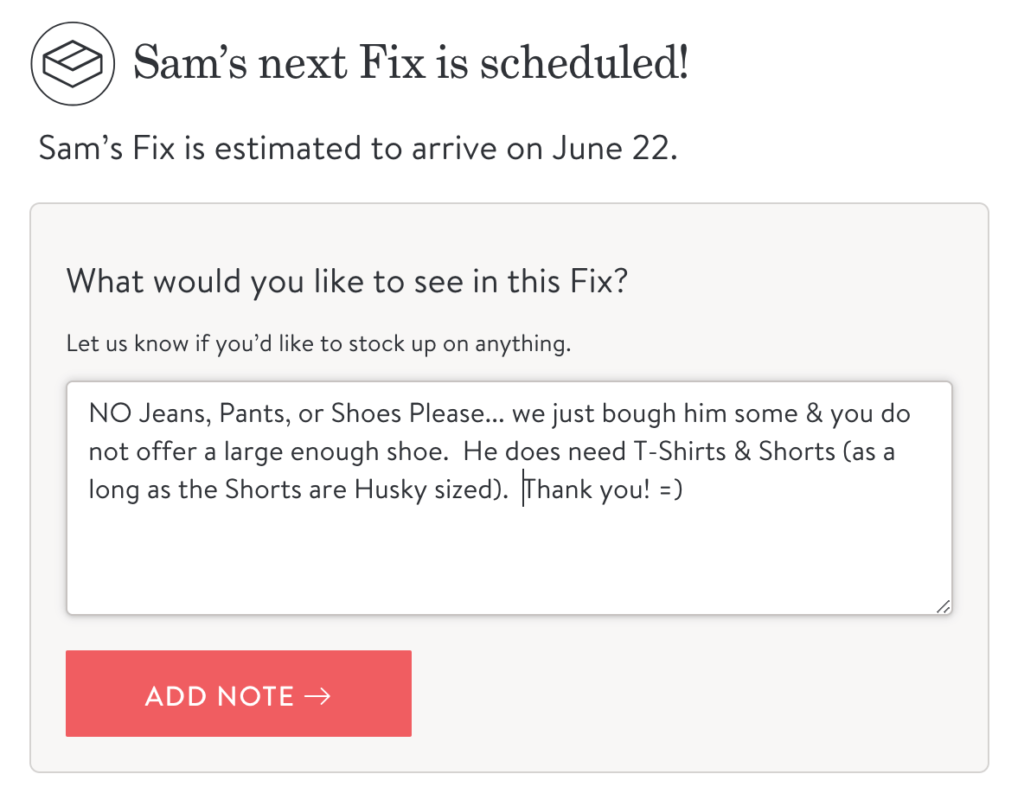 The box finally came & it was exciting for us both!  …Of course he broke his wrist right before we took these photos – Never a dull moment around here! =)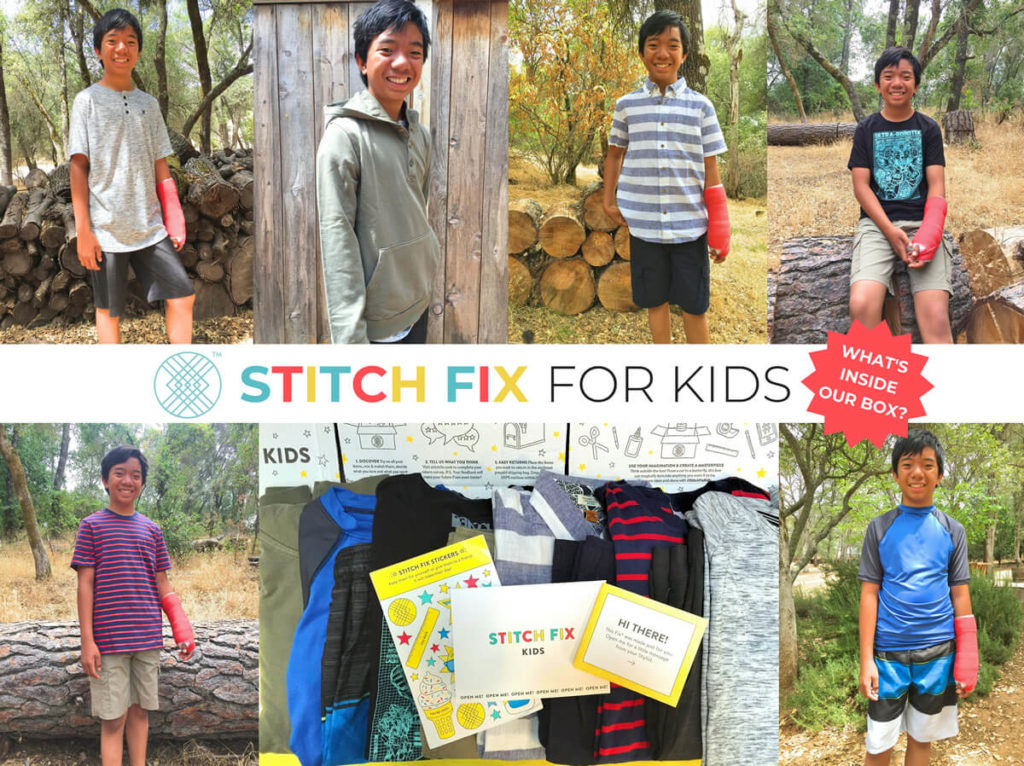 Here's what he got in the box:
4 Pairs of Shorts – This included 1 pair of Swimming/Board Shorts; 2 Cargo Shorts (Navy & Khaki); and 1 pair of Hybrid (wet/dry) Shorts (Black).
4 Short Sleeved Shirts – This included 1 Woven Button Down Top (Blue & White Striped); 1 Knit Pocket Tee (Red & Blue Striped); 1 Heather Henley Tee (White/Grey); 1 Graphic Tee (Black, that has an edgy glow in the dark robot on it)
1 Short Sleeved Swim Rashguard (Blue) – This is a really nice rashguard, but I wish it would have coordinated better with the included swim shorts.
1 Pullover Sweatshirt (Olive) – Perfect for cool Summer evenings & Fall.
The items were trendy & age appropriate, and of very nice quality.  I believe my son would have picked these items out for himself if given a choice.  Only one of the shorts didn't fit (they had a button waist), but the other 3 fit him just right (they had an elastic waistband).
Total Cost = $141 (which included all 10 items, the $20 styling fee credit, and a 25% discount for keeping all of the items).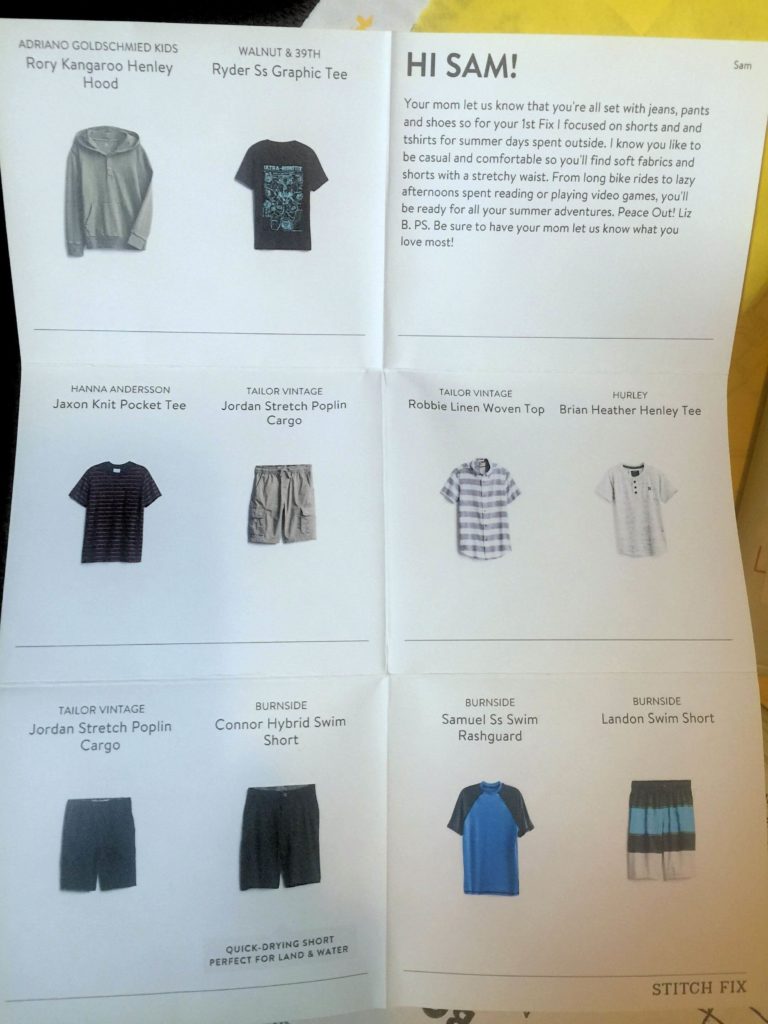 What I though about Stitch Fix Kids:
I think they totally nailed my son's style & fit.  I was super impressed that they listened to my request of no pants or shoes… and even more impressed at how reasonable the cost was for 10 High Quality items. And because we decided to keep all 10 items, Stitch Fix Kids gave us an additional 25% discount!
I do wish they offered larger shoe sizes & larger/husky clothing sizes for older teens.  My son's in that awkward stage where he's right in between shopping the kids department & the mens department.
What Sam thought about Stitch Fix Kids: 
If you've ever had a conversation with a teenage boy, this is about as deep as it gets when talking about clothing.
So, what did you think about Stitch Fix Kids Sam?
"It was awesome! I liked the way the box was put together and decorated, the stickers, and the note from Liz (the stylist)." 👍
What about the clothes son?
"I think the clothes are cool, and like how they feel. It better than trying on clothes at the store, because it's a surprise… It's like Christmas, but with clothes." 👍
Would you want to do this again?
"Totally." 👍
Is there anything you wish they did differently?
"No, I think it would be cool for them to make the box turn into something fun (even though they already give you fun ideas)." 👍

How about you… Do you think your kiddo would enjoy going through this experience & having someone else surprise them with a full box of cool clothes already styled?  I love the idea for Back-To-School & for parents (like me) who don't love to go clothes shopping.
If you decide to try out the Stitch Fix Kids service, let me know how it goes!
For those that are wondering more about How Stitch Fix Kids Works: