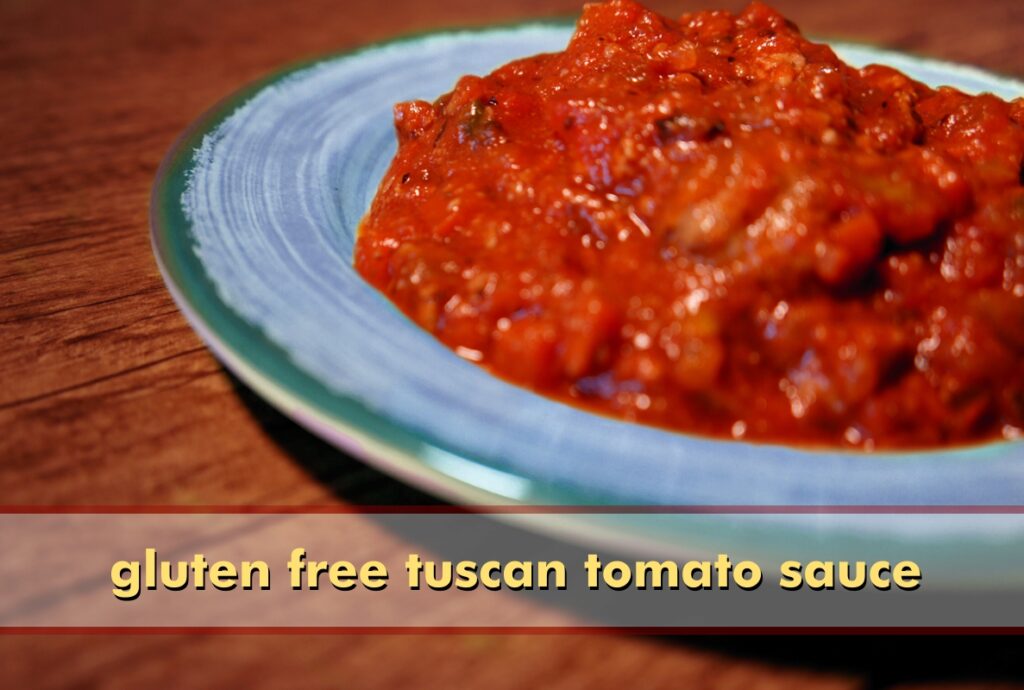 As is becoming more and more common knowledge, Northern Italy builds so many of there dishes on the foundational flavors of a soffritto (the Italian word for "under-fried," which typically refers to a gently sautéed mix of onion, celery, and carrots in olive oil) . In that regard, this gluten free Tuscan tomato sauce recipe is no different.
While this recipe takes some time, very little of it is active time. I mostly use this to bolster a store bought sauce into something intensely flavorful. I love experimenting with it using different sauces. This time I used Newman's Own Fire Roasted Tomato Sauce.
Sometimes I add olive oil poached garlic; sometimes I add meat (like I did with my leftover skilpadjies when I made this batch); and sometimes I use some fresh San Marzano tomatoes blitzes in the blender to liven things up a bit. :)
The Tools & Ingredients Used in this Recipe:

Print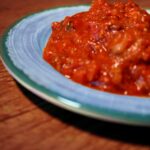 Gluten Free Tuscan Tomato Sauce Recipe
Author:

Prep Time:

10 minutes

Cook Time:

6 hours

Total Time:

6 hours 10 minutes
---
Description
Give any store bought tomato sauce a serious flavor boost!
---
1 cup

dice onions

1 cup

diced celery

1 cup

diced carrots

2 Tbsp

olive oil
A

24 oz

jar of your favorite tomato sauce
Salt and pepper to taste (I think I used roughly 2 tsp of each)
---
Instructions
Soften the onions in olive oil over medium heat (roughly 2 or three minutes).
Add salt, carrots, and celery and cover for 2 or 3 minutes.
Add pepper and your jar of tomato sauce.
Optionally add another tablespoon or two of olive oil.
Optionally simmer for up to 6 hours.
---
Notes
• The longer the sauce simmers, the softer the vegetables will be, the more concentrated the flavors will be, and if you added the extra olive oil before simmering, the more the sauce will taste reminiscent of fried tomatoes (which I happen to love).
• Beyond 6 hours, there appears to be no additional benefit to the flavor (if anything, the sauce starts to lose both color and flavor around that point).
• If you want a meat sauce, feel free to add some meat. For this batch, I did just that. (I had some leftover skilpadjies that I thought would go well here)