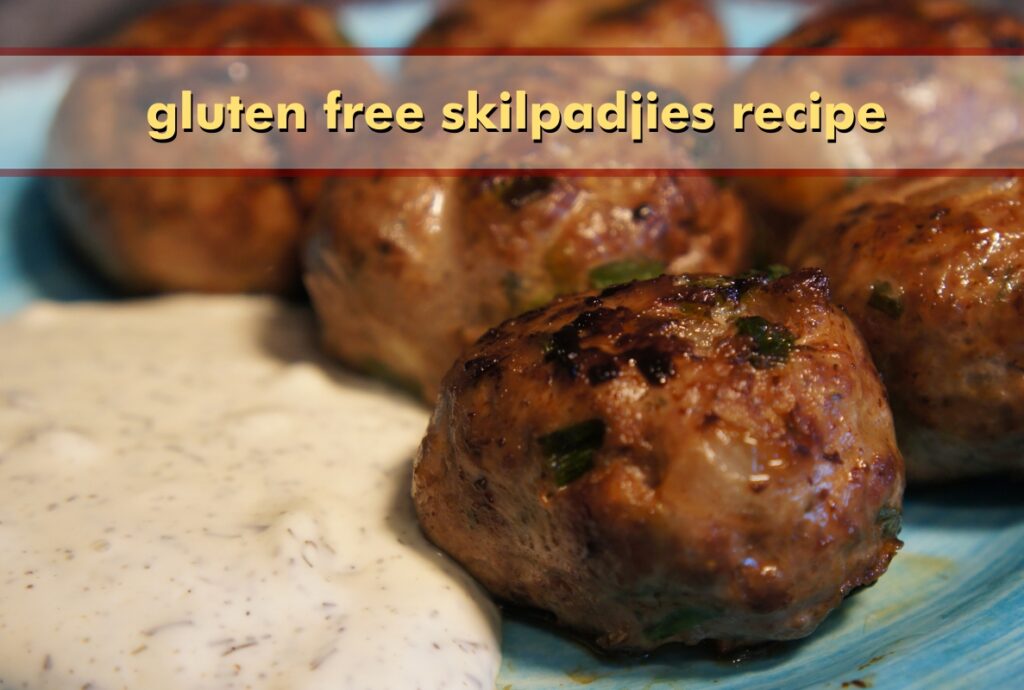 Meatball recipes abound the world over. Between Greek Keftedes, Chinese Lion's Heads, Dutch Bitterballen, Italian Polpettes, French Crépinettes, Spanish Albondigas, etc, there is certainly no shortage of variety. That being said, I vaguely recall reading that the Dutch South African variation (Skilpadjies) have a reputation (in South Africa) for being not just the best meatball, but the "most delicious thing on the planet." This is precisely the reason I've been wanting to try making this meatball recipe for a while now.
…A quick Google search confirms that Crush Magazine declared that exact phrase ("the most delicious thing…") as the "official definition" of skilpadjies. Of course, a more literal translation from the Afrikaans would be "pan patties." :)
The occasion…
Since before my wedding last summer, I've been a part of a "Galentine's Day" tradition. I don't know how much longer I will be a part of it (given that I am no longer single and fewer and fewer of my friends are single), but for this year, at least, we hosted guests in our home for the event. We did a multicourse meal and watched a chick flick.
Wanting to mix things up a little, I decided to try some new things in the kitchen. Among them, I finally made some skilpadjies. I found it surprisingly difficult to find a recipe. Even the recipe I link to above is one that involves modifying pre-made skilpadjies from a package rather than making them from scratch. I have some South African family living near me, but they are of German rather than Dutch descent, so I wasn't able to get my hands on a recipe passed down from previous generations. Not easily discouraged, I took to improvising something on my own.
What I knew…
The two things I knew about the dish were that it was made from ground lamb liver wrapped in caul fat (a.k.a. crépine or netvet) and that it was typically spiced with coriander. This was a good start; but when I called around to different butcher shops, they often misheard my request and thought I meant "cow fat" rather than "caul fat." A couple at least knew what I was talking about, but none had any in stock. Eventually, one Italian butcher shop claimed to have a supply of frozen caul fat available for purchase. When I got there though, I was informed that they hadn't carried caul fat in years.
Not wanting to waste the trip, I perused the aisles and bought a few things. While I was browsing, I overheard someone requesting a custom grind of meat. Having intended to use my own meat grinder at home (and therefore have a big mess to clean up afterwards), I was pleasantly surprised to discover that my butcher could do this for me (at no extra charge).
Anyway, long story slightly less lengthy, I found a specialty meat shop able to get me some caul fat, but I almost didn't get it. To my surprise, instead of calling me when it came in (as promised), they took to making their own specialty items with it. All's well that ends well though (they sold me probably 20 times what I needed for just $3).
I'm not sure the caul fat was strictly necessary, but it made for some pretty pictures and some lovely flavor. Of course, it also ensured the meatballs didn't fall apart during cooking and saved me from having to make up a batch of gluten free bread crumbs.
For the meat blend…
The butcher didn't have any lamb on hand and I wasn't sure if my guests would be okay with a purely liver meatball, so I went with equal parts beef liver, beef chuck, and pork jowl.
PRO TIPS for getting a custom ground meat blend at the butcher shop:
Out of courtesy, it is best to go near closing time for the shop (as they will have to clean the machines at the end of the day anyway, but would have to do so an extra time if you visit earlier in the day). If your butcher doesn't mind, ask them to run the meat twice through a medium blade (which leaves enough texture to be interesting).
The Tools & Ingredients Used in this Recipe:

Print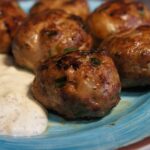 Skilpadjies – Gluten Free South African Meatball Recipe
Author:

Prep Time:

30

Cook Time:

30

Total Time:

1 hour

Yield:

3

0

1

x
---
Description
Skilpadjies are a naturally gluten free meatball recipe because they don't rely on bread crumbs as a binder, but rather use caul fat (a.k.a. crépine or netvet) as a tasty casing to hold everything together (and lend a flavor reminiscent of bacon).
---
1/2

lb ground lamb rump (or other lean cut of meat such as lamb leg, beef chuck, pork loin)

1/2

lb ground lamb liver (or beef or pork liver)

1/2

lb ground lamb breast (or other fatty cut of meat such as pork belly, beef navel, beef short rib)

1/4

lb caul fat

1/4 cup

chopped scallions

1

medium onion finely chopped

1

large egg (optional)

5 tsp

ground coriander

1 tsp

salt
fresh ground black pepper
optional wheel of either Brie or Camembert cut into small chunks
---
Instructions
Put the ground meat, onions, scallions, egg (optional), coriander, salt, and pepper into a mixing bowl and combine thoroughly. (I use my hands)
Form little patties. I made mine roughly 1.5 inches in diameter and roughly 0.75 inches thick.
If you are adding the optional cheese (Brie or Camembert), make sure you've got chunks hidden inside your patties.
Wrap your patties in a layer of caul fat. It sticks pretty well to the meat and to itself, so you won't need to tie any fancy knots or anything.
Preheat you frying pan with your favorite cooking oil.
Pan fry the patties until they form a deep brown crust (flipping every 30 seconds or so to ensure even and thorough cooking without burning).
---
Notes
• Lamb meat would be the most traditional (and in my opinion the tastiest), but substitute away if you have different preferences and/or just want to try something different.
• If you want a more nutritious/traditional/flavorful batch, skip the rump (or equivalent) and double up on the liver.