I'm so excited to share this!! It isn't often when Vitamix offers promotions or sales – So when they contacted me to let me know they are going to drop the price on their already deeply discounted Certified Reconditioned models… I had to share it with you!
** UPDATE 1/2/14 **  It looks like Vitamix is keeping the $299 sale going for their 5200 Reconditioned Standard Models… so if you're still thinking about getting one, now's your chance! =) Plus, apply the coupon code '06-004166′ to the cart for an additional $25 off towards shipping.
Between now and December 2, 2013 they are dropping the price by $30!! This brings the price down to $299 on my favorite 5200 Model!
These machines are in perfect working order and come with a full 5-year warranty & in several color choices. They come with everything you would expect in a new box, as well as a 30-day Money Back Guarantee. I would buy one of these without hesitation – in fact, last year I used a reconditioned model for a demonstration and it was impossible to tell that it wasn't new.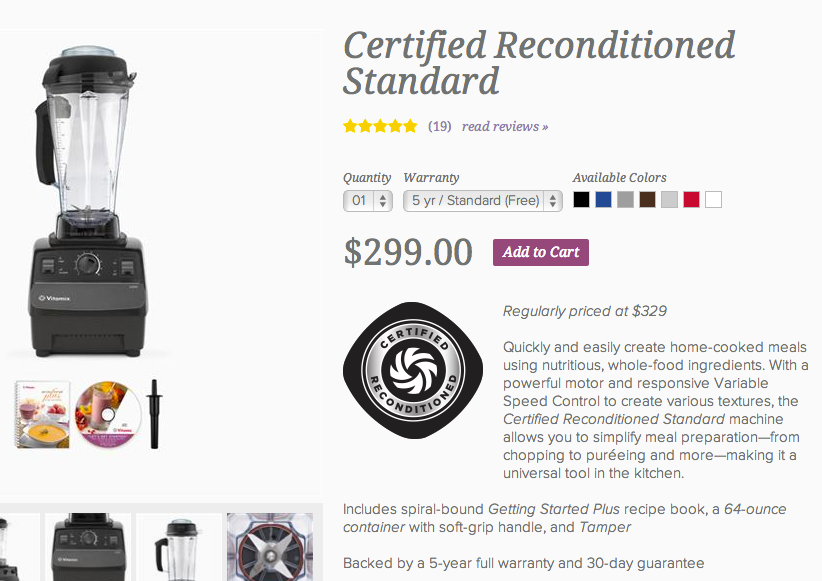 Instructions on how to obtain the discount:  
Click Here for the direct link.
Navigate from the Vitamix 'Home Page' to the 'Shop Home' category and then to 'Certified Reconditioned Series'
From there, select the Model you are interested in (as well as the color choice & warranty), and place the items in your cart. My favorite is the 'Standard Model' also known as the 5200 –  (I do NOT recommend the Two Speed Model or Next Generation Model)
Apply the coupon code '06-004166′ to the cart for an additional $25 off towards shipping. (If you call in, be sure to mention the same coupon code for the shipping credit.)
Continue Check Out & You're done!
Feel free to email me any questions you might have before ordering – I'll be happy to answer them if possible! I can not wait to hear back from you guys on this – I'm thinking this would be a great idea for a Christmas gift for you or loved one!
This sale is only good while supplies last.