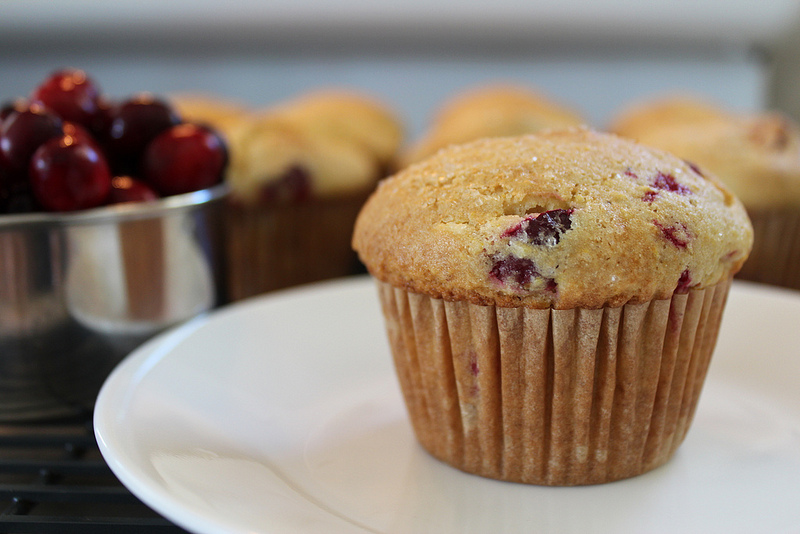 I love cranberries… especially the tart *pop* that they give to holiday recipes & muffins!  I could not find a single Dairy & Gluten Free Orange Cranberry Muffin recipe online that tasted good…  so I got a little crazy in the kitchen and came up with my own.
I felt a little like Goldilocks while coming up with this recipe… With my first batch, I tried natural dried cranberries – but those just didn't have the same zing as fresh cranberries; The second batch didn't have enough orange zest to balance the two flavors; But, the third batch was just right!  You'd never know they're Dairy & Gluten free!
Just in time for Thanksgiving & Christmas… Here is my version of the perfect Gluten Free Orange Cranberry Muffin Recipe… Enjoy!
The special tools & ingredients featured in this recipe are:

Gluten Free Orange Cranberry Muffin Recipe
Dairy and Gluten Free Orange Cranberry Muffin Recipe - Recipe can easily be doubled if you need more.
Ingredients
WET INGREDIENTS
2 Eggs
¾ to 1 Cup Sugar - reserve a 1TBSP for topping. (adjust depending on if you like your muffins sweeter - I use ¾ Cup plus 1½ tsp for the topping)
⅓ cup Coconut Oil
1 tsp Pure Vanilla Extract

MIX-IN INGREDIENTS:
1 Heaping Cup Fresh or Frozen Cranberries
1 Cup Orange Puree with Zest from 1 Orange (see instructions below).

DRY INGREDIENTS
1½ tsp Baking Powder
½ tsp Baking Soda
½ tsp Salt
Instructions
Preheat oven to 375 degrees.
Line your Muffin Pan with Paper or Spray with Non-Stick Spray if necessary.
In a Separate bowl, combine the Dry Ingredients and set-aside.

Orange Zest & Puree Instructions
Zest the rind of 1 Orange
Puree your Orange by taking 1-2 Oranges (enough to make 1 cup of Puree) with the rind removed (and de-seeded if you don't have a VitaMix). Then I add the Oranges WITH the Zest from 1 Orange into my VitaMix and blend until smooth.

Batter Instructions
In your Stand Mixer, beat the 2 eggs on Medium speed for 1 minute.
Gradually pour in your sugar and mix for an additional 1 minute.
Gradually pour in your oil and beat for an additional 1 minute - mixture should be light and fluffy at this point.
Stop the Mixer and add your Vanilla, Cranberries & Orange Puree. Mix lightly until well blended.
With the mixer running on low, gradually add in your Dry Ingredient Mixture and then blend for about 30 seconds on Medium speed to ensure all ingredients are well incorporated.
Divide the mixture into your prepared muffin pan and bake at 350 for 20 - 25 minutes until a toothpick comes out clean. I use my digital pen thermometer to ensure the muffins reach an internal temperature of approx. 200 degrees.
Remove from oven and place on a wire rack to cool.
Serve warm or store in an airtight container once completely cooled.
Notes
Time Saving Tip: Instead of taking the time to zest the entire orange, I just slice a thin top layer of the zest and throw it in with the orange (without the rind) into my VitaMix before blending it. This saves me a lot of time and it turns out the same.