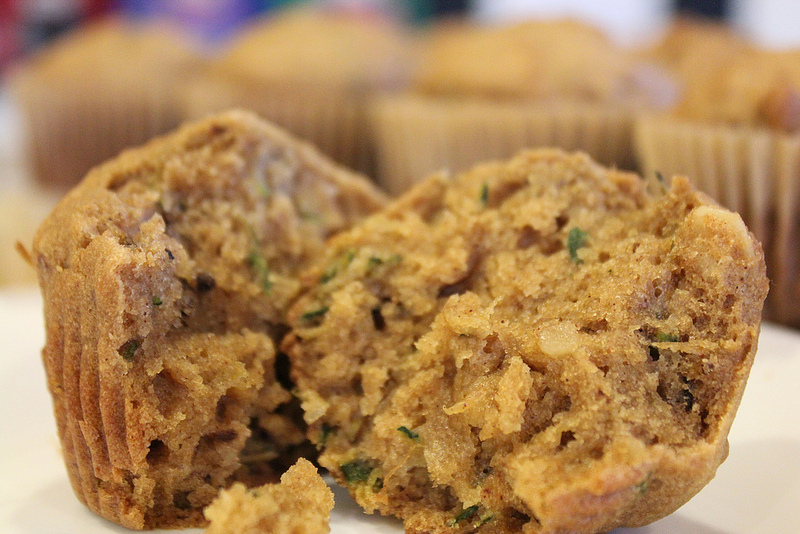 Our new neighbors moved in a couple of weeks ago I wanted to welcome them to the neighborhood.  Not wanting to go empty handed, I picked up a jar of Homemade Sugar Free Strawberry Jam and a loaf of this Gluten Free Zucchini Bread to bring over.
Normally it would be a horrible idea to bring your new neighbors something Gluten Free, but this recipe is so good, that you honestly can't tell the difference.  As it turns out, the wife is really into natural & whole foods, and was excited to hear that both items were free of refined sugars!
After having a chance to taste the bread, she stopped me the other day to ask for the recipe – so here it is!
The special tools featured in this recipe are:
---
If you don't already have a VitaMix or Excalibur Dehydrator, I strongly encourage you to check out what these machines are capable of!  For more information about VitaMix you can go directly to the VitaMix website.   For free shipping, be sure to use: Coupon Code: 06-004166

Gluten Free Zucchini Bread Recipe & Muffins
Gluten Free Zucchini Bread Recipe that you can also make into muffins.
Serves:
1 9x5 Loaf or 12 Muffins
Ingredients
DRY MIX:
WET MIX:
2 Eggs
½ Cup Sugar or Sugar Alternatives - see below for ideas (I use Coconut Palm Sugar)
½ Cup Canola or Coconut Oil)
1 Teaspoon Pure Vanilla Extract
1 Cup Grated Fresh Zucchini (I've also made a delicious variation using ½ zucchini ½ carrot with a little applesauce to get the correct consistency)
OPTIONAL:
½ Cup Chopped Walnuts or Nuts of Choice
Chocolate Chips
You may also need some Non-Stick Spray for oiling your Pans if necessary.
SUGAR ALTERNATIVES:
Use ½ Cup of Any Crystalized Natural Sugar in place of the sugar listed above (coconut / palm sugar, sucanat, maple sugar, date sugar, etc… )
Instructions
Preheat oven to 350 degrees.
Prepare your Loaf or Muffin Pan - use a Non-Stick Spray if necessary.
In a small bowl, mix together the dry mix ingredients & set-aside.
Add the eggs into the bowl of your Stand Mixer with the paddle attachment and beat on Medium-High until they are light - approx. 2-3 minutes.
Pour in sugar and beat for an additional 2 minutes.
Add the oil slowly and beat for 1-2 minutes.
Add vanilla & grated zucchini and beat until just combined.
Add the dry flour mixture to your wet mixture & beat until combined.
Stir in any optional ingredients.
Pour into your loaf pan or muffin cups.
Bake Loaf at 350 degrees for 50-60 minutes or until a toothpick comes out clean. For Muffins, bake for 20-25 minutes. I use my Digital Pen Thermometer
to test the temperature of my gluten free breads and pull them out of the oven once they hit an internal temp of 200-210 degrees.
Cool in pan for a few minutes before turning the loaf out on a wire rack to cool thoroughly.
Store in airtight container or in the fridge.
Without refined sugar (I use Date Palm Sugar), the muffins turn out
a bit darker in color, but are still moist and full of flavor.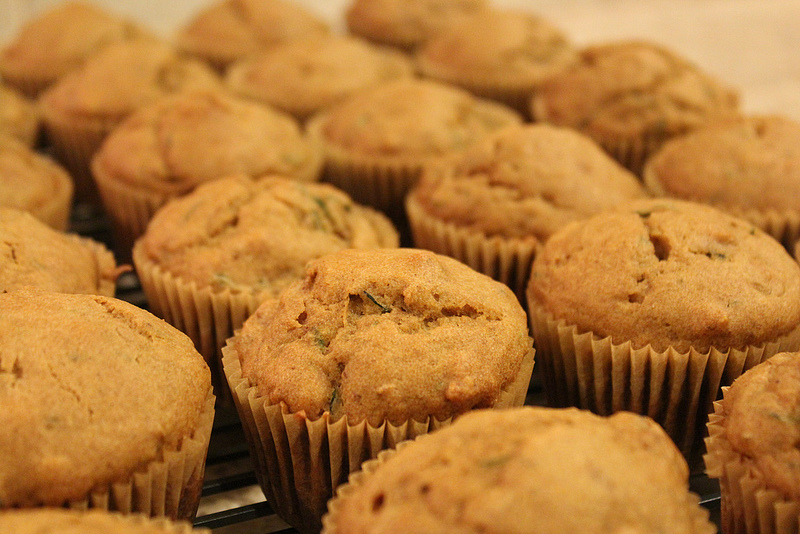 This photo came out a little dark and pink… but you get the idea!