Sometimes I crave pancakes… not often, but every now and then they call my name.  Unfortunately, one of my little guys is completely gluten & dairy intolerant, so I usually push my craving aside and make something else.  But not today!  Today, I am going to make some pancakes that everyone can eat!
My first few attempts at making healthy, gluten, dairy & sugar free pancakes were not pretty… and I think once batch could have even been used for glue.  With each attempt, I had to borrow the positive attitude from the 'Little Engine that Could' and keep telling myself 'I think I can, I think I can!'… and you know what? I finally did!
If you're used to the typical Bisquick pancake recipe, then this recipe may not be for you.  But if your family is like mine, then these pancakes will do the trick!  Plus, they don't leave me feeling all bloated like traditional pancakes do either.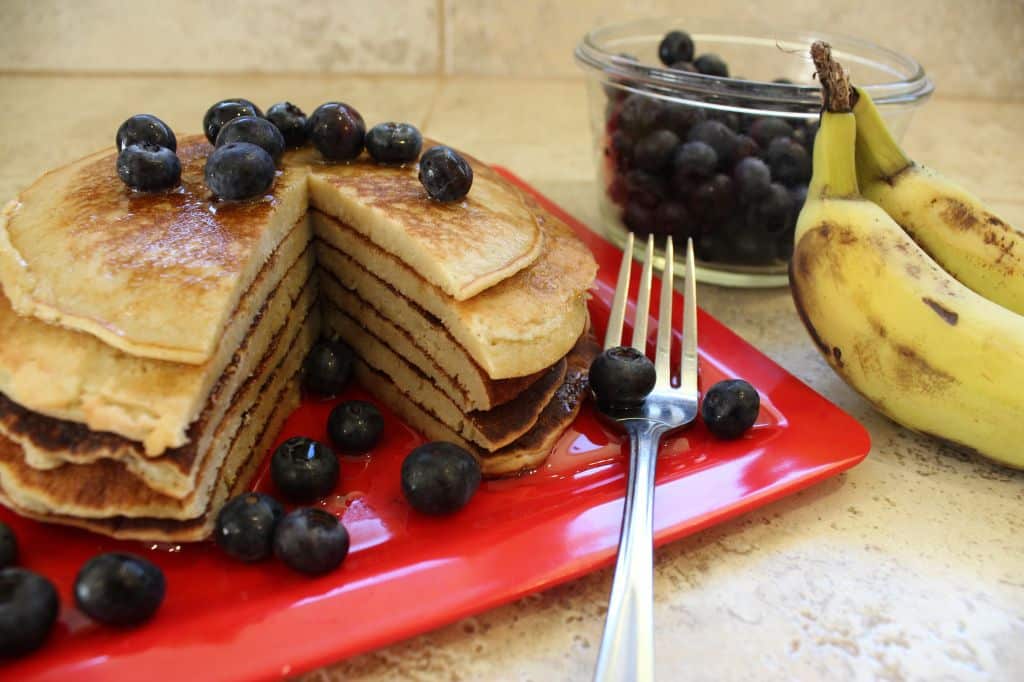 ---
If you don't already have a VitaMix, I strongly encourage you to check out what this machine is capable of!  For more information about VitaMix you can go directly to the VitaMix website.   For free shipping, be sure to use: Coupon Code: 06-004166
Here is the ingredient list and procedure for this recipe – feel free to experiment with it!  If you have the Living Cookbook software, you can import the free recipe file by cutting and pasting it right into your program.
Gluten Free Pancake Recipe – Dairy & Sugar Free Too!


Ingredients

Wet Ingredients:
4-5 Ripe Bananas (peeled)
2 1/2  – 3 Cups Milk or Milk Alternative (I used Almond Milk) – you may need a bit more or less depending on how the batter consistency is.
1 Cup Applesauce
4 Eggs (slightly beaten)
2 Tbsp. Pure Vanilla Extract
1/4 Cup Canola Oil (Coconut or Flax Oil should work fine too)

Dry Ingredients:
2 1/2 – 3 Cups of your Favorite All Purpose Gluten Free Flour Mix (I use Bob's Red Mill Brand, but Pamela's Brand & Gluten Free Pantry Brand are good too!) – you may need more or less depending on how the batter consistency is.
2 Tablespoons Flax Meal (optional)
1 1/2 Tablespoons Baking Powder
1 Teaspoon Salt

Optional Ingredients & Toppings
Fresh Blueberries – Mix In or Topping
Pure Maple Syrup
Fresh Fruit Topping

Procedure

In large mixing bowl, mash 4-5 ripe bananas.
Add in remaining Wet Ingredients and Whisk or Beat on low until all wet ingredients are well blended.  You can use your VitaMix for this Recipe, but just be sure to add your bananas last so they don't get over mixed.
Combine Dry Ingredients and pour slowly in to wet ingredients as you beat the mixture on Medium/Low speed.  Do your best to avoid lumps in mixture.
Mixture should be just between runny and thick… this is where you may have to play with the milk/flour ratio a bit until the batter is just right.
Pre-Heat your pan or griddle on a Medium heat.  If need be, use a non-stick spray to keep the pancakes from sticking to the bottom of your pan.
Pour a ladle full of batter into the center of the pan – the batter should spread quickly, then set-up on the sides within a few seconds and start cooking.
Within 30 seconds or so, little bubbles should start to rise on the top of the batter… this is an indication that the pancake is almost ready to flip.  Just as those bubbles come to a stop, use a spatula to carefully flip the pancake in the pan.
Let the pancake cook another 30 seconds or so before checking for doneness.
Remove pancake from pan when both sides are cooked.
Repeat cooking steps until all of the batter has been cooked into pancakes.
Top with Maple Syrup & Fresh Fruit & Enjoy!

Servings: 6 Servings
Yield: Approx. 20 Large 7″ Pancakes

Ready In: Approx. 25 minutes
Feel free to send me any questions or comments you may have!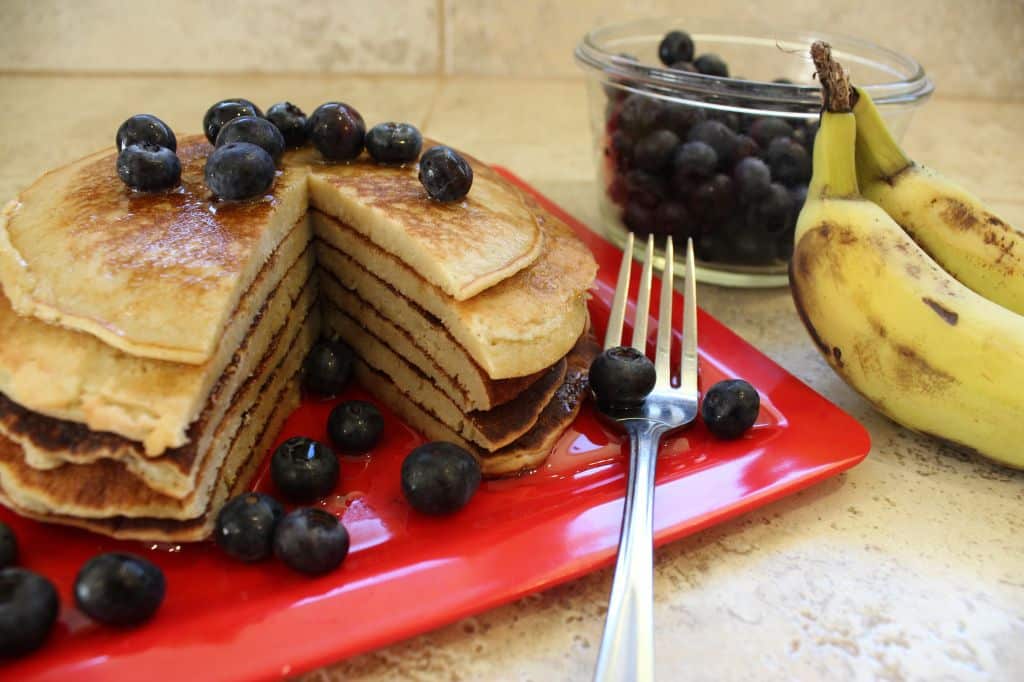 Enjoy!
~ Erika