About 4 months ago, I started Googling "How to fit 6 kids into one room" and came up with all kinds of crazy suggestions that included: Knocking down walls for elaborate built-in beds; Hand building multi-story bunk beds; Hanging tiered beds from ropes on the ceiling; and I even found one site that suggested garage storage racks!
Right now you're probably asking yourself, "Why on earth do they need so many beds in one room?"
Well, we currently have 3 boys, and 1 'Hanai' (or unrelated) boy that stays with us a lot. We wanted him to feel like a part of the family when he's here… And we also want to expand our family through adoption/foster care again, and need to have enough beds when the time comes. So it's kinda like a 'Build it and they will come' mentality!' =)
Plus, our home has only 2 bedrooms, meaning we couldn't split the kids up in multiple bedrooms. But we prefer a small house and like living simply. I love putting my kids to bed each night and hearing them giggle for a while… then in the morning, waking up to my oldest son reading to his brothers! I grew up like this and as a result, I am very close with my family – I want the same for my kids. And honestly, that's the way most families survive here in Hawaii where rent is extremely expensive… it's called the 'Ohana' way of living – where family makes the home, not the other way around.
Since we rent our home, live on a budget, and needed a multi-bed solution (without installing garage racks), we turned to IKEA for inspiration and sure enough, found just what we were looking for! And, (we think) it worked perfectly! I thought I'd share it here in case anyone else might be in need of some ideas.
But be aware, it's still a work in progress… and although the pictures look all neat and tidy – most days it looks like 4 Tasmanian devils tore through it. =)
Here's a look at the new room from the door.
I plan on sewing each of the boys a hanging organizer to keep their Bibles,
Flashlights, Water & Books in with the leftover fabric from their bedspreads.
I'll try to post a photo of that when they're done.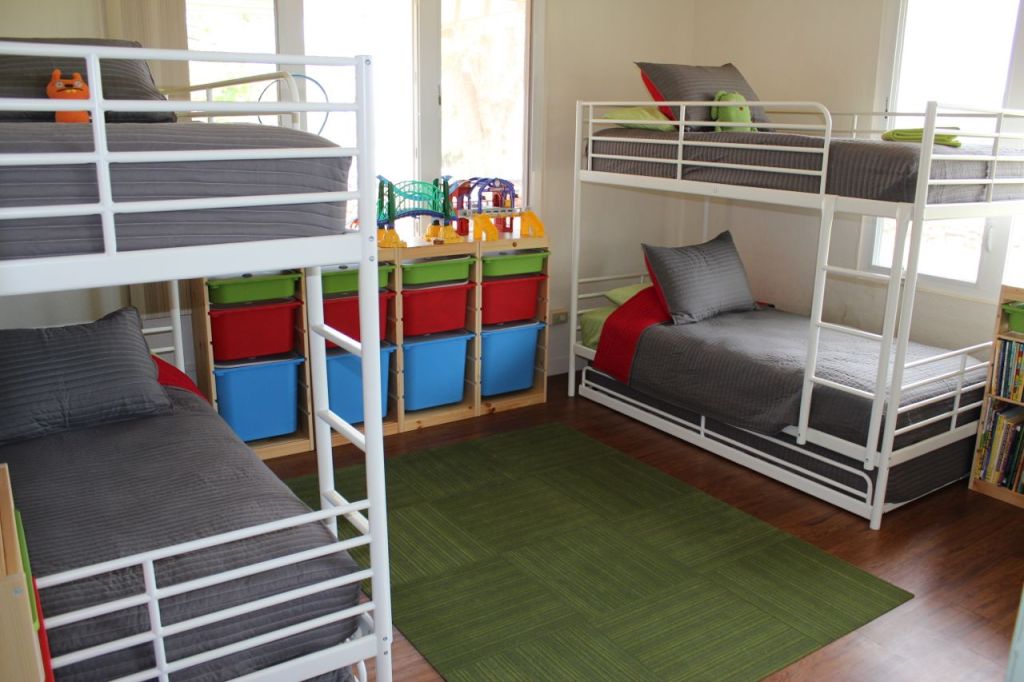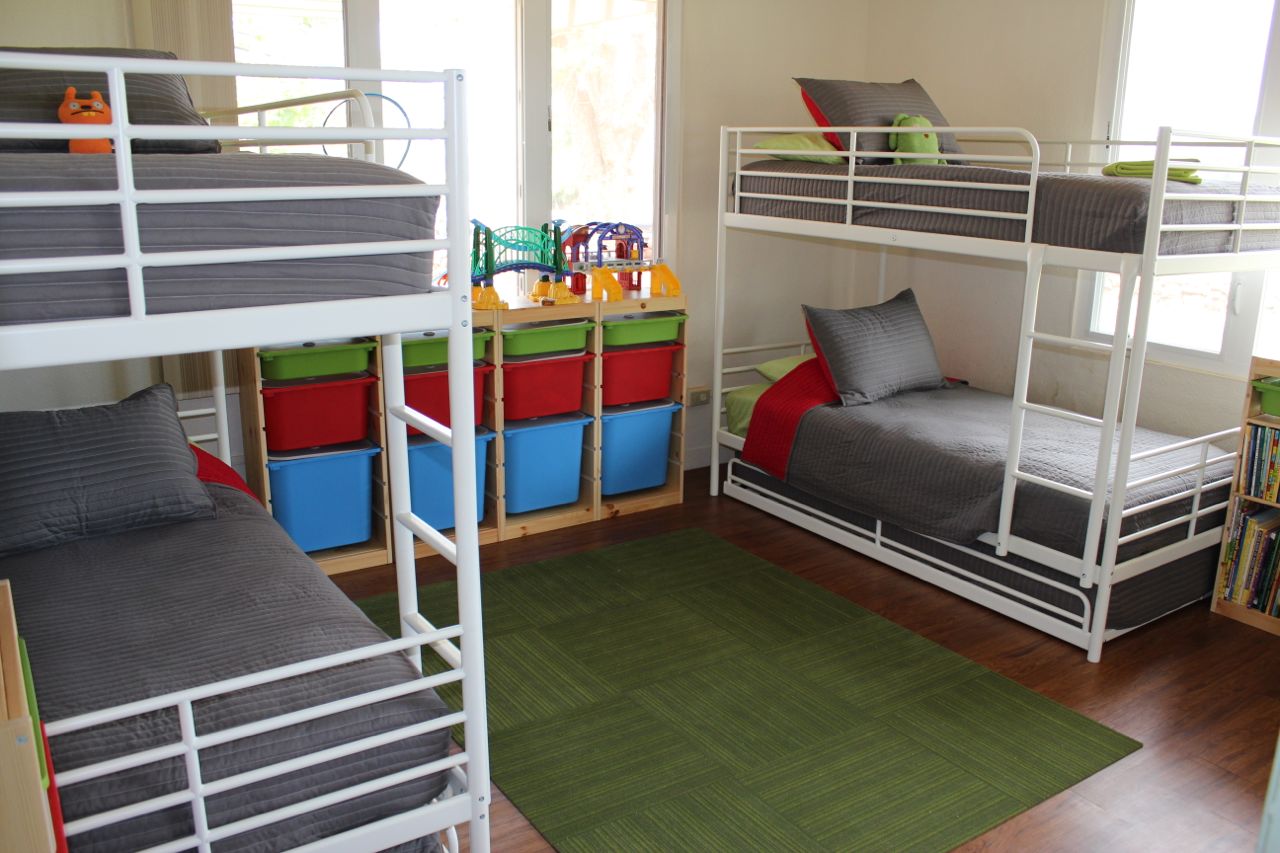 The Trofast Storage from Ikea can be configured in several ways including bookshelves!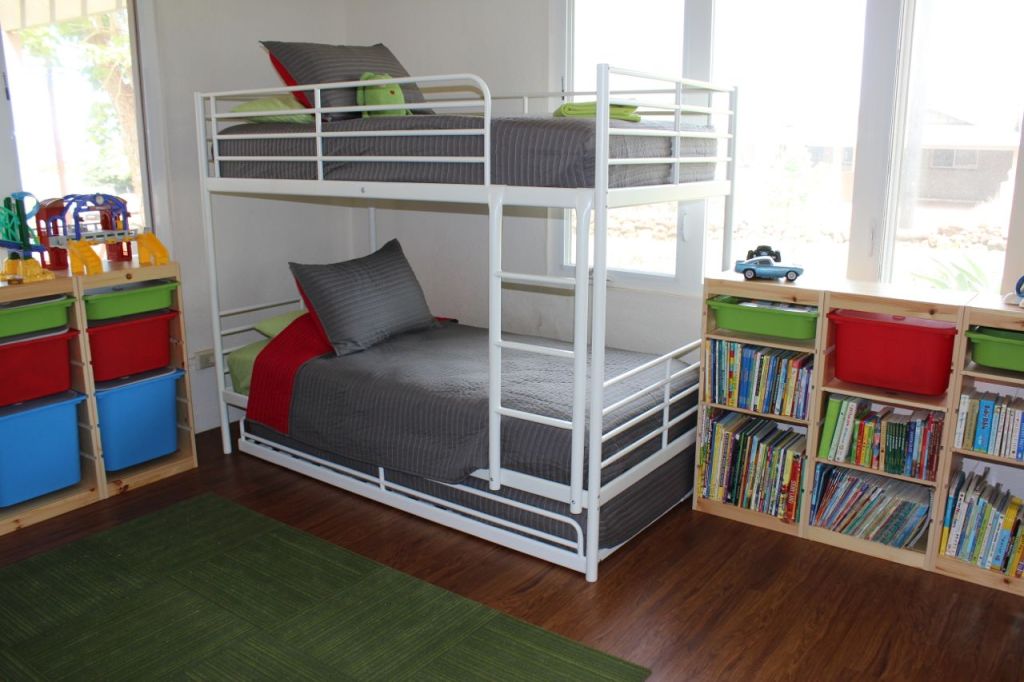 Here is the trundle pulled out… the mattress is only 4″ thick, but it is comfortable!
I've taken a few naps on it myself! =)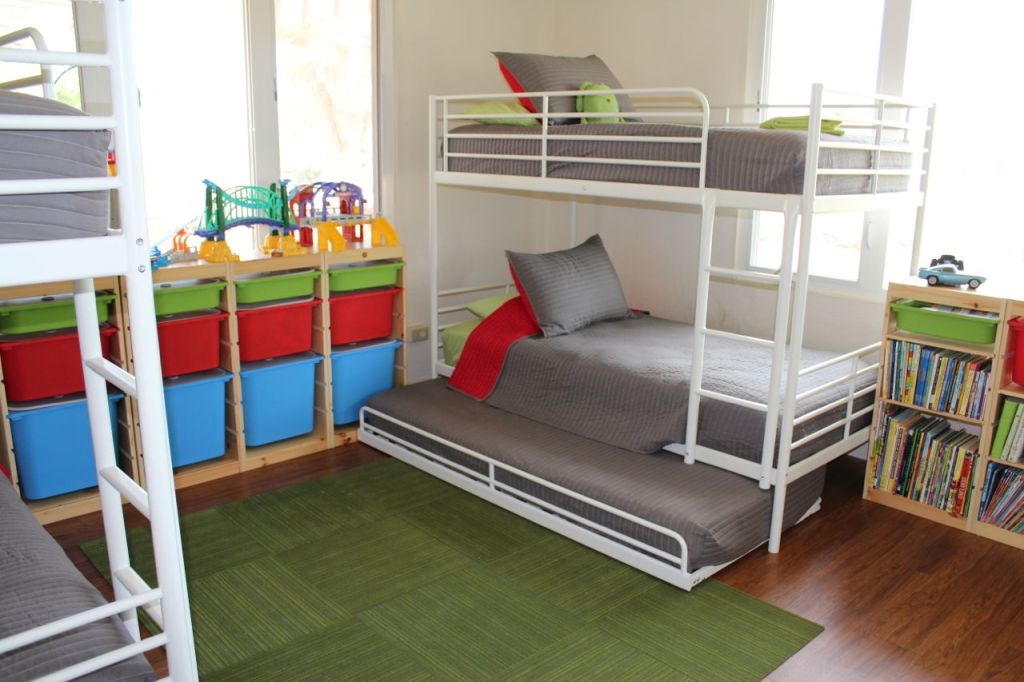 Other side of the room (and our only wall without windows).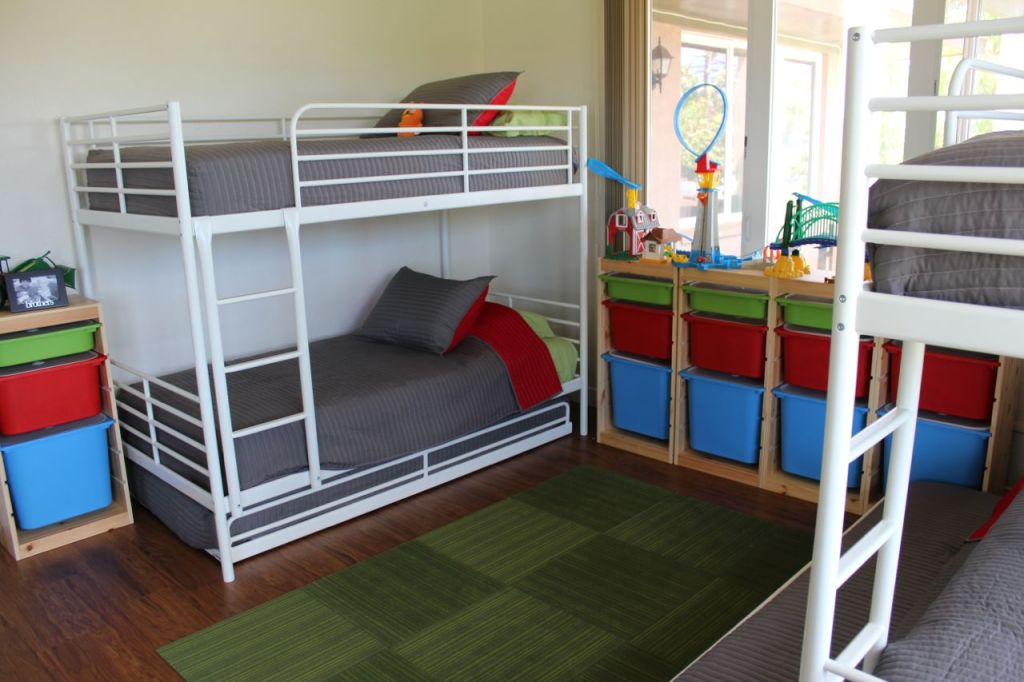 The other trundle extended. We picked out some very low pile carpet tiles from Flor so the kids could
play comfortably, but without interfering with the low clearance trundle.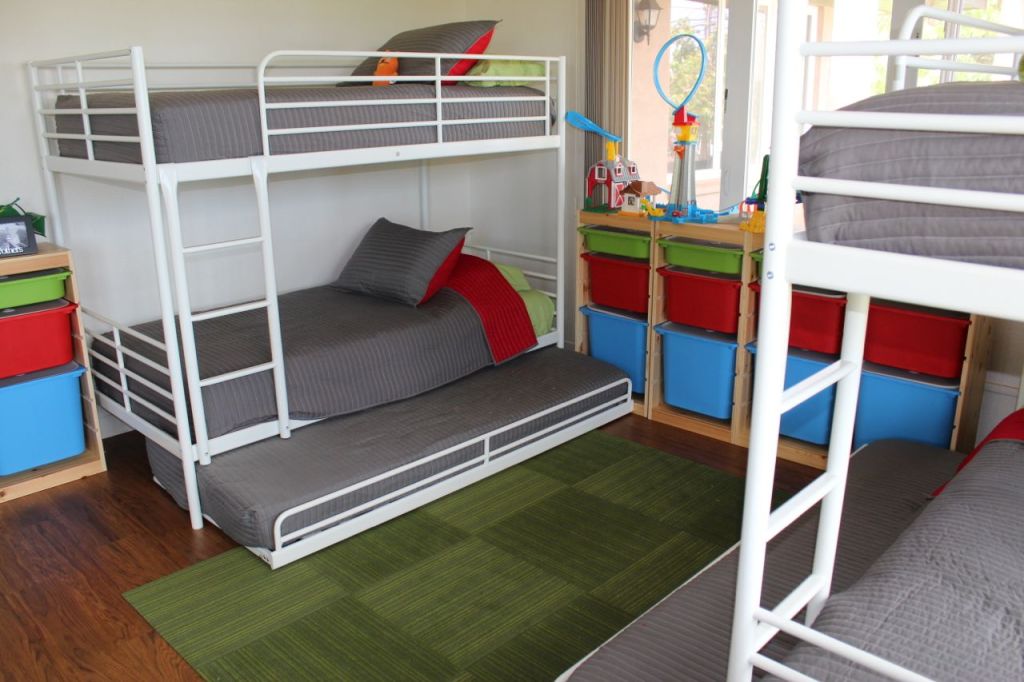 I love the toy storage! It gives us plenty of room for Legos, Cars, Blocks, Puppets & Trains!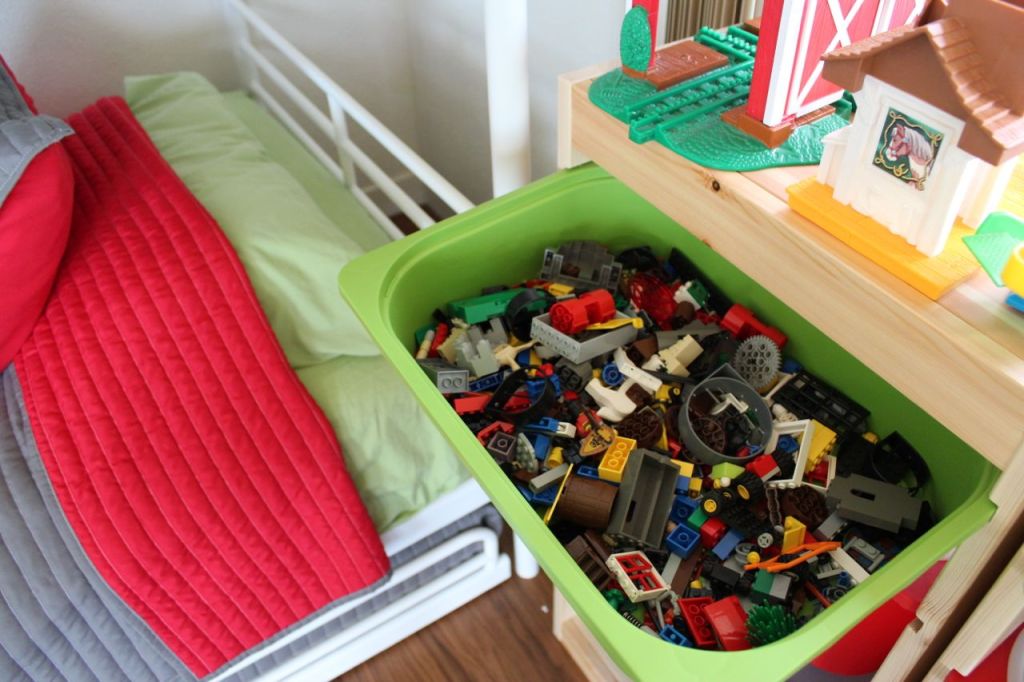 We opted for the colored bins, but they also come in a frosted white.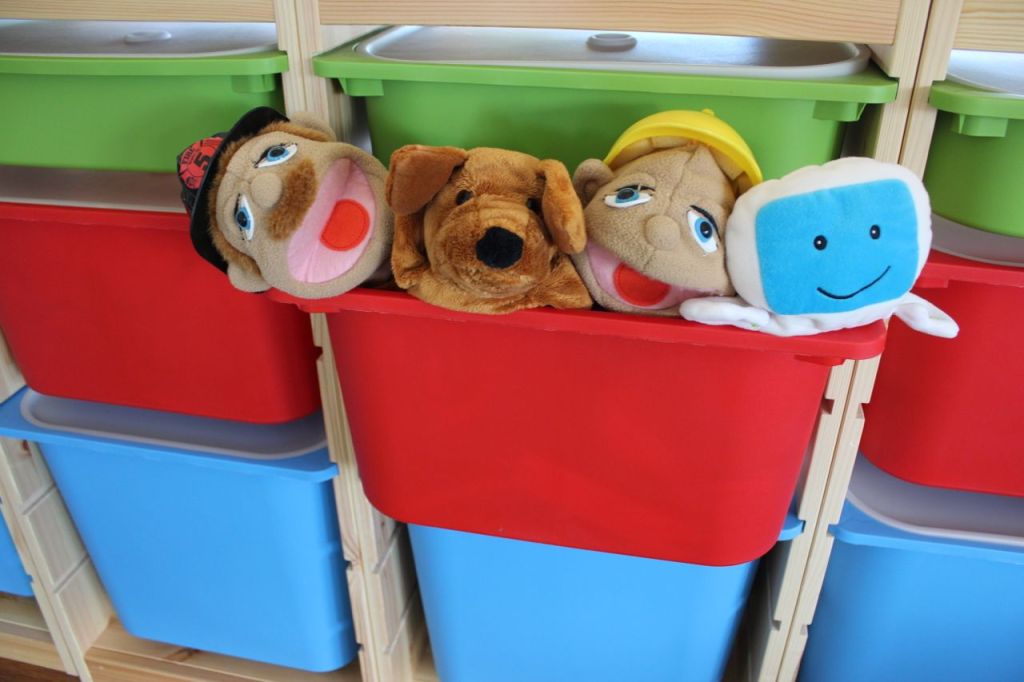 We have one shallow closet for all the boys to share.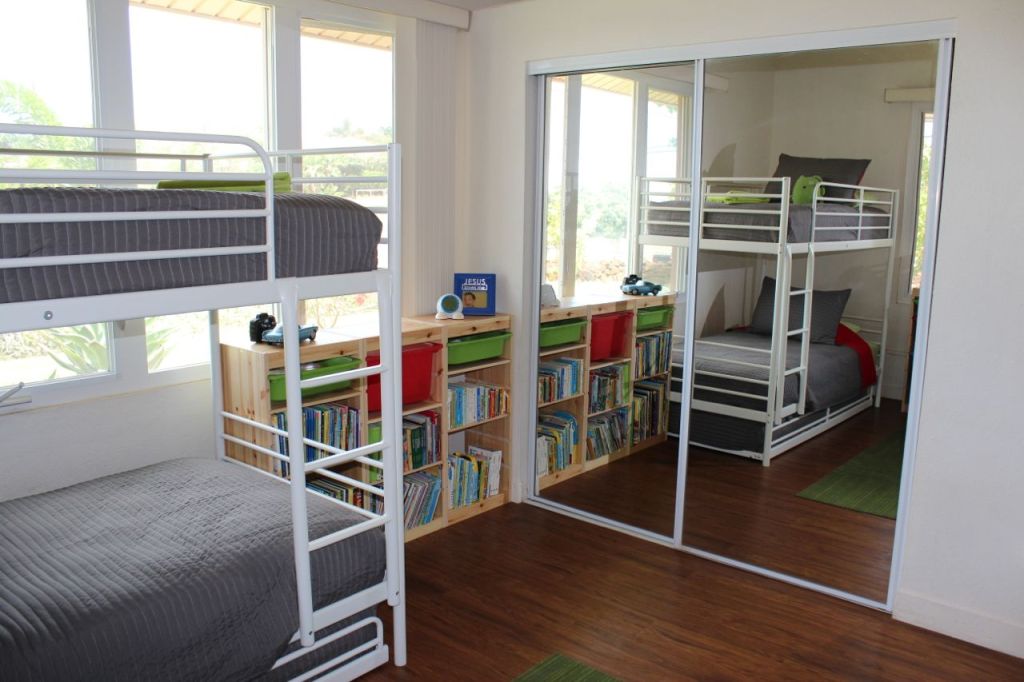 The existing built-in rack is awkward, so we did our best to fit everybody's clothes & supplies in there!
We used some really high tech index cards to identify what sizes are in each drawer! =)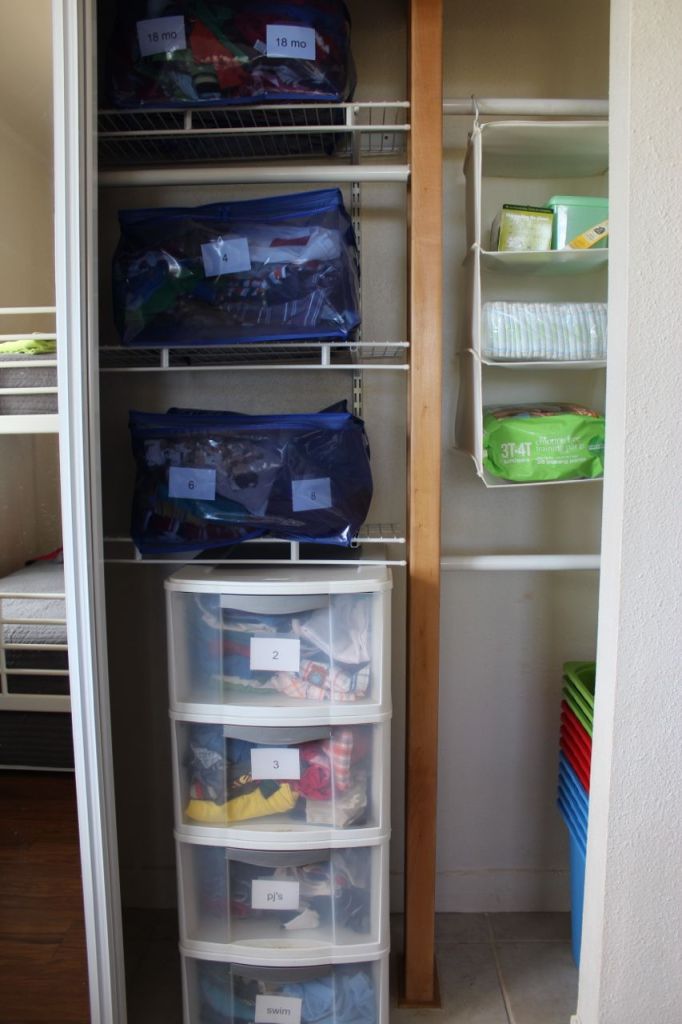 We use Ziploc XL Flex Totes to store the various sizes of clothing that the kids have
been handed down or grown out of. There's always someone whose next in line!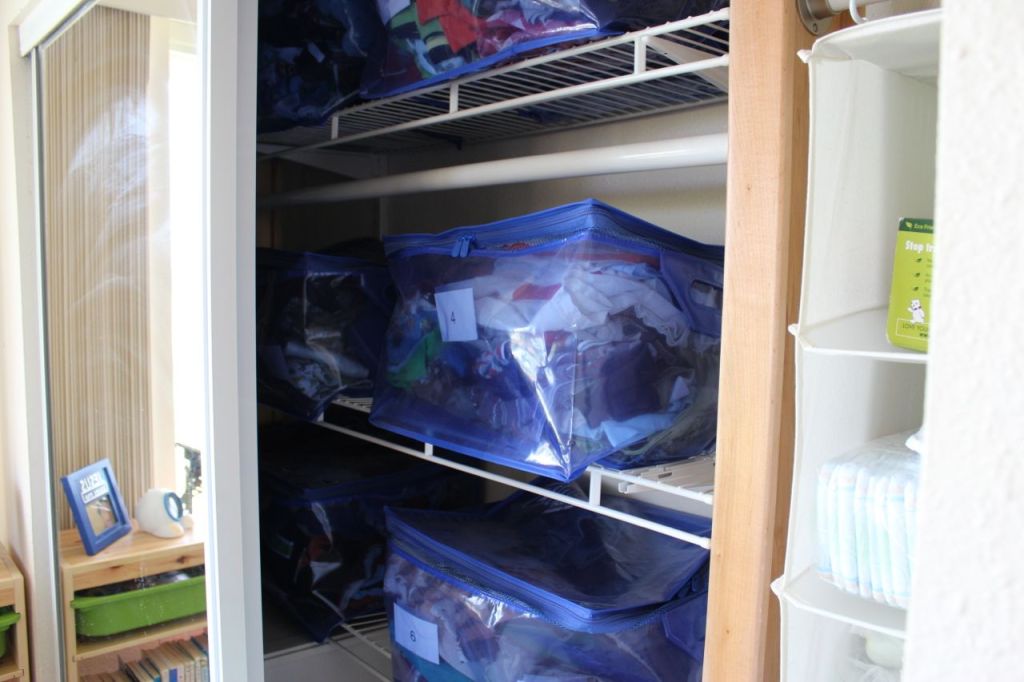 We're down to just one in diapers (for now), and this is the easiest way for me to keep all the supplies handy.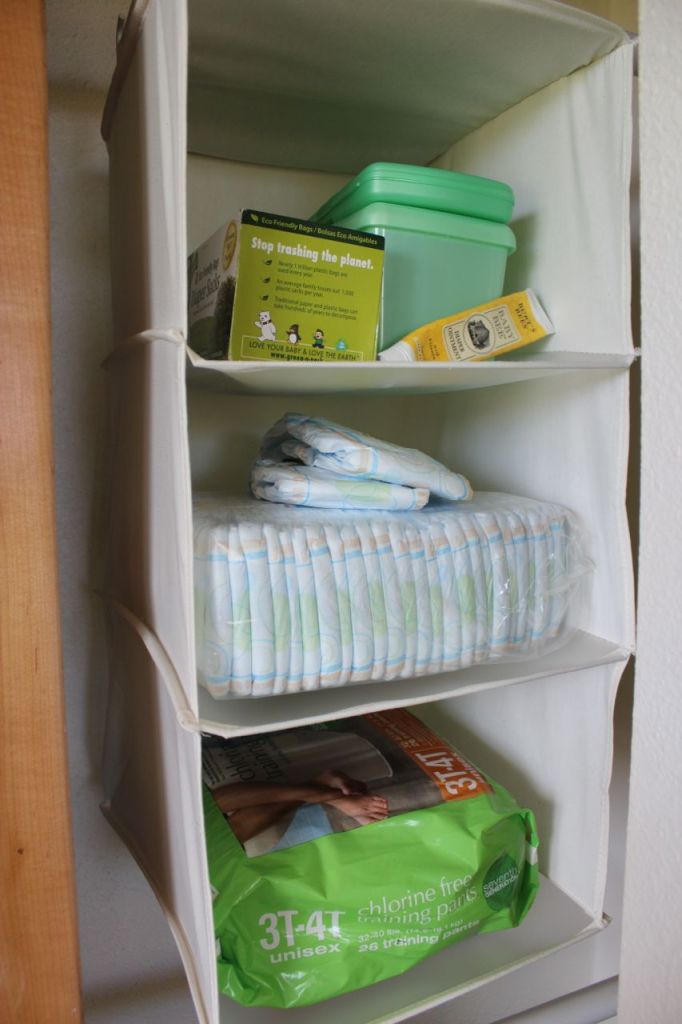 I don't know why they call them Ugly Dolls, when we find them so cute!
My boys got these as a gift and they love 'em!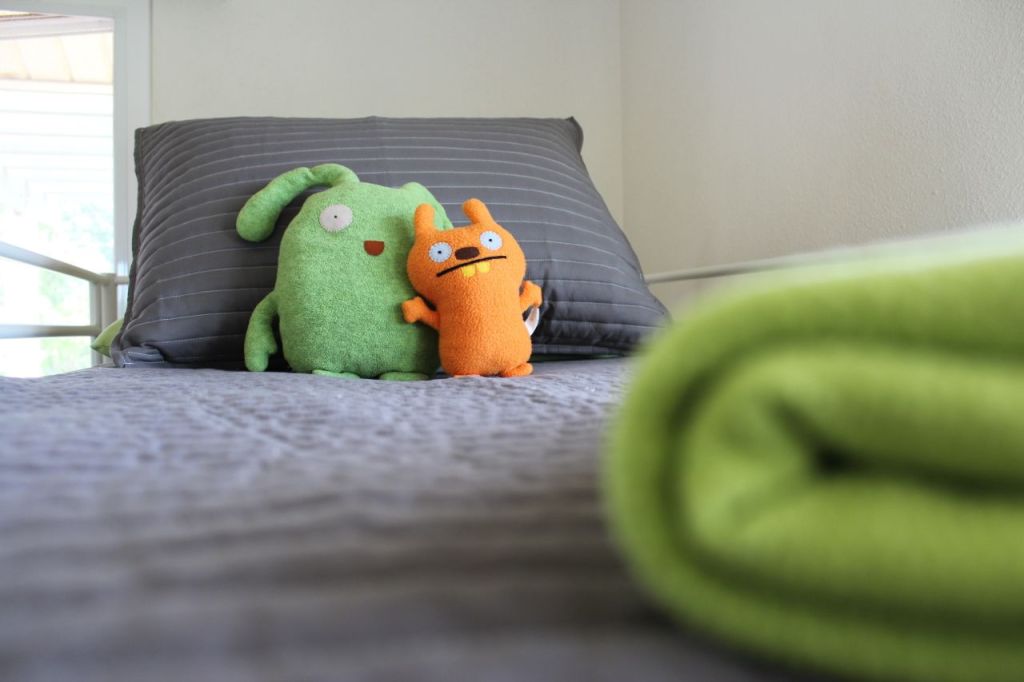 Here's a list of where I purchased everything in case you wanted to know! =)

White Bunk Beds with Trundle: Ikea – Tromso 
Pine Storage Racks & Colored Bins & Lids: Ikea – Trofast
Circo Reversible Bedspreads & Shams: Target (I used my sewing machine to box the corners of each bedspread to make it easier to make the bed… although the top bunks are still a pain in the butt to make!)
Green Sheets & Pillowcases: WalMart Mainstay's Fitted Sheet & Case in Mint
Low Pile Green Striped Carpet Squares: Flor – Lime
4 Standard Mattress (they say 10″, but fit below the 8″ max-line on the top bunk beds): Costco
2 Foam Bunk Bed Mattress (4″ – any larger, and they won't slide under bottom bunk): Local Mattress Company
6 Mattress Pads: Amazon
6 Waterproof, Allergen & Bed Bug Proof Mattress Protectors – Amazon
Ugly Dolls – We got these as a gift: Amazon
Kids Teach Me Time Alarm Clock – We got this as a gift: Amazon (glows green when it's time to wake up!)
Blue Zippered Storage Bags in Closet – Amazon – Ziploc Flex Totes XL
Off-White Canvas Hanging Closet Organizer – Amazon
Stacking Storage Bin / Drawers – Amazon

Although we could have probably done this cheaper if living on the Mainland next to an IKEA, we estimate that the total room update to cost around $1600 – $2000… but that is because most everything had to be shipped to Hawaii, and we opted for brand new mattresses.
The boys love their new room, and I love that it functions perfectly for our needs. I'm sure eventually we'll have to make some tweaks, but for now, we pray that God will fill each bed with a new brother and/or sister to love! In the mean time, we've got a plenty of room for sleepovers! =)
God Bless!
~ Erika