Sure it comes conveniently packaged in bags at Costco, or all ready to go in the bulk bin at your local supermarket… But let's be honest, most of us don't like at least one of the ingredients in the pre-made trail mix!
Oh come now, you know you've eaten all the M&M's out of the bag, and gave the raisins to your kids. ;)  Plus, most store-bought trail mix is made with roasted Nuts (in oils); the Raisins and/or Dried Fruit are treated with sulfites; and it often has Candies in it!
Making your own homemade Trail Mix takes about 3 minutes and is so much more delicious since you can create a recipe with only your favorite ingredients!  Besides, you will get the AMAZING health benefits of eating fresh nuts that are not processed.  And it's surprisingly economical – since preparing in bulk can almost always save you some bucks!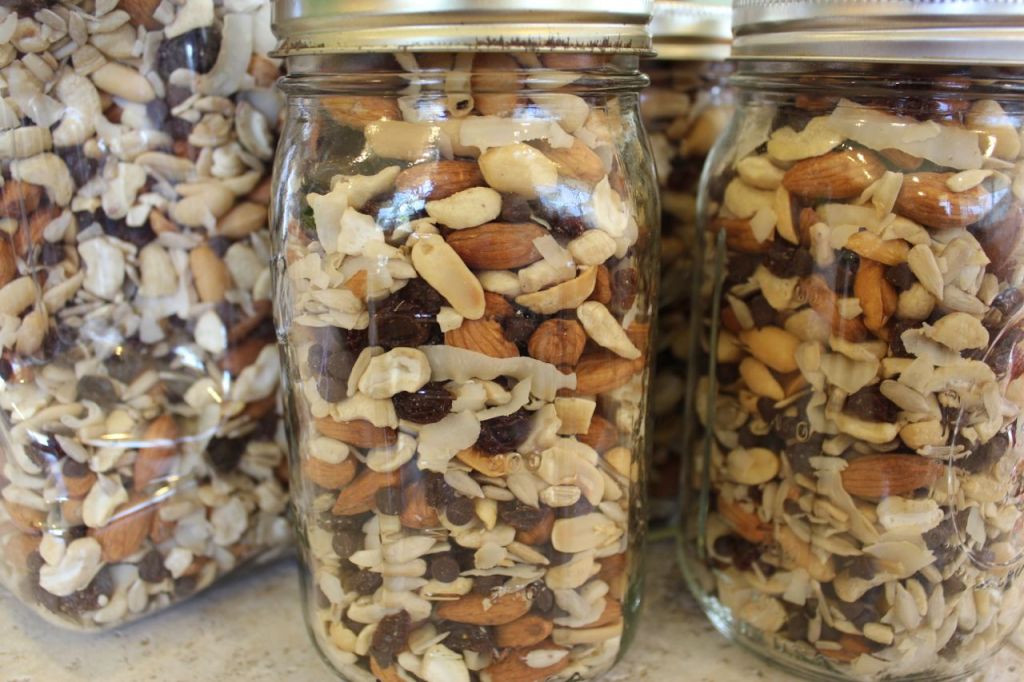 The Trail Mix recipe below is just a suggestion… feel free to mix it up and make it your own.  Just remember, the goal is to create a 'healthy' snack that is beneficial to your body, with energy, nutrients, and good 'fats' – not just a temporary pick-me-up!
Feel free to post any questions or comments you may have & don't forget to subscribe here or at YouTube so you'll know when I have a new video up.
The special tools & ingredients featured in this recipe are:
Wide Mouth Mason Jars – Quart Size
I buy almost all of my supplies from Nuts.com or Amazon.com – they are both AWESOME, but Nuts.com seriously has the freshest & best nuts I've ever bought!!  Even if you don't buy from them, you should sign-up to get their newsletter – every couple of months they offer free shipping or a special deal, and have fantastic recipe ideas & more on their website!
---
If you don't already have a VitaMix, I strongly encourage you to check out what this machine is capable of!  For more information about VitaMix you can go directly to the VitaMix website.   For free shipping, be sure to use: Coupon Code: 06-004166
If you have the Living Cookbook software, you can import the free recipe file by cutting and pasting it right into your program.
Raw & Natural Trail Mix Recipe!


This recipe makes approximately 2 Gallons (or 8 Quart sized Mason Jars) of Trail Mix that lasts our family of 5 about a month… but feel free to scale it in half if you don't need so much.

All ingredients I used in this Recipe were Organic.

Suggested Ingredients:

Procedure:
1.  In Large Bowl, Mix all ingredients together well, and enjoy!

Yes, that's it… See, I told you it would be easy!

Storage: Store Trail Mix in an airtight container(s) such as a Mason Jar in a cool, dark spot so the nuts don't go rancid, and the chocolate doesn't melt.


Yields:  Approx. 2 Gallons (or 8 Quarts = 8 Large Mason Jar)  (or 32 Cups)  (or 128 1/4 Cup Servings)


NOTE: I portion control pretty much all of our food – so as a general rule, I serve about a 1/4 cup (or 3 Tablespoons) per person per day (depending on age & chewing ability)  So an average batch lasts our family of 5 about 1-2 months.
Feel free to send me any questions or comments you may have!
Enjoy!
~ Erika