If you've ever been to Hawaii, chances are you've been offered a delicious concoction called POG (which stands for Passion, Orange, & Guava). It's typically offered on your airplane ride over and is often referred to as the 'Official Drink of Hawaii.'   It is sold in every store here, and by the gallon at Costco.  It's considered a staple among many 'locals' – children & adults alike.
The problem with POG is that it is made primarily of artificial food coloring, artificial flavors and enough sugar to put you in a coma for your entire visit.  I personally find it so sweet, that I can't even take a sip without cringing.  As a result, I won't go near the stuff and can't imagine giving it to my extremely sensitive children… the artificial food coloring in it is enough to alter their brain chemistry for life!
Here's a look at the Original Drink by Meadow Gold
Photo Taken By: Hawaii Magazine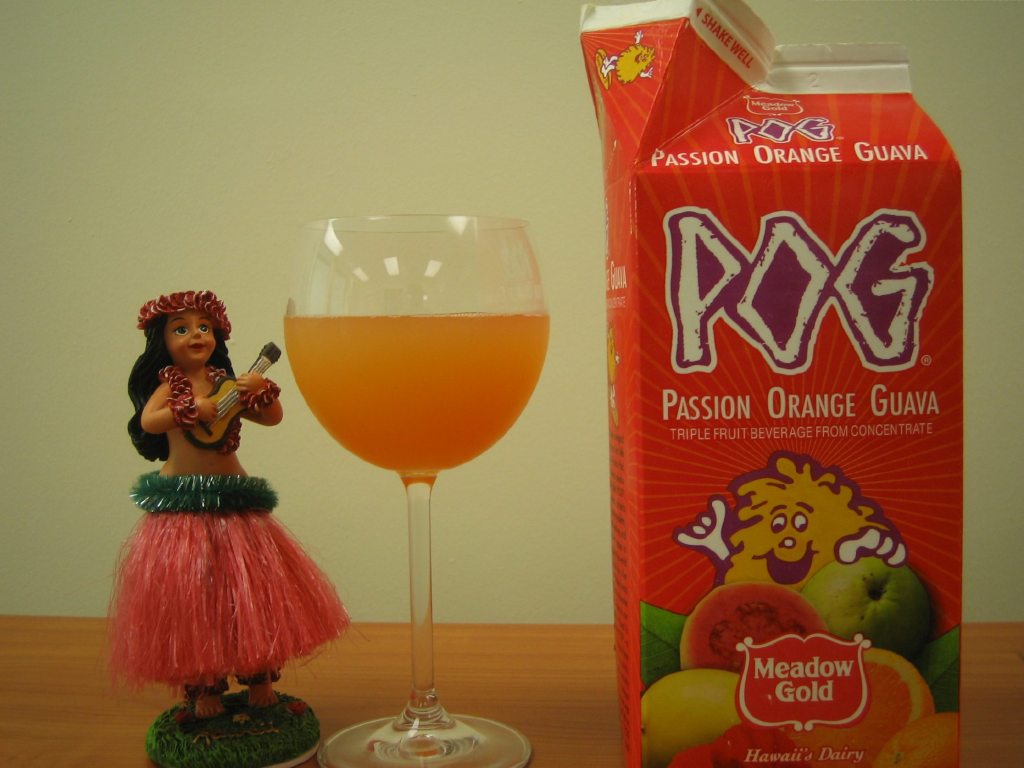 But, that doesn't mean we can't enjoy some REAL POG every now and then… especially since we discovered a beautiful little Guava tree growing in our front yard a couple of weeks ago!
The real recipe calls for Passion Fruit (aka 'Lilikoi'), Orange & Guava… but since I know not all of you have access to the two tropical fruits, I've adapted this Natural Hawaiian POG Recipe recipe for anyone to enjoy!  We like ours blended with ice to make a frozen drink out of it, but you can prepare it however you like best.
If you've never been to Hawaii, or it's the middle of winter when you're reading this, here's your chance to bring a little taste of the Tropics right to your own home… just don't forget to put your sunscreen & sunglasses on, and sit under a bright light for the full effect! =)
Feel free to post any questions or comments you may have & don't forget to subscribe here or at YouTube so you'll know when I have a new video up.
The special tools & ingredients featured in this recipe are:
---
If you don't already have a VitaMix, I strongly encourage you to check out what this machine is capable of!  For more information about VitaMix you can go directly to the VitaMix website.   For free shipping, be sure to use: Coupon Code: 06-004166
Natural Hawaiian POG Drink Recipe

OPTION #1 – FRESH INGREDIENTS:

2 Fresh Pineapple Rings – Cut Thickly OR the Juice from 1 Passion Fruit
1 Fresh Orange – Peeled (if you don't have a VitaMix, you will want to remove the seeds first)
1 Fresh Guava (seeds removed)
Stevia or Natural Sweetener to Taste (I use 8-10 drops of the liquid kind)
2-3 Cups Ice

OPTION #2 – NATURAL BOTTLED INGREDIENTS:

1 Cup Natural Passion Fruit Nectar or Pineapple Juice
1/2 Cup Natural Orange Juice
1 Cup Natural Guava Fruit Nectar
Stevia to Taste – If needed
2-3 Cups Ice

PROCEDURE:

In your VitaMix blender, combine all ingredients (except ice) and blend on high until everything is smooth.
Add in Ice using your VitaMix Tamper to push the ice down into the blades for a smooth frozen drink.
Serve immediately and/or Freeze any leftovers in Popsicle Molds for a delicious treat!

 Our Passion Fruit Vine (aka Lilikoi) isn't blooming right now, so I used fresh Pineapple instead.

 You can eat the skin of a fresh, organic guava, or skin it.
You may want to remove the seeds, since they also can be very rough to swallow
– especially if you don't have a VitaMix to work with.

Since this makes fresh, unfiltered Juice, the mixture will be thick & frothy.
You could drink it this way, but I think it's so much better blended with ice.

When you add in the ice, don't over blend it and you'll have a refreshing drink, that tastes like dessert!

Delicious!

Yields:  Approximately 32 ounces (4 cups)Preparation & Cooking Time: Less than 5 minutes.
Enjoy!
~ Erika