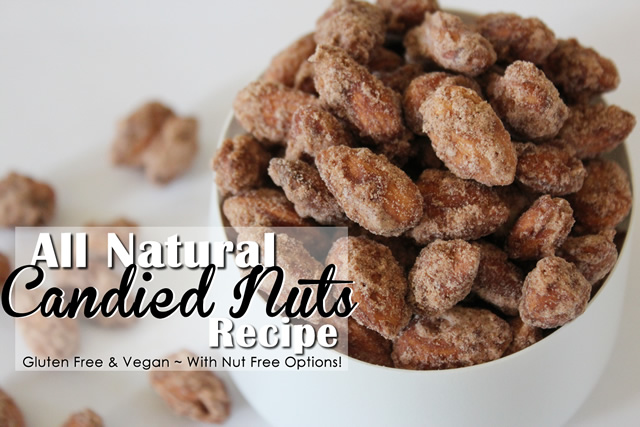 Nothing makes my mouth water like the smell of street vendors making candied nuts… One whiff and my stomach starts growling even if I'm not hungry! And if the nuts are still hot, it's like a little piece of heaven on earth!
This Candied Nut Recipe works with any combination of nuts! AND if you have a nut allergy (like one of my kiddos), you can also use this recipe with Seeds, Roasted Chickpeas, or Coconut!  PLUS, it is Egg Free, Dairy Free & Gluten Free! Unlike other candy recipes, this recipe is made with only 4 whole food ingredients (no corn syrup here!) and does NOT require baking in the oven.
I'm not a big sweets person, so simple candy recipes like this are my favorite. Christmas always gives me a good excuse to whip up some for gifts… Or, you can whip up 25 pounds of it for a fundraiser like I did this weekend!! It's SO EASY and tastes exactly like the warm treats you'll find at Disneyland, or your favorite candy vendor.
I've even made a FREE Printable Label for you guys… with 8 Different Nut & Seed choices!  Feel free to download them over HERE & use them for gifts! =)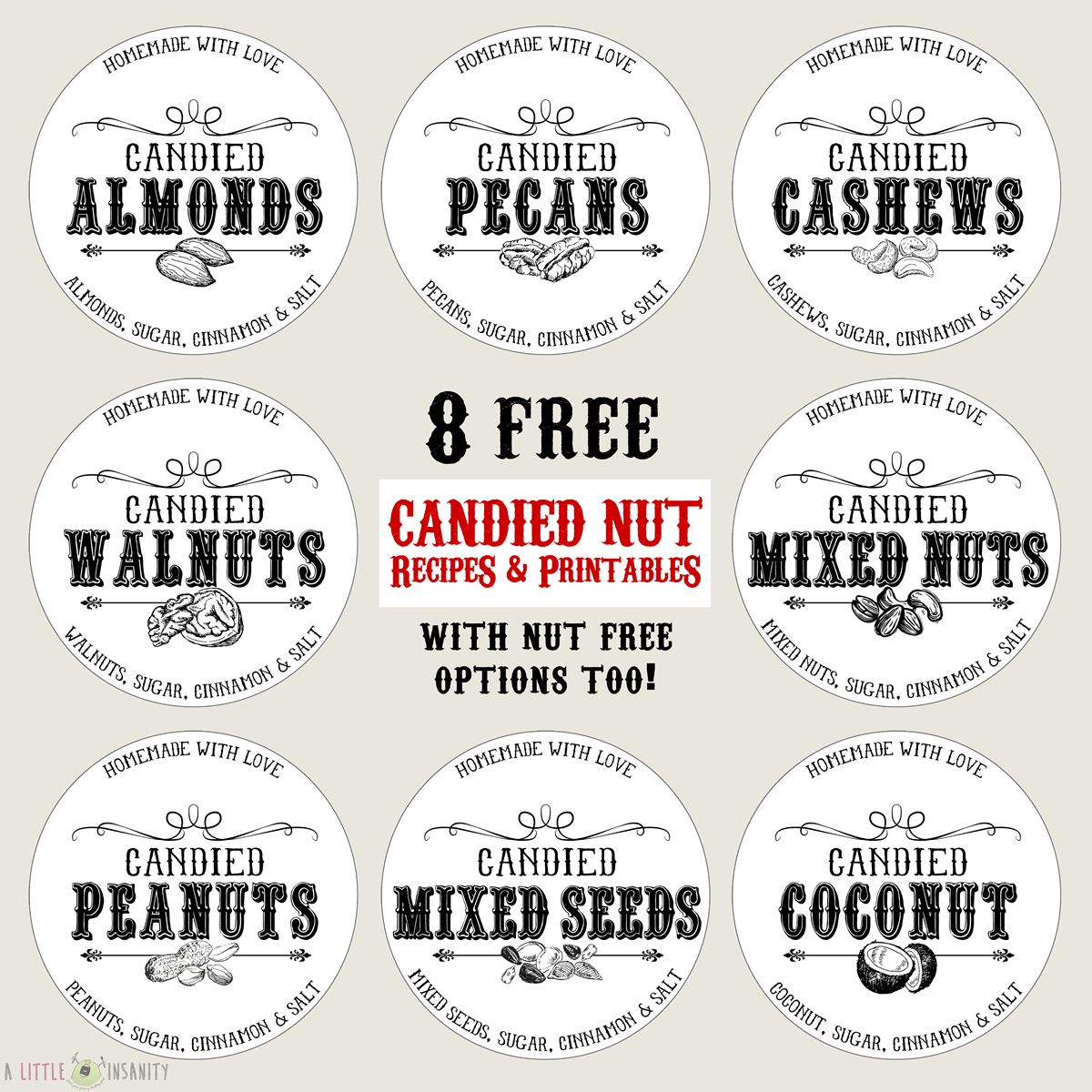 Here are the tools and ingredients you'll need for this recipe: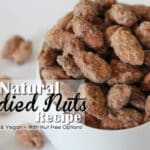 The BEST Candied Nuts Recipe
Author:

Prep Time:

5 mins

Cook Time:

30 mins

Total Time:

35 minutes

Yield:

Approx. 8-10 Cups

Category:

Dessert

Cuisine:

Gluten Free
---
Description
This Candied Nuts Recipe is SO EASY & Delicious! You can us ANY Nuts or Seeds… Plus there's NO Baking! It's Egg Free, Gluten Free & Dairy Free! Perfect for Snacks, Parties, Fundraisers, Gifts and Holiday Treats!
---
---
Instructions
Line a Cookie Sheet with Wax or Parchment Paper and set-aside. Keep you oven-mitts handy too.
Measure out your Nuts or Seeds in a Medium Bowl and set-aside.
Place your pot on your stovetop over Medium heat. (I use this Cast Iron Dutch Oven – Cast Iron is wonderful for candy making & all types of cooking since it evenly distributes heat over the whole pan – even in the oven!)
With a Silicone spatula, mix together the Sugar, Cinnamon, Salt & Water in your pot – stirring occasionally during the first 5 minutes. Between 5-10 minutes, your mixture should start to bubble & foam.
Continue stirring regularly as the mixture continues to heat up for the next 10 minutes. Be sure to scrape the sides of the pot as you go.
Stir constantly during the last 5-10 minutes of cooking. Your mixture should start to thicken up and turn darker in color. This is when I use my Candy Thermometer to monitor the temperature of the candy mixture… You want it to reach 'Soft Ball' stage which is 238 degrees F.

IMPORTANT: Be sure the mixture is truly at 238 degrees! If you add the nuts too early, or if the temp is not accurate, you will end up with a 'stringy' candy result (which can still be saved – see note section below).  I sometimes hold the temp for an extra minute or so until I can see the mixture pull away from the bottom of the pan when I scrape it with a rubber spatula.  It is crucial to any candy recipe that your candy thermometer is accurate – I test/calibrate mine regularly against boiling water which boils at 212 degrees F.

Once you reach the Soft Ball temperature, then work quickly to add your Nuts or Seeds to the mixture – using your spatula to continuously combine everything together – coating each Nut evenly. The coating will go from a shiny, stringy glaze to a dull, sugary coating in less than a minute. The coolness of the Nuts/Seeds will begin to crystalize the candy quickly. There should be no wet glaze leftover – it should have all crystalized.
Using your oven mitts to handle the pot, remove from heat & carefully dump out the candied nuts/seeds onto your prepared cookie sheet & set-aside to cool completely. Break apart any large pieces. I place my cookie sheet on a cooling rack to avoid any moisture during the cooling process.
Once the candy is cooled, you can store it in an airtight container or package it up for gift giving.
---
Notes
The whole process from start to finish takes approximately 25-30 minutes.
You can use any raw or roasted nut – even some seasoned nuts… Just keep in mind that raw nuts may turn out a little bit softer. To avoid this, you can dry roast your nuts in the oven prior to making this recipe so that they stay crispy longer.
These Candied Nuts are best when fresh… so keep that in mind when gift giving. You can store it for longer periods of time in airtight containers or with a food sealer.
If the nuts or candy coating seem 'stringy' or too soft after cooling, just pop them onto your cookie sheet & place them in the oven at 325 degrees (f), stirring gently until they crisp up.
To warm these nuts up before serving, you can simply follow the oven instructions above or toss in a warm pan for a few minutes. But be careful when eating, they may be hot!
Speaking of hot, my husband likes things spicy! So, you can kick these up a notch with a pinch of cayenne powder, chili powder or any spice of choice… just be sure to warn your tasters! =)
---
Nutrition
Serving Size:

1 Piece

Calories:

14
Gather all of your tools and ingredients to make Candied Nuts or Seeds.
Whisk the Sugar, Cinnamon & Salt with Water in your Pot… Don't mind my messy pot & spatula – this was batch #9 and everything was candy coated by this point. =)

With your pot over Medium Heat, your mixture should start to bubble and foam after approx. 5 min.
Continue to stir Candy mixture regularly during then next 10 minutes – Mixture will turn darker as it cooks.
Stir mixture continually during the last 5-10 Minutes. Mixture will thicken and bubble. Now is the time to use your thermometer.
When the mixture reaches a temp of 238 degrees (soft ball stage), add in your prepared nuts/seed to the pot.
Work quickly to coat all pieces evenly. Continue to stir & toss everything until mixture begins to set. This takes about 30-60 seconds.
When the coating begins to dull, continue tossing for a few more seconds, then remove promptly from pot… Do not let them burn!
Spread Candied Nuts or Seeds onto a lined cookie sheet to cool. Be sure to break up any large pieces right away. Try to resist eating all of them warm right off the tray – but definitely eat a few! =)
Store Candied Nuts/Seeds in an airtight container, or package them using the free printable I made for you over HERE! I used these bags & twist ties for packaging.