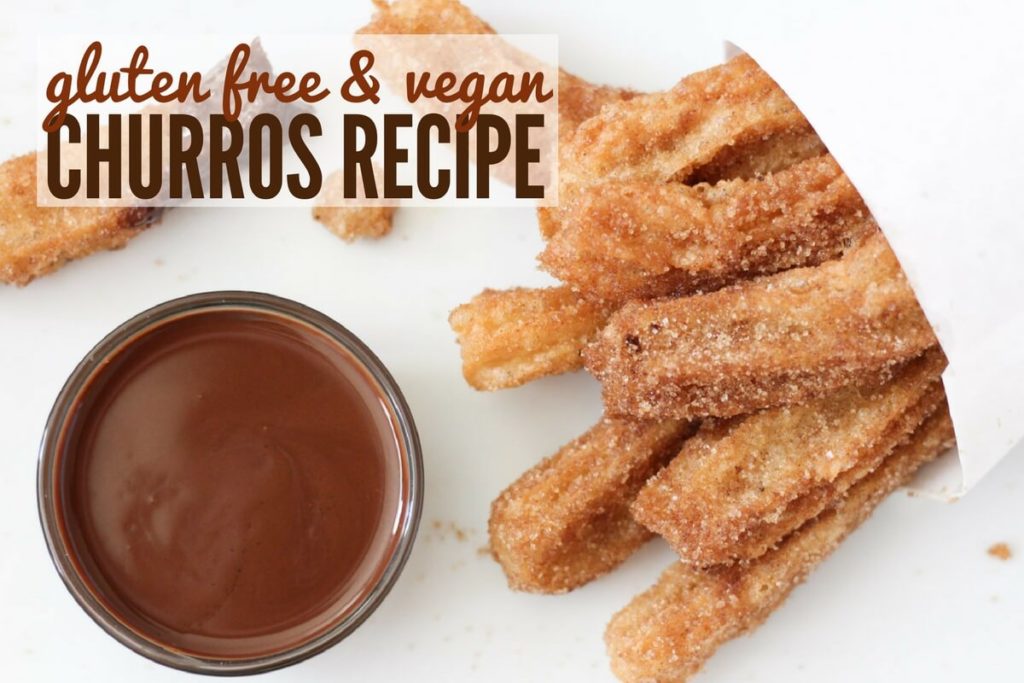 It was mid-morning at Disneyland and we'd just gotten off Splash Mountain when the smell of fresh Churros pulled us in like a tractor-beam. We took a chance & asked the cast member kindly if the Churros were Gluten Free & Egg Free, but he shook his head and apologized. My sweet boys didn't complain & gladly accepted the snack bar I had packed instead.
When we returned home, I was determined to make a Gluten Free & Vegan Churro Recipe so my boys could try one. After several test batches, I finally had it! I called the boys into the kitchen, showed them the Splash Mountain photo (below) & told them to close their eyes and smell. I handed each one of them a Churro & their eyes opened wide! They eagerly devoured them as we reminisced about our trip. For just a moment we were back at Disneyland… except we weren't soaking wet. =)
The Tools & Ingredients Used in this Recipe: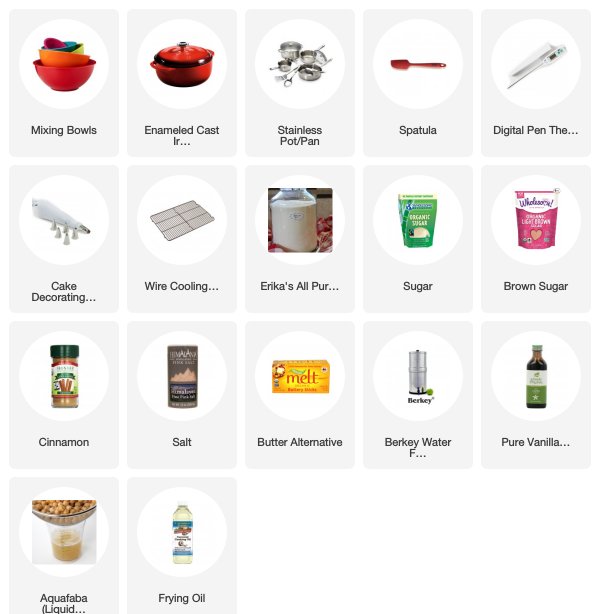 Print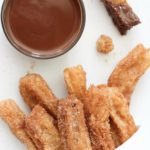 Gluten Free & Vegan Churros Recipe
Author:

Prep Time:

10 mins

Cook Time:

25 mins

Total Time:

35 minutes

Yield:

2

Dozen

1

x

Category:

Baked Goods

Cuisine:

Gluten Free
---
Description
This Gluten Free & Vegan Churro Recipe (no eggs or dairy) is a fun & delicious recipe that kids of all ages will enjoy!
---
1 Quart

Frying Oil (the Churros will only use about a 1/4 cup of Oil for the entire batch, so you can save almost all of the Oil for use later.
BATTER INGREDIENTS:
1 Cup

Water

1/4 Cup

Butter Alternative (I used Melt)

2 Tablespoons

Brown Sugar

1 Teaspoon

Vanilla

1/2 Teaspoon

Salt

1/2 Cup

 Aquafaba – the Liquid Drained from a Can of Garbanzo Beans (or 2 Eggs)
SUGAR TOPPING:
1/2 Cup

Sugar

1 Teaspoon

Cinnamon
---
Instructions
While preparing the other ingredients, preheat your Frying Oil in a deep pot (cast iron is best) to 375 degrees F. It is crucial to the recipe that you maintain 375 degrees throughout the frying process.  This may mean waiting a couple of minutes in between batches to make sure the oil returns to the correct frying temp.  Otherwise your Churros will be soggy.
In a medium pot, add Water, Butter, Brown Sugar, Vanilla & Salt – Whisk to combine & Bring to just boiling over Medium Heat. Remove from heat as soon as bubble begin breaking the surface.
Add Flour to Boiling Mixture & stir well with Spatula until mixture starts to smooth out.
Add Aquafaba to Mixture until well incorporated & Churro Batter is smooth (no lumps).  If you're using regular eggs, wait 10 minutes before adding the eggs to the mixture – otherwise your eggs will cook before they mix.
While Churro Batter is cooling & Oil is Preheating, prepare your Sugar Coating by combining Sugar & Cinnamon in a plate or bowl. Then set-aside for later.
Scoop Churro Batter into your Piping Bag fitted with a large 1B Star Tip.
When Oil has fully preheated to 375 degrees, begin piping 6″ Churro strips directly into the oil. Use the blunt end of a knife to cut the batter from the tip.  Only fry 4-5 Churros at one time.
Allow Churros to fry 1 minute before gently flipping.  If the Churros stick to each other, that's ok, let them be & you can separate them after frying. Continue to fry for a combined total of 4-5 minutes until golden brown.
Remove Churros from oil & place on paper-towel lined cooling rack to drain & cool.
While Churros are still warm, toss them into the Sugar Cinnamon Mixture & coat them well.
Churros are best served warm right away.
---
Notes
Churros are traditionally served with a Chocolate Dipping Sauce – I just melted some Chocolate Chips with a little bit of Coconut Oil & a dash of Cinnamon.
---
Nutrition
Serving Size:

1 Churro

Calories:

175