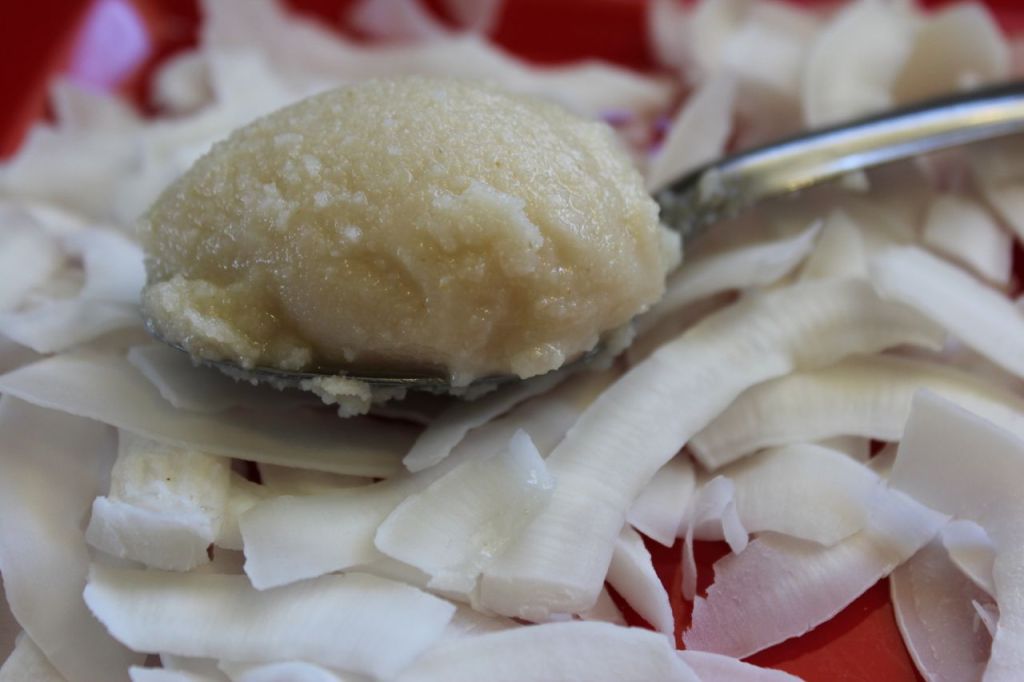 Most people are familiar with the two most famous 'Nut' Butters: Peanut Butter & Almond Butter… but have you ever tried Coconut Butter?
A few years ago, I dug deep into my pocketbook a bought a jar of the stuff  – it was expensive & unfortunately, divinely delicious!  I knew I couldn't afford to keep buying it, so I savored the contents of that jar as long as humanly possible.
At some point it dawned on me that I could make it myself and so I put on my mad scientist goggles and let the experimenting begin! It didn't take long for me & my trusty VitaMix to duplicate the texture & flavor of my favorite store-bought brand 'Artisana', but for a fraction of the cost!
Sometimes the simplest recipes are the most rewarding.
---
If you don't already have a VitaMix, I strongly encourage you to check out what this machine is capable of!  For more information about VitaMix you can go directly to the VitaMix website.   For free shipping, be sure to use: Coupon Code: 06-004166

Coconut Butter in the VitaMix
Raw, Coconut Butter Recipe - a perfect alternative to the expensive store bought version.
Ingredients
½ Cup Natural Shredded or Flaked Coconut (NOT the low fat kind and NOT the store-bought kind that has sugar added) - You can dehydrate it yourself with fresh coconut meat, or buy it Here on Amazon, or Here at Nuts.com
2-3 Teaspoons Raw, Extra Virgin, Cold Pressed, Coconut Oil
Instructions
Start with a completely dry VitaMix container.
Pour the Coconut Flakes into the container and blend into a fine Coconut Flour - Start at Variable Speed 1 and work your way up to 10 Stopping & Starting as necessary to stir the Coconut so it will grind evenly.
Add in the Coconut Oil, one teaspoon at a time, stopping to blend on High, until mixture is the desired consistency.
You will need to stop & start the VitaMix a few times and scrape the coconut butter down. The mixture will become warm and should blend up smooth.
Notes
This recipe works better when made in smaller batches... but you can double the recipe and it should still work fine. Just don't overload your VitaMix when attempting this recipe - the end result will not be as smooth.

Storage: Because of the nature of Coconut, you should store the Coconut Butter in an airtight container in your pantry.