This Gluten Free Lasagna Recipe is adapted from my mother-in-law's recipe. As I believe most people sometimes are, my significant other can occasionally be oddly particular about certain things. At one point during our engagement, a particularly tough week led to a craving for some comfort food from childhood.
Not just any lasagna would do, so I found myself humbly requesting the recipe from my now mother-in-law. As I had hoped, she was gracious enough to give it to me!
Of course, my partner was having trouble tolerating gluten at the time, and the recipe was chock full of it. As a result, I had to make a few tweaks. I'm happy to report that Mom-in-Law has since tried the tweaked version and gives it her stamp of approval! :)
The Tools & Ingredients Used in this Recipe: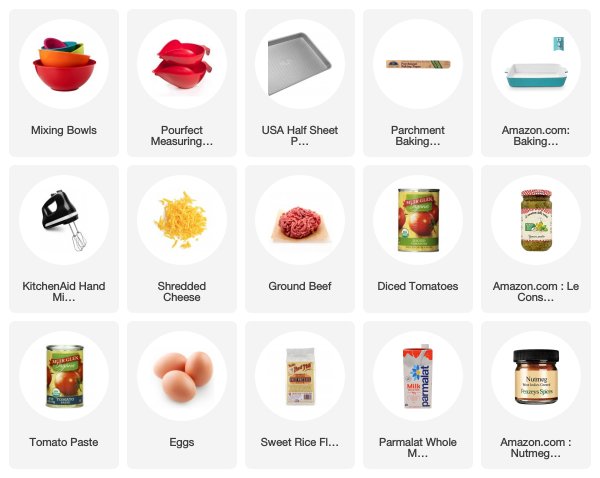 Print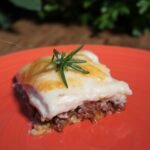 Mother-In-Law's Gluten Free Lasagna Recipe
Author:

Prep Time:

30

Cook Time:

45

Total Time:

1 hour 15 minutes

Yield:

6 Servings

Cuisine:

Gluten Free
---
Description
Some serious comfort food! My mother-in-law is the consummate host, always serving up countless different dishes whenever people are over (and all of them good). This one is no different. I hope you enjoy it as much as we do!
---
For the Keto/Gluten Free Lasagna "Noodles":
• 3 eggs
• 5.2 oz (150g) of Boursin (any flavor)
• 2 cups of shredded cheese
For the Gluten Free Bechamel Sauce:
• 1/2 cup butter (or alternative)
• 1/2 cup sweet rice flour
• 1 quart of milk (or milk alternative)
For the filling:
• 1.5 lbs (650g) of ground beef
• 1 cup Parmesan
• 1 heaping tablespoon of tomato paste
• 1 heaping tablespoon of basil pesto
• 1/2 lb of diced tomatoes
For the topping:
• 1 teaspoon of ground nutmeg
• 2 or 3 cups shredded cheese (depending on how cheese-y you like your lasagna)
---
Instructions
Prepare Keto/Gluten Free Lasagna "Noodles" (click here for instructions)
Prepare Gluten Free Bechamel Sauce (click here for instructions)
Preheat the oven at 350ºF
Brown the ground beef in a large skillet at medium heat (roughly 15 minutes). Though not strictly necessary, I usually salt the beef at this stage.
Put the ground beef, tomato paste, pesto, diced tomatoes, and shredded parmesan in a mixing bowl and mix well.
Lay a sheet of lasagna "noodle" on the bottom of a 9″×13″ baking dish.
Spread the beef mix over the first "noodle" sheet.
Lay another sheer of lasagna "noodle" on top of the beef.
Pour half of the bechamel sauce over the second "noodle" sheet.
Sprinkle the ground nutmeg on top and add half of the remaining shredded cheese.
Pour the remaining bechamel sauce over the cheese.
Sprinkle the remaining shredded cheese on top.
Place the baking dish in the oven on the middle rack and bake until the cheese is melted (roughly 25 minutes)
Set the oven to broil on low until the cheese on top is a lovely, golden brown (roughly 5 minutes)
Remove from the oven, let stand 5 minutes, cut and serve.
---
Notes
For a more keto-friendly final product, swap the milk in the bechamel sauce with coconut milk.
If you do not have a large enough frying pan, you may need to sauté the beef in batches to ensure it browns well. I also like to pour out excess liquid after about ten minutes of cooking (so that things brown well in the final five minutes and things don't turn out too soggy).
Consider adding a cup of sautéed onions to the beef.
---
Nutrition
Serving Size:

4" × 4" square

Calories:

690

Sugar:

6 g

Fat:

52 g

Carbohydrates:

18 g

Protein:

45 g
Keywords: Gluten Free Lasagna Recipe