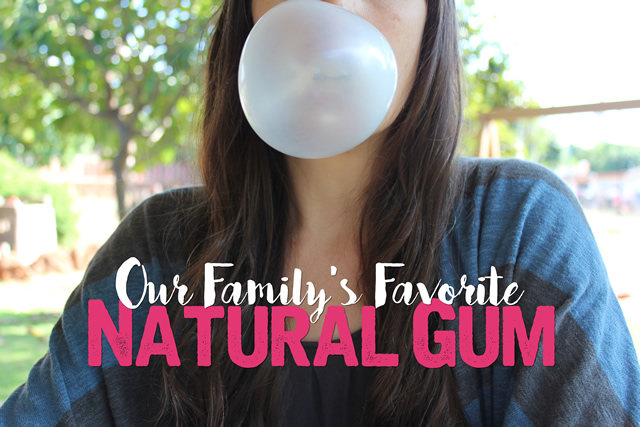 I really love gum and have always been a gum chewer… I think a lot of that has to do with my personality. I'm always moving and even when I'm sitting, my mind is still going. Gum has a way of helping me focus & think.
As a mom, I figured out that chewing gum has the same calming affect on my children. After some research, I found that gum REALLY can help focus & concentration. So, chewing gum has been extremely beneficial for our homeschool/learning; behavioral cool-downs; and soothing some of the anxiety in our kids who struggle with it.
The trouble with traditional gum, is that most of it is loaded with artificial sweeteners, colors & a bunch of additives I can't pronounce. We know that these things can have negative behavioral & health consequences – not ok! That's why I was thrilled when I found B-Fresh Gum (you may remember my past review about blowing big bubbles with it). B-Fresh has all natural ingredients, No artificial colors or sweeteners (they use Xylitol), and it even contains B vitamins for an extra boost! Plus its Gluten Free, Soy Free & Vegan.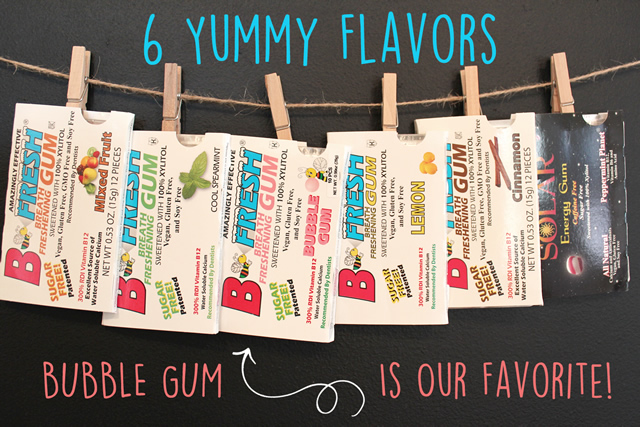 B-Fresh recently offered to let me try their other flavors & sent me a pack of each – 6 Flavors in all. My kids thought this was best thing ever & I was their hero every time I approved another sample for them to try. After lots of chewing & chewing, here's what our family thought of the B-Fresh Gum flavors:
Bubble Gum – This is hands down our favorite. The pieces are almost twice the size of the other flavors & make the best bubbles. Plus, we all think it tastes exactly like regular bubble gum and the flavor lasts a long time!
Mixed Fruit – This flavor reminds me of a gum I had growing up… I think it was called Fruit Stripes? But, we all agreed this was yummy enough to want to chew & swallow – which is exactly what one of my little ones did.
Cinnamon – This has a very strong Cinnamon Oil 'bite' to it that is so good. We also agreed that the flavor lasted a long time. If you love Cinnamon, you'll love this flavor.
Lemon – I think we all expected it to taste like a sour lemon, but instead it was lightly flavored, sweet & fruity… kind of like a lemon candy. It did seem to lose its flavor more quickly than the others.
Spearmint – This flavor is such a common flavor, so it was a little less exciting to chew. But, it made our mouth's feel cool & breath fresh!
Peppermint Planet Solar Energy –  As a normally energetic person, I can't honestly say for sure if it affected my energy level or not… But, the strong Peppermint *zing* definitely made my mouth feel cool & fresh.
The only negative thing about this gum is the price… it's expensive compared to traditional gum. But, it makes an excellent natural treat & a fun way to help kids (and grown-ups too) to calm down & stay focused.
Note:  I get asked to do reviews & sample products all of the time, but I rarely agree unless it is truly a product I use & love. B-Fresh Gum was an easy 'Yes' for me because we've been happily chewing their gum for a couple of years… I hope you'll try some for yourself!
Happy Chewing!
~Erika