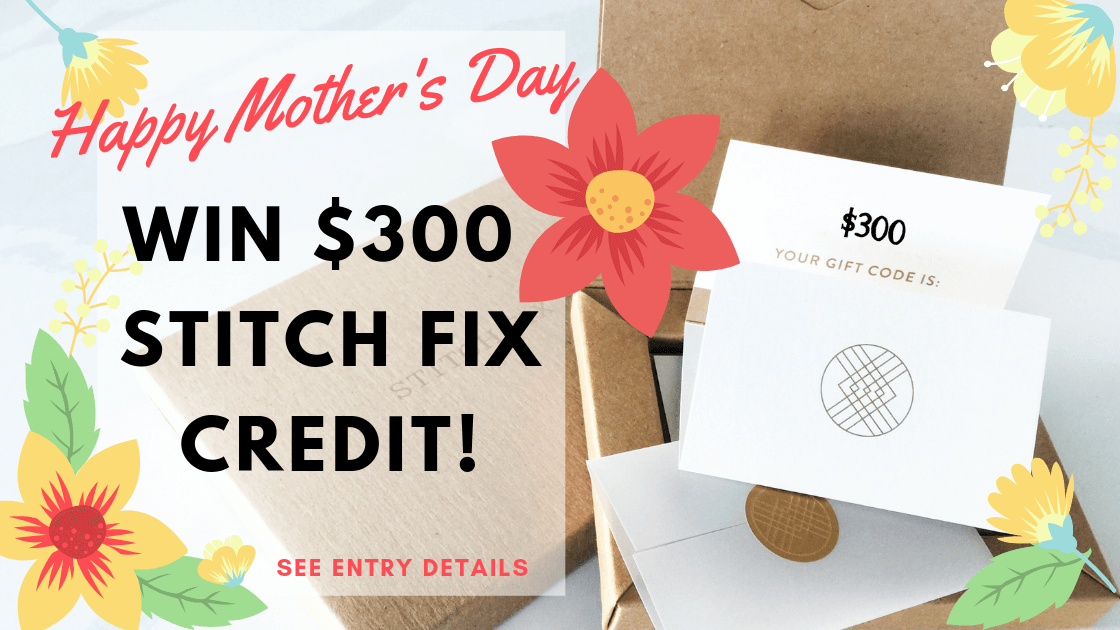 This giveaway is sponsored by Stitch Fix. I did not receive any payment in exchange for hosting this giveaway – However, this post does contain affiliate links – which means I may receive a portion of the sale if you decide to try StitchFix for yourself. This does not affect the price you pay, nor does it give me access to any of your personal information. But, it does give me great joy to hear back from you if you decide to try Stitch Fix for yourself… Let me know how it goes! =)
Over the years, I've talked a lot about my experience with Stitch Fix and have posted several hacks for getting the best Fix. I've heard back from many of you about how much you love the service… But today it gets even better!! In honor of Mother's Day, my friends over at Stitch Fix are giving one of my readers a FREE $300 Stitch Fix Credit!!
Giveaway Details:
YES! You really do have a chance to win – Even if you've never tried Stitch Fix before. All you have to do is follow these 3 EASY steps to enter:
Like This Instagram Photo
Follow Me: @aLittleInsanity on Instagram
Tag your Mom or a Friend who you think might like a chance to win too!
** Bonus entries for every additional friend you tag! **
Note: Contest Ends Mon. May 6th at 8am PST – Winner notified by Instagram Message. Winner will be given 48 hours to respond. Winner must sign-up for a StitchFix account (no purchase necessary) & provide A Little Insanity with the email address associated with their Stitch Fix account so that the $300 Credit can be applied.
If you've never tried Stitch Fix, now is a great time to try! Be sure to read my post over here on how to get the best Fix.
Need a last minute gift for Mom?
Try a Stitch Fix Gift Card – You can even choose to print it from home or email it to her. Better yet, do a mini-wardrobe makeover WITH your Mom – that would be a blast!
Whatever you do, don't forget to Enter the Giveaway and remember your Mom this Mother's Day!
I wish you all the best!