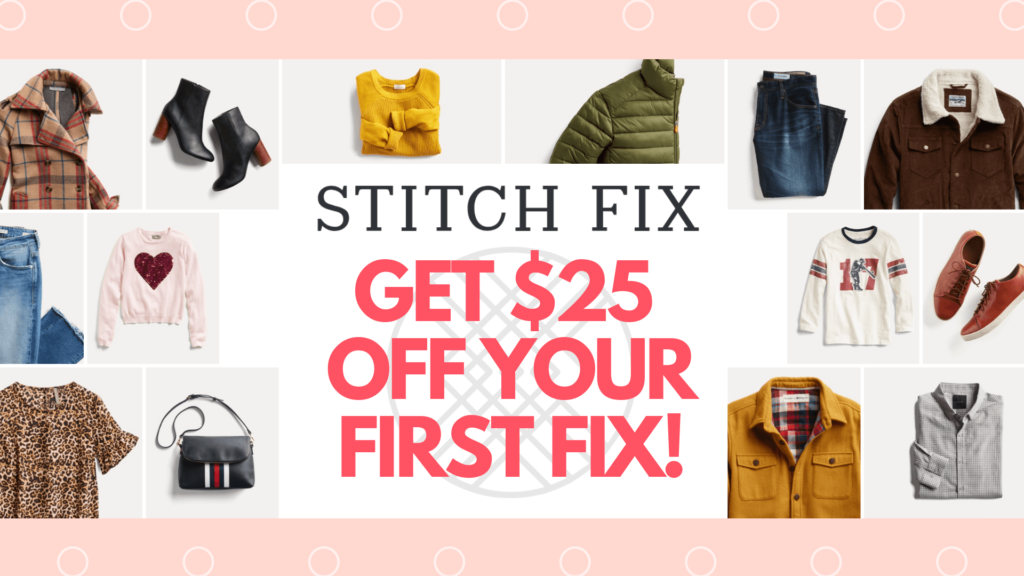 Have you been waiting to try Stitch Fix? Well now is your chance to Try it for FREE! Stitch Fix is offering a VERY RARE $25 Off Promotion for 2019. This means new customers will receive a totally FREE styling + $5 toward any items new clients want to keep from their Fixes! Plus, when you purchase any item from your Fix, you'll get your Styling Fee back as Credit – Saving you $25 off your first fix!! If you love everything thing in your Fix, then you'll get an additional 25% off it all!!
Side Note: This is not a sponsored post, but it does contain affiliate links… which means that if you click on any of the links in this post, I may receive a small percentage of the sale (which doesn't cost you anything extra). Every little bit helps me keep this blog up and running, so thank you very much for your support! =)
The other great thing about Stitch Fix is that you really can try it risk free… There's always FREE Shipping & FREE Returns. Love it? Then keep it.  Hate it? Then send it back. With this promotion, you don't even have to pay the $20 styling fee!!
If you're still undecided, I've done several reviews of Stitch Fix (including a negative one) which you can find below… I'd encourage you to use the tips I suggest to get the best possible fix on your first try!
I'm so excited for you to try Stitch Fix & can't wait to hear what you got & what you think of the service – Did you love it or hate it? Leave a comment below!
Whatever the outcome is, remember to enjoy the process & have fun! =)
God Bless!
~Erika
As of this posting, this promotion is ONLY valid and will be applied during checkout if the Stitch Fix links above are clicked prior to 1/31/2019. After that, you should still get $20 Off, but I will update it throughout the year if/when the time frame changes.