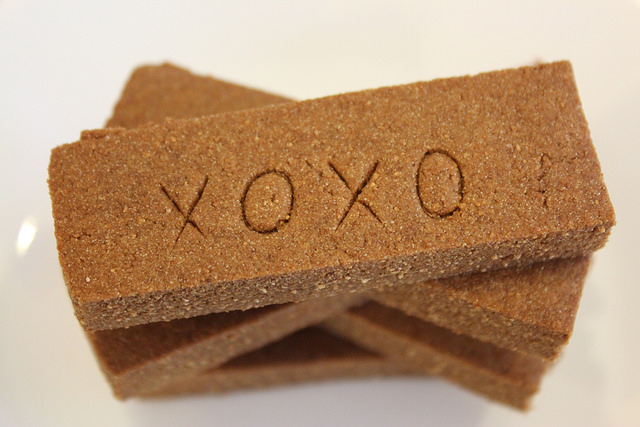 We're entering into one of my favorite baby stages right now with our 4th son… He's 5 months old and the world is coming alive around him! He's making that switch from being wholly dependent on me to independently grasping at toys, laughing at our goofy faces, pulling hair, rolling over & becoming more aware of his surroundings.
Right now he's drooling all over the place, and loves his teether… So, we're also entering into the 'teething' phase! Each of my boys teethed a little differently, but overall they've been pretty happy campers. I think it's helped that we keep them on a consistent schedule – but teething would be a lot rougher without my 5 go-to items:
Hyland's Homeopathic Teething Tablets (these are little miracle pills)
A Netted Teething Ring (for putting frozen or other foods into)
My Gluten Free Baby Teething Biscuit Recipe (see below)
But don't take my word for it, here's one of my happy & messy customers: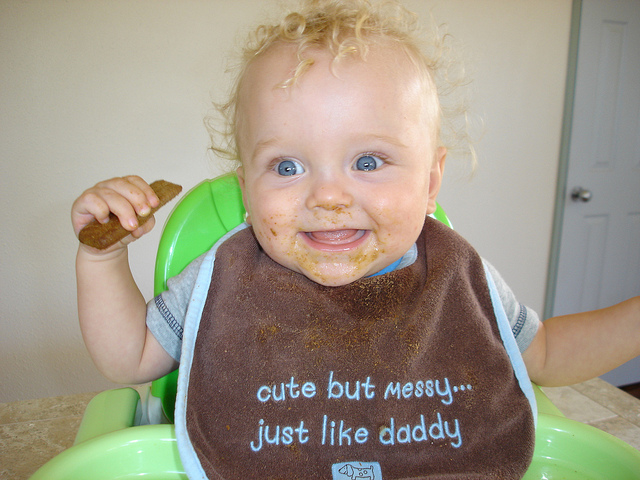 The best thing about this Baby Teething Cookie recipe is that it is Gluten Free, Dairy Free, Egg Free, Refined Sugar Free & Nut Free… Plus, you know exactly what you're feeding your little one & saving money too!
The Tools & Ingredients Used in this Recipe: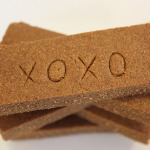 Gluten Free Baby Teething Biscuit Recipe – Nut & Dairy Free
Author:

Prep Time:

5 mins

Cook Time:

2 hours

Total Time:

2 hours 5 minutes

Yield:

21

Biscuits

1

x

Category:

Baby Food

Cuisine:

Gluten Free
---
Description
An easy, healthy, Gluten Free Baby Teething Biscuit Recipe – Perfect for little teethers & snackers. This recipe takes about 5 minutes to Prep & contains NO Dairy, Eggs or Nuts!
---
---
Instructions
Preheat oven to 275 degrees Fahrenheit.
Place all ingredients into the bowl of your stand mixer fitted with the paddle attachment.
Mix well until all ingredients are well incorporated and form into a stiff ball of dough. Use a spatula to scrape sides as needed. Dough mixture will be sticky, but should not stick to your hands or rolling pin.
On a Silpat or Parchment paper, roll out the dough into a rectangle shape (approx. 9″x7″) and be sure to keep the thickness at 3/8″ – 1/4″ thick.
Place rolled out dough (with the Silpat or parchment paper underneath) onto a cookie sheet.
Using a sharp thin knife, cut the dough into 1″ x 3″ long rectangles.
Separate the biscuits from each other slightly to improve cooking & drying.
Bake at 275 degrees for 1 1/2 – 2 hours. You want your teething cookies to be completely hard & dried out so that they do not break off easily in the baby's mouth. This also prolongs the 'teething' ability of the cookie/biscuit.
Remove from oven and place on a drying rack to cook completely before serving.
Store leftovers in airtight container in fridge or freezer.
---
Notes
For early teethers (gums only), One Biscuit/Cookie will last a LONG time – I've had some go for 1-2 hours.
Once your baby sprouts teeth, you can also place the biscuit/cookie in a netted teether (like this one) to prevent biting off larger pieces.
NEVER leave a baby unattended while eating & always monitor them closely for small pieces that may break off.
---
Nutrition
Serving Size:

1 Cookie

Calories:

40
Dough will be stiff!
Cut Teething Biscuits into 1 x 3 inch Rectangles Before Baking
After Baking at a low temp for 1 1/2 – 2 hours, Biscuits should be dry & very hard.
This is what the cookie looks like after it's been 'gummed' on for 45+ minutes.
It just kind of melts away, but stays firm.
If you're on the go or have any concerns about pieces breaking off, place a biscuit into a netted teether.
Store Leftovers in Airtight Container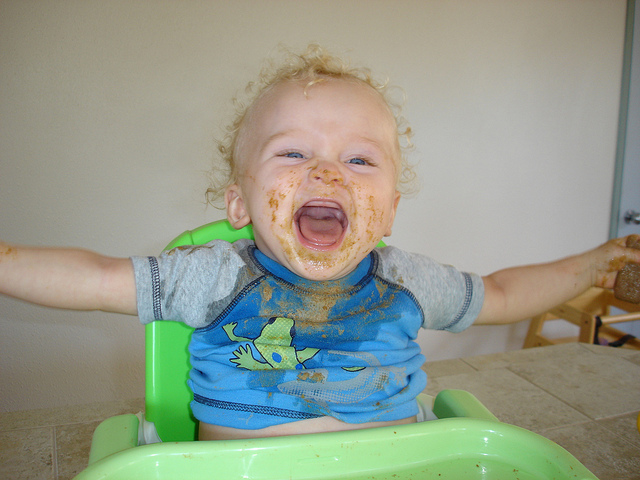 Pure Happiness! =)