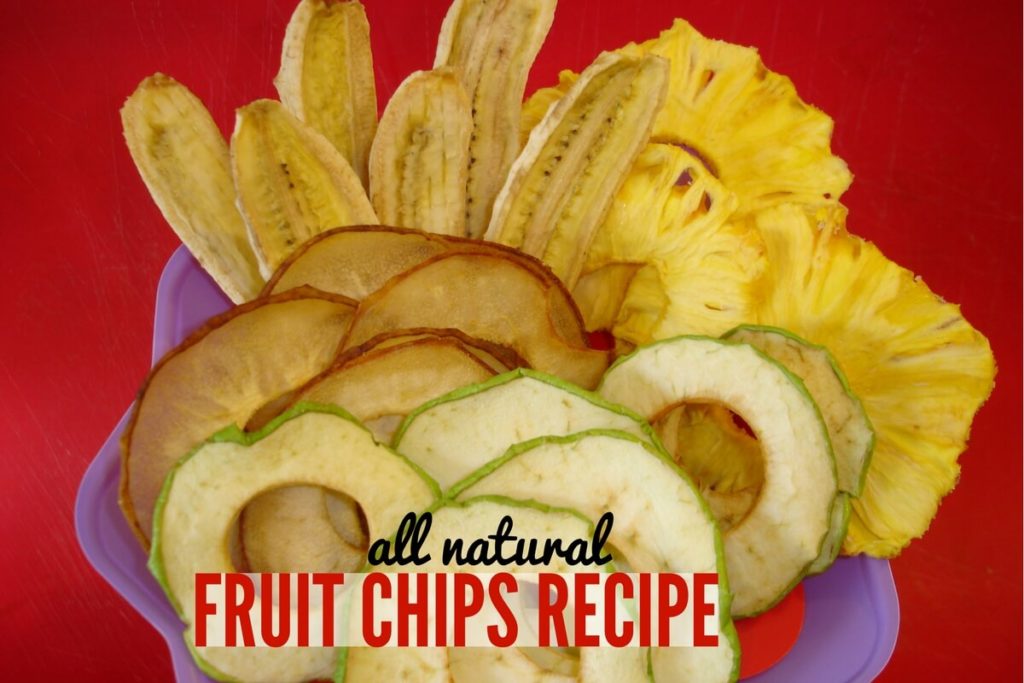 Most store bought dehydrated fruit is soaked in sugar and preserved with sulfites… Some are even deep fried. Plus, they're typically not fresh & can be outrageously expensive. This Natural Fruit Chips Recipe for the Dehydrator is easier and much less expensive than you think. They taste like the real thing, because that's exactly what they are!

If you don't already have a
Excalibur Dehydrator
, I encourage you to check out what this awesome Dehydrator is capable of! It's made in the USA, has an outstanding warranty, and is the most popularDehydrator because of it's large, efficient design and low cost to run.
The Tools & Ingredients Used in this Recipe: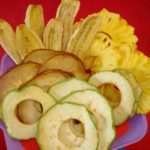 Natural Fruit Chips Recipe in the Dehydrator – Gluten Free & Vegan
Author:

Prep Time:

20 mins

Cook Time:

12-18 hrs

Total Time:

39 minute

Yield:

Varies

Category:

Snacks

Cuisine:

Gluten Free
---
Description
This All Natural Dried Fruit Chip Recipe is so much fun!  It's Gluten Free & Vegan and so much fun to make in your dehydrator.
---
Fruit Suggestions:
Apples – Dehydrating Time: Approx. 8-10 hours*
Pineapples – Dehydrating Time: Approx. 12-20 hours*
Bananas – Dehydrating Time: Approx. 12-20 hours*
Pears – Dehydrating Time: Approx. 8-10 hours*
Strawberries – Dehydrating Time: Approx. 8-10 hours*
Mango – Dehydrating Time: Approx. 12-20 hours*
Papaya – Dehydrating Time: Approx. 12-20 hours*
These are just suggested ingredients for dehydrating fruit and drying times – feel free to experiment with it! Almost any fruit will dehydrate!
Lemon-Water Solution:
1

Part Pure Lemon Juice (no sulfites and not from concentrate)

3

Parts Water
---
Instructions
Prepare Lemon-Water Solution by combining Lemon & Water in Spray Bottle (any unused portion can be stored the fridge for future use.)
Using a very sharp knife or Food Slicer, slice fruit as evenly as possible in the desired thickness…. Remember that fruit will shrink as they dehydrate, so the higher the water content, the smaller the final product will be. (For best results, it is important to use a stainless steel knife/blade when cutting your fruit – otherwise, you will have bruising/browning of fruit.)
Layer sliced fruit on your Dehydrator tray/screen. Do not overlap fruit.
For non-citrus fruits, spray generously with lemon water solution (you only need to do the tops).
Place trays in Dehydrator and set temperature to 115-120 degrees (you can do it higher, but the nutrient loss will be greater).
If your Dehydrator has a timer, set timer for approximately 10-12 hours and check fruit regularly for desired doneness. Rotate trays if necessary and set-timer so that the fruit will not over dehydrate.
Store finished fruit in an airtight container (ie. mason jar, ziplock bag, etc…).  Keeps best in fridge, and even longer if using a food sealer.
---
Notes
* Drying times will vary depending on your humidity and dehydrating temperature.