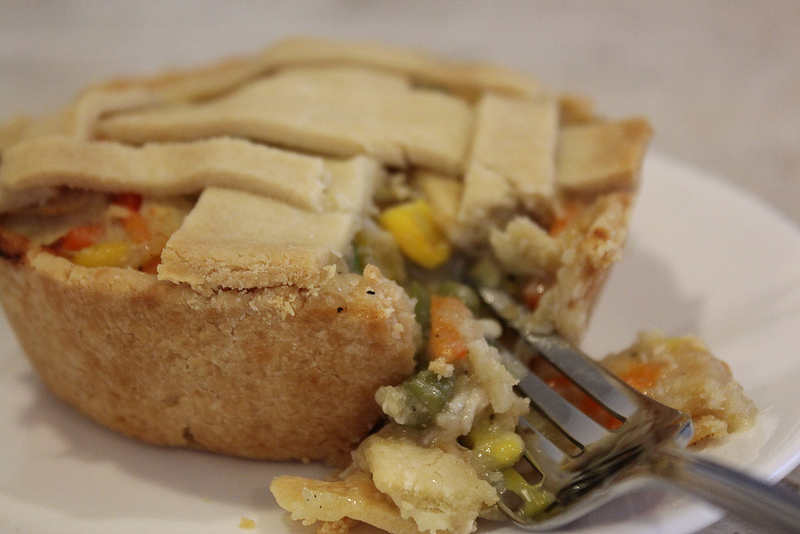 It was the first time we'd ever spent a Thanksgiving without having anyone else join us. My kids were at the tail end of the flu that was going around, and nobody wanted to come over – which I completely understand.  But it felt weird cooking only for the 5 of us on a holiday.
So I got up early that morning and began creating new recipes we hadn't eaten before. I wanted it to feel a little more special than just any other night when I cook.  I began pulling all kinds of food from the freezer, fridge, garden and pantry – I was like a mad scientist in an apron, I made a terrible mess of the kitchen, and by the time dinner rolled around, I was exhausted!
However, the resulting main dish was a Gluten Free Chicken Pot Pie Recipe that quickly became a family favorite.
It can be prepared with just about any meat, or none at all. And the veggies can range from frozen or whatever's fresh at your farmers market!  Best of all, I make it with my Gluten Free Pie Crust using my Erika's All Purpose Gluten Free Flour Recipe so all of us can eat together.  It freezes fantastically & can be prepared in bulk so you can have it ready for dinner in a pinch!
The special tools featured in this recipe are: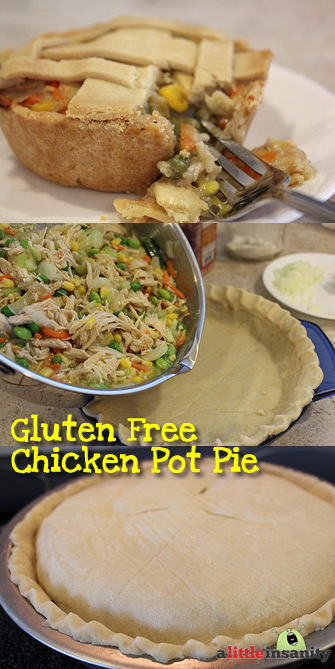 ---
If you don't already have a VitaMix or Excalibur Dehydrator, I strongly encourage you to check out what these machines are capable of!  For more information about VitaMix you can go directly to the VitaMix website.   For free shipping, be sure to use: Coupon Code: 06-004166

Gluten Free Chicken Pot Pie Recipe
Gluten Free Chicken Pot Pie Recipe - Makes (1) 9" Pot Pie - But you can scale this recipe to however large or small you want to. Click here for my
Gluten Free Pie Crust Recipe
.
Serves:
1 8" Pie or 6-8 Slice
Ingredients
BOIL INGREDIENTS:
2 Fresh or Frozen Boneless Chicken Breasts or Thighs (Boiled & Cubed or Shredded) - Feel free to use your favorite meat, or make it Vegetarian!
4 Cups (32 oz) of Chicken Broth/Stock
SAUTE INGREDIENTS:
3 Cloves Garlic - minced
½ Sweet Onion - chopped
¼ Cup Olive Oil
1 Stalk Celery - sliced thin
2½ Cups Fresh or Frozen Veggie Mix (peas, carrots, corn, green beans, edamame, etc...)
Salt & Pepper to Taste
THICKENER:
Instructions
Boil Chicken in the Chicken Broth in a large pot until Chicken is done. Then shred or cube Chicken into small pieces.
In Deep Fry Pan, Sauté Garlic & Onion in Olive Oil until soft.
Add Celery & Fresh/Frozen Veggies to Sauté and stir until well mixed and warm.
Add Sauté Ingredients to the Chicken & Remaining broth from what you boiled the Chicken in, and stir until mixture returns to boil.
Add in Erika's All Purpose Gluten Free Flour 1 Tablespoon at a time until mixture is thick.
Pour into prepared Gluten Free Pie Crust Shell & Top with Gluten Free Pastry Crust.
Place prepared Chicken Pot Pie on Foil Lined Baking Sheet to catch any boil-over & mess.
Cut 4 small slits in top center, and bake at 425 degrees until crust is golden brown. Approximately 30-45 minutes.
Cool for 10 minutes and serve. Tastes great hot or cold.
Store leftovers in airtight container for up to 3 days in fridge.
BULK PREPARATION & FREEZING:
You can easily prepare this recipe in bulk - I usually make 4 at a time. I cook 1 for dinner and freeze the others without cooking them. There's no need to defrost the Pot Pie before placing it in the oven at 425 for 45 min - 1 hour. I generally test the center with my thermometer to make sure the center is thoroughly thawed and reaches at least 100 degrees.
\
\
Freeze Uncooked Pot Pies & Cook them Later!