Ever wonder what to do with those ugly brown bananas that you're getting ready to throw away?  This is the perfect whole food recipe for 'Monkey Muffins' (aka Banana Bread), using NO refined Sugar or Oil!!  Plus the ingredients are actually healthy for you and they taste so good!
I always keep these mini-muffins on hand in the freezer for when I get that 'gotta have bread' craving… one little muffin will usually do the trick!  They're also perfect for my teething toddler – I just take one out of the freezer and let my little monkey happily gnaw on one (without nuts).
I use this recipe along with my Sugar Free Cream Cheese Frosting (recipe coming soon) to make my children's first birthday cakes.  This way, they can still messily devour their cake without me having to worry about all that horrible sugar and food coloring!
I also have a Dairy & Sugar Free Frosting Recipe and a Recipe for making your own food colorings out of fruits and veggies that I'll have to share with you too!  Stores like Whole Foods Market carry sprinkles free from artificial coloring now too!
Feel free to post any questions or comments you may have & don't forget to subscribe here or at YouTube so you'll know when I have a new video up.
---
If you don't already have a VitaMix, I strongly encourage you to check out what this machine is capable of!  For more information about VitaMix you can go directly to the VitaMix website.   For free shipping, be sure to use: Coupon Code: 06-004166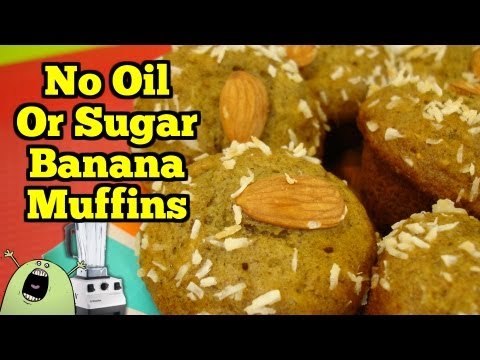 If you have the Living Cookbook software, you can import the free recipe file by cutting and pasting it right into your program.
Monkey Muffins – Banana Bread Using No Refined Sugar or Oil


Ingredients

All ingredients I used in the video were Organic.

DRY MIXTURE:
1  1/2 cups Flour (you can use any combination of flour – whole wheat flour, rice flour, etc…)
1/2 cup Ground Flax Meal (I grind mine fresh in the VitaMix right before – if you don't do this, just be sure that your flax meal is fresh)
2 tsp Baking Soda
1 tsp Baking Powder
1/4 tsp Sea Salt

WET MIXTURE:
3 Ripe Bananas (the riper they are, the better & sweeter they will be)
1/3 cup Honey
1 Cup Milk (or Milk Alternative – Almond, Soy, Rice, etc…)
2 tsp Vanilla Extract
1 Large Egg

OPTIONAL TOPPINGS / INGREDIENTS:
Dehydrated 'Shredded' Coconut (all natural – no sugar)
Chopped Nuts
Raisins
Shredded Carrots
Whole Almonds

Procedure

Pre-Heat Oven to 350 degrees.
In medium sized bowl, combine dry ingredients.
In small bowl (or in VitaMix/Blender), beat wet ingredients until smooth and well pureed.
Pour wet ingredients into dry ingredients and whisk together until smooth.
Fold in any optional ingredients.
Pour mixture into greased or papered muffin pans.
Garnish with optional toppings before baking.
Bake for approximately 15 – 20 minutes until tops brown and toothpick comes out clean.
Let muffins cool completely before storing in a Ziploc bag.
Store muffins in refrigerator for up to 4-5 days (they will get moist) or in freezer for up to 2 months.

Yield: 12 Large or 24 Mini Muffins

Preparation & Cooking Time: Approx. 25 minutes
Feel free to send me any questions or comments you may have!
~ Enjoy!